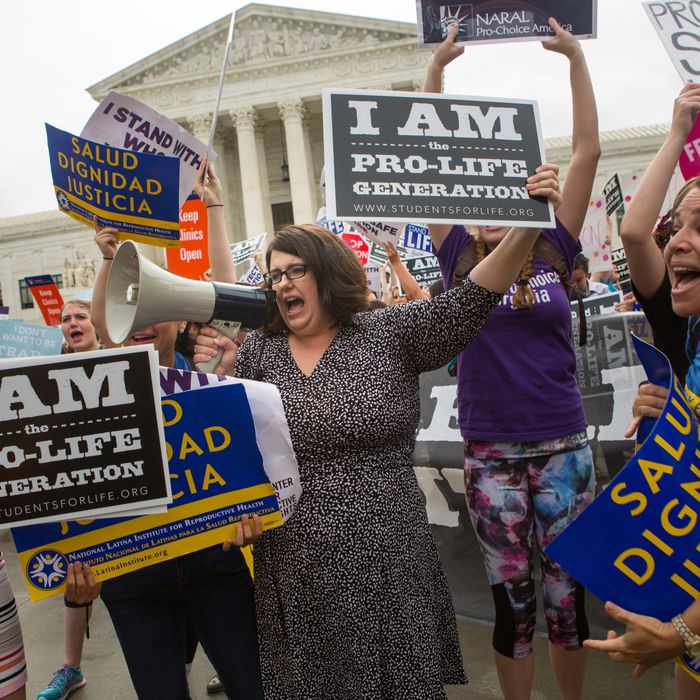 Krista Hawkins, president of Students for Life, protesting outside the U.S. Supreme Court.
Photo: Allison Shelley/Getty Images
Krista Hawkins, the president of Students for Life — the largest youth anti-choice organization in the country — tells the Washington Post that she and the group will begin embracing the "anti-abortion" label that her fellow activists have long shied away from.
"We're against abortion. I think it's much simpler. It gets across what we're about in a faster way," Hawkins explained. "It's already a bad thing. To say you're against it is okay. I am anti-smoking. I'm anti–sex trafficking. I'm anti–drunk driving. And yes, I'm anti-abortion."
Students for Life is planning a "No Labels" campaign in 2017 that will more officially embrace the term. Conversely, Jeanne Mancini, the president of the March for Life, told the Post that she doesn't agree with that wording.
Back in 2013, Planned Parenthood announced that they were moving away from the "pro-choice" label — one that had initially come about as a reaction to "pro-life" (a term which inherently implies that if you're not with them, you're by default "anti-life" or "pro-death"). "It's a complicated topic and one in which labels don't reflect the complexity," Planned Parenthood president Cecile Richards said at the time.
Hawkins's decision seems to be a more deliberate attempt to rebrand the movement for a younger generation. As she told the Post, "'Pro-life' isn't some old white man who's yelling at a woman going into an abortion facility."
This consideration of the "pro-life" brand has come up recently for a different reason: New Wave Feminists — an anti-choice group whose tagline is "Badass. Prolife. Feminists." — was added to the Women's March on Washington partners lineup and then dropped after massive backlash. (They showed up anyway.)

Regardless of what labels are used, as of 2015, 50 percent of Americans identified as "pro-choice," compared to 44 percent who consider themselves "pro-life."