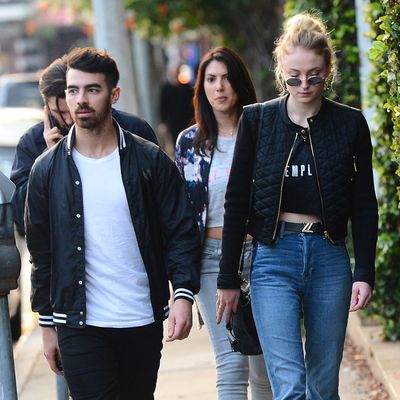 Photo: Splash News/Splash News
Now that Game of Thrones star Sophie Turner and Joe Jonas confirmed their relationship on Instagram earlier this week, they no longer have to sneak around as if theirs were a love forbidden by the seven gods or something. They can do normal couple things like go to the gym together, hold hands at parties, and even enjoy a late brunch the next day. Of course, they'd been doing these things before, more or less — you know, leaving the occasional hotel together, spending Thanksgiving together, whatever — but now they're just letting it all hang out.
Turner took Jonas to CAA's pre–Golden Globes party Friday night at Catch LA, where they were spotted smooching and holding hands. A source told E! that Jonas introduced Turner as his girlfriend.
People's source said, "They're dating exclusively. He was playing the field, but he really likes her and is willing to settle down for her."

Previously, sources have made similar statements about their dynamic that create a sensation known as douche chills, such as: "She's always been into him, but he's starting to like her more and more," that he thinks she's "a cool girl," and "[Sophie] has had a crush on Joe for a while, but Joe isn't going to be a one-woman guy right now." So, that's cool.