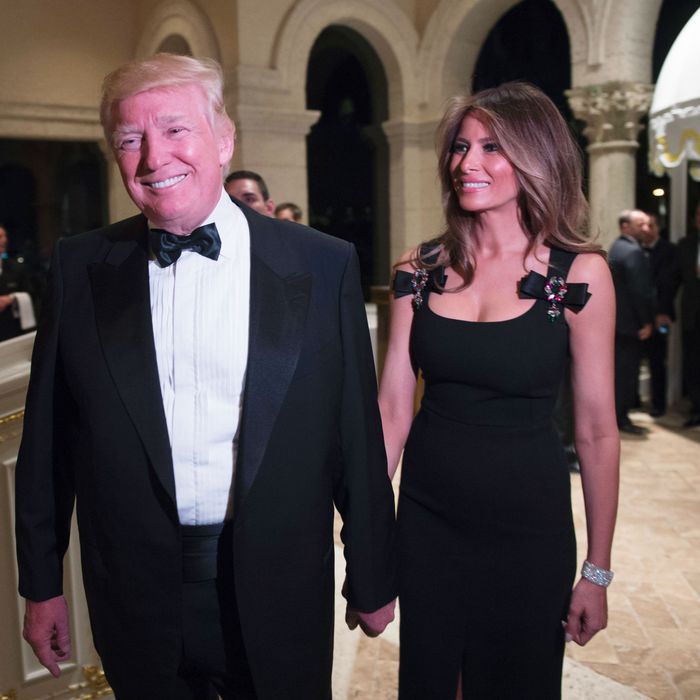 Melania Trump on New Year's Eve.
Photo: DON EMMERT/AFP/Getty Images
On the ongoing scorecard of designers who say they will and won't dress First Lady–Elect Melania Trump — Tom Ford and Sophie Theallet are con, Tommy Hilfiger and Thom Browne are pro — add Stefano Gabbana to the "pro" team. The Dolce & Gabbana co-designer posted a photo of Trump's New Year's ensemble, a black dress with sleeve embellishments, to his personal Instagram, captioning it "Melania Trump #DGwoman ❤❤❤❤❤ thank you 🇺🇸 #madeinitaly🇮🇹."
In the past, when Melania Trump has worn a specific designer, the move has gone unacknowledged by the brand, so this is an unusual departure. Thus far, Gabbana has already received over 1,000 comments from followers on both sides of the aisle. (And the designer waded into the comments himself. One riposte: "please you dont buy anymore my fashion please!!! I dont need a ignorant costumer [sic]!!!") Meanwhile, Dolce & Gabbana has yet to point out the dressing credit on its brand accounts.