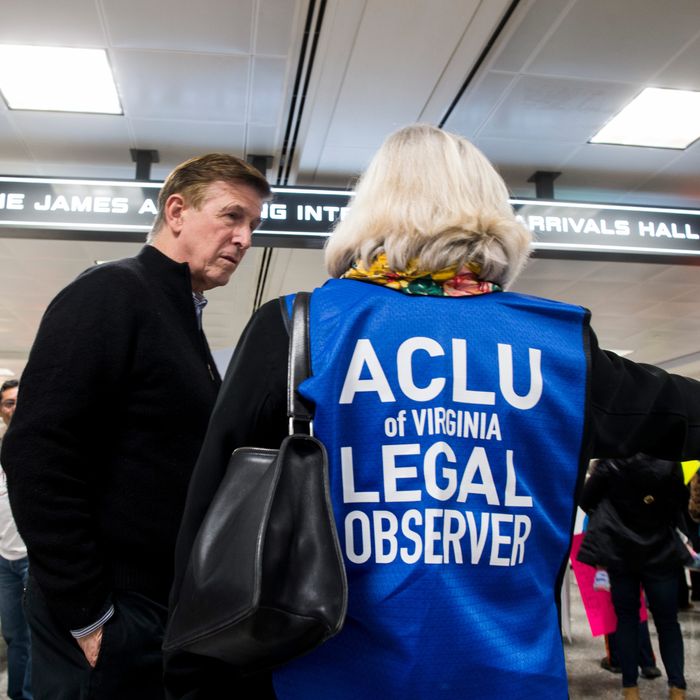 ACLU legal observers were spotted at several airports this weekend.
Photo: Bill Clark/CQ-Roll Call,Inc./Getty Images
When asked for a reaction to the unprecedented number of donations the American Civil Liberties Union received over the weekend, a spokesperson said one word: "Wow." The organization had already seen an uptick in donations since the election, but a final number crunch revealed that the ACLU received $24,164,691 in a single weekend — that's six times its average annual online donations.
According to the ACLU, that money came from 356,306 people, many of whom were first-time donors. Several deep-pocketed celebrities offered to match donations, and Sarah Paulson urged the audience to donate during her speech at the Screen Actors Guild Awards. "I've never seen anything like this," Anthony Romero, the group's executive director, told Yahoo News. "People are fired up and want to be engaged. What we've seen is an unprecedented public reaction to the challenges of the Trump administration."
The flood of donations comes as Donald Trump signed several anti-immigrant executive actions, including one on Friday that banned refugees and citizens of seven majority-Muslim countries from entering the U.S. The ACLU successfully challenged a portion of that ban in court; on Saturday, a federal district judge in Brooklyn ruled that immigrants with once-valid U.S. green cards could not be legally deported, although she stopped short of allowing them to enter the country or weighing in on the constitutionality of Trump's actions.
After the ban was signed Friday, protests broke out across the country, with several taking place at major airports. Romero told Yahoo News that these types of demonstrations will be key to opposing Trump's agenda: "With Republicans controlling both houses of Congress and the Democrats in disarray and lacking any spine, the two pincers have to be litigation and citizen action."