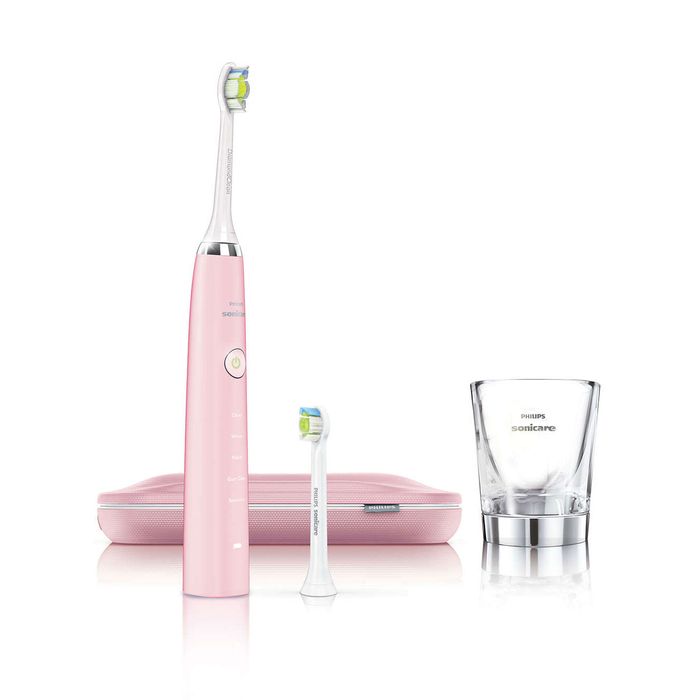 Since discovering that my new dentist is a former high-school classmate, I've been approaching dental hygiene with vigor. It's partially for his sake — but mostly for mine, because it's embarrassing having someone you know struggle to vigorously scrape forgotten plaque from behind your fourth molar.
But now, I'm being spared from dental shame with a game-changing electric toothbrush, the Philips DiamondClean Sonicare. There's no way to know if this is true, but I've heard through the beauty rumor mill (yes, this is a real thing) that Beyoncé and Jay Z also use this brush. I can understand why — this toothbrush is like the Tesla of toothbrushes, and so well-designed and sleek that it makes manual toothbrushes feel as antiquated as dial-up internet. Naturally, the Carters would already be on it.
The "engine" driving this toothbrush is the tiny-yet-mighty brush head — it's no bigger than the wimpy toothbrushes you get on an airplane and more diminutive than anything sold by Oral-B. But what it lacks in size, it makes up for in power, a whopping 62,000 brush movements a minute. The brush expertly cuts through plaque and grime, whirring around your mouth so quickly that it feels like your teeth are going through a luxury car wash. (You should actually take care to close your mouth while brushing, lest your bathroom mirror look like a snow-splattered car in Chicago). The first time I used this toothbrush I was so stunned by how clean and smooth my teeth felt that I kept running my tongue over my enamel, a sensation I hadn't felt since getting my braces off in the ninth grade. The brush is available in five different wash "cycles" (Clean, Whitening, Polish, Sensitive, and Gum Care), each lasting about two minutes, with 30-second beeps to remind you to move on to the next brushing section.
The brush also does away with clunky chargers. Combining utility with necessity, the brush gets its juice from a glass cup which doubles as a charging station. Not that you'll need to charge it very often — one full charge allows you to use it about 32 times. The only detriment to the brush is that all the high-powered vibration makes your day or nighttime routine noisier. But since using it, my teeth are whiter, I can zone out while brushing my teeth knowing that the brush is taking care of all the work, and I retain some of my dental dignity.
Philips DiamondClean Sonicare Toothbrush, From $140