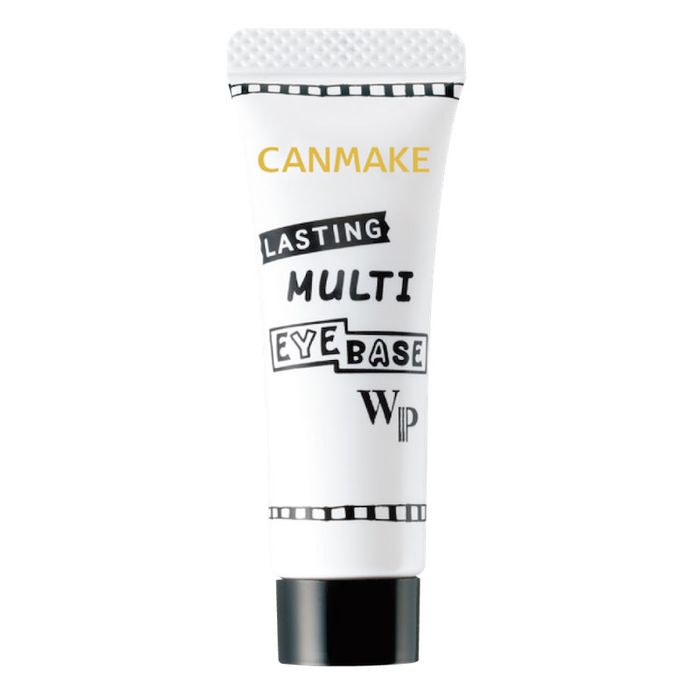 Of all the beauty treasures I've acquired while traveling to Japan, this is my new favorite — a tiny tube of mysterious spackle that makes all of my eye makeup better. You don't wear eye makeup, you say? I know. I rarely wear much eye shadow or eyeliner, and I'm a beauty editor. But whether you use it rarely, sometimes, or every day, you want it to last all day. This is the product that will freeze-frame any makeup you put in your general eye vicinity from a.m. to p.m., protecting you from errant smudges or makeup slides.
It's Eyeshadow Base from Canmake, a Japanese drugstore beauty brand I first learned about from Jenna Lyons. I liked their Cream Cheek blush so much that one trip I dragged my mother and reluctant little brother to three drugstores until I could find one with a complete Canmake display. I can't read Japanese but, helpfully, this store had little stickers to show which products had been highlighted as best-sellers by Cosme, the MakeupAlley of Asian beauty. The eye primer had multiple stickers that proclaimed it No. 1, so I swept it into my bag.
It's not as if American beauty companies don't make eye primers. The most famous one — Urban Decay Primer Potion — is quite good. But Canmake has it beat, because you'll never see or feel that it's there. Most primer formulations sacrifice texture for durability. I've tried primers that have felt like Silly Putty, weird gummy composites they use for special-effect makeup, and my least favorite: a primer that prevented both my eye shadow and my eyelids from moving (it was so sticky, that I felt like my eyes were being glued open.) But Canmake's is elegant. The texture is non-sticky. It dries down truly transparent, so you can get true color payoff from your products (in fact, it even makes them look more vibrant, as you can see here.) It makes your makeup durable, but the formula is still very workable, so you can blend your eye shadow or pencil without it getting stuck.
I like applying a thin smudge of this on my upper and lower lashes. Typically, any eyeliner I put on immediately transfers to my under-eye (a makeup artist once told me this was her "makeup trick" for tightlining … but I'm pretty sure that's not the way lower eyeliner is supposed to work). With Canmake, though, my eyeliner endures rain, blizzards, workout classes, and just general day-to-night (or night-to-day). It comes in a tiny tube, but you only need a pin drop for your whole eye, so it will last forever. And at under $10, it's better than anything you can find stateside.
CANMAKE Lasting Multi Eye-Makeup Base Water Proof