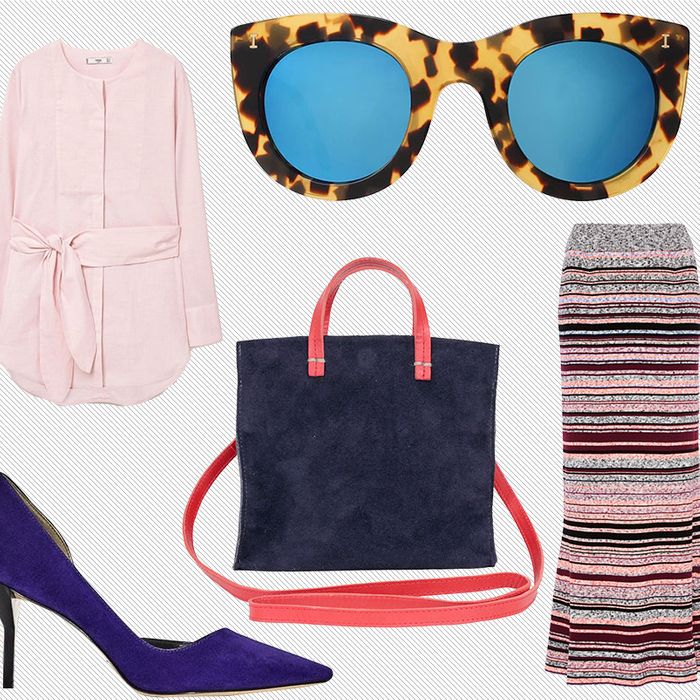 This week is a rough one. Between the weather and the news, it's hard not to hate everything right now, including your closet. Wearing the same combination of sweater, pants, and big coat day-in, day-out feels like Groundhog Day. Add to that the fact you just spent a bunch of money during the holidays so you're not in a position to splurge on something shiny and new. But say you do have a teensy bit of discretionary income and want to treat yourself? Head over to Spring. Their sale is pretty good right now, and on top of that they're offering another extra 20 percent off with the code NYMAG20. It unfortunately maxes out at $50, but it still beats paying retail, right? Scroll ahead to shop some of our favorites, none of which cost more than $250.
The color might be trendy but the cut is classic, so you can wear this to work all year long.
Because there are at least two more months of winter weather left, you'll be happy to own these cozy boots.
If you're planning to stick to that winter uniform of sweater, pants, and boots, at least mix it up with a cool floral sweater.
Before you cry foul on this fur hat, it's made from cruelty-free alpaca where all animals have died of natural causes. For that reason, the quantities are limited.
Throw it over your workout clothes or with jeans and sneakers for lazy weekends.
The easiest way to perk up your wardrobe is with new, colorful shoes like these bright pumps.
The extra-long sleeves plus thick cuffs on this top distinguish it from looking like a generic staple.
Rather splurge on a sexy bra? This lacy number is a good addition to any lingerie drawer.
Wear this now with a turtleneck and tights layered under and come spring, you'll also have a handy wedding-guest dress.
Even if you're not planning a trip to warmer locales, you can fantasize about it with new sunglasses.
A shrunken version of Clare V.'s classic tote, it's the ideal weekend bag to hold your wallet and other essentials. Wear it cross-body with the strap or tote it around with the top handles.
Why would anyone wear a knit skirt? Because it feels like you wrapped a blanket around yourself straight from the bed.
This coat might seem boring from the front, but the color-blocking detail as well as the exaggerated back panel are the stuff of street-style dreams.
Or, if you want to keep warm this winter in something even flashier, you can't go wrong with a printed faux-fur coat.
If you buy something through our links, New York may earn an affiliate commission.