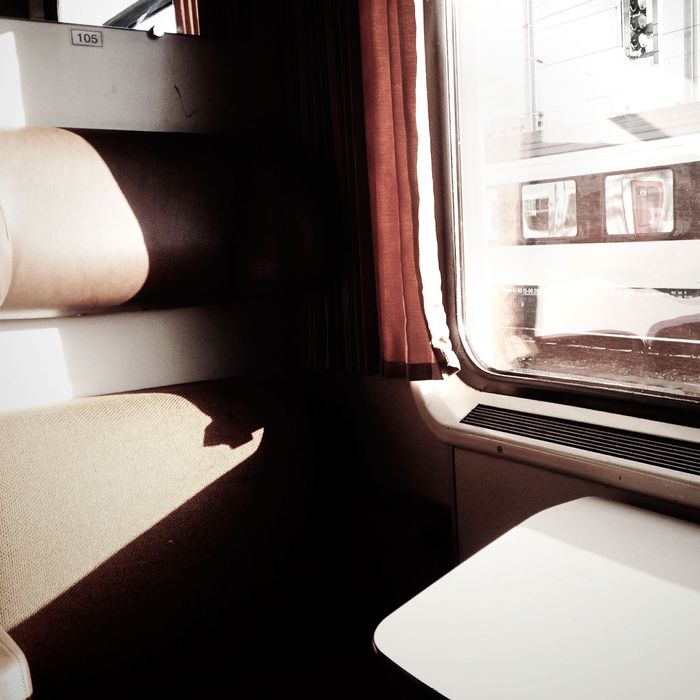 Get Sex Diaries delivered every week.
New York's Sex Diaries series asks anonymous city dwellers to record a week in their sex lives — with comic, tragic, often sexy, and always revealing results. This week, a 43-year-old doctor in New York to focus on her love life for the first time ever: single, bisexual, staying in Cobble Hill.
DAY ONE
6 a.m.: I wake up pretty early most days. I'm a doctor living in Boston, but I consider myself from New York (grew up nearby, went to college and med school there). I specialize in women's health and love my work. It's cliché but true: I chose my career over anything else. Next year I turn 44, and I'm ready to make positive changes in an otherwise stagnant love life.
2 p.m.: I'm totally in the zone all day at work. I'm not on social media and barely text anyone. I can't fit distractions into my day — there isn't a second for a breather.
3:30 p.m.: I pack up early because I'm taking the train into New York to stay with my sister. Her husband is away, so we have the place to ourselves for a week. I took a whole week off!

Over Thanksgiving, I confided in my sister about my loneliness. I told her I truly did not know what to do about it. She asked point-blank: "Are you a lesbian?" It's not the first time a family member has tried to get me to confess to some closeted love life. "If only I were a lesbian," I responded. "Then I'd at least have a partner!"
What is the term for someone who loves no one and is loved by no one? That's what I am. Family not included, of course. I think I am bisexual, but the truth is, I don't even know. I've kissed women at various gay bars I've visited while traveling for work. One girl and I hooked up back at my hotel room and she gave me the best orgasm of my life by going down on me. I was REALLY nervous, but holy shit, it was the best thing ever. I've also had sex with about ten men in my life and enjoyed that every time. So, I don't know. Sexual identification is the least of my issues. I just want a great relationship!
8 p.m. I arrive at my sister's apartment and she has wine ready. She says she has one condition: She'll hand over the wine if I hand over my iPhone. We are going full-blown into the world of online dating, or so I'm told. I pretend to be reluctant, but I'm really excited.
9 p.m. I literally can't keep my eyes open so I give my sister permission to line up anyone and anything to keep us busy for the next week. She has great taste in people (married a wonderful guy) and also used to date women for a brief period — she gets it. Right now, though, the only hookup I can think about is between me and the guest bed.
DAY TWO
11 a.m. It's Saturday, my sister doesn't have to work, and I'm free as a bird! We go through what my sister set up for me — she's only downloaded Bumble and Tinder so far. I like the profile she made. Good pics. Not sure if it sounds braggy because of the doctor thing, but she assures me people have to flaunt what they've got on these things. I think I'm pretty attractive. I'm fit. I don't look 43 — though I think 43 is a beautiful age. Because I don't want kids, I'm not worried about men ruling me out for my age. If they want a young chicken to give them a big family, they don't want me anyway.
1 p.m. We take a spin class and make some concrete plans for the evening via my dating apps. Two women are engaging in conversation. I don't like super-butch women, unless they're, like, pretty AND butch. Of course, anything can change because of chemistry, but I have to work with my initial attraction at this point, I think.
3 p.m. Plans are set. I'm meeting a woman at a Cobble Hill wine bar at 7. Her name is Shana and she's also in the women's-health world. She looks like a model, like, actress-beautiful — it makes me wonder if she's even a real person or some creeper. But I'm willing to take the risk. My sister convinces me to pile on one more date at 9:30, right after, just because this guy (Peter) offered to meet up right on my sister's block at this little bar. Two dates. I'm pumped!
6 p.m. I'm a little nervous. My sister and I practice conversations. I guess I get shy on dates and don't really know what to talk about since I'm honestly way behind the times on pop culture and "normal" banter topics.
9:30 p.m. I am having such a good time with Shana that I literally forget to meet Peter.
11 p.m. Shana is awesome. We drank two bottles of wine and now we're back at her place, which frankly is not that nice — and she has roommates. But in the moment, I'm okay with it. We are going at it pretty hard-core. I'm really wet and when she puts her fingers inside me, I come right away. I hope I can orgasm again, but I've never been a multiple-orgasm girl. Let's see …
DAY THREE
7 a.m. I pretty much passed out at Shana's. I wake up with a bad hangover and just want to get back to my sister's place. We smoked cigarettes last night, her apartment is gross, and I just feel terrible. I kiss Shana on the cheek good-bye and basically run out.
8 a.m. My sister is up waiting for the scoop on both Shana and Peter. That's when I look at my phone and realize I completely stood him up. The whole night makes me feel icky. Shana was kind of a skank, I tell my sister. I shower and crawl into bed for a few hours.
12:30 p.m. When I wake up, my sister is out running errands. I don't really want to think about last night. This happens to me sometimes: I get so turned off by dating experiences that I don't want to date at all. Nothing was wrong with Shana, but she was dirty in a way that makes me feel dirty now. I text Peter that I completely fucked up and would love a second chance.
1:30 p.m. Peter writes back, "No problem at all. It happens. How about this afternoon?" I really like his answer. He let me off the hook graciously. Despite looking and feeling like shit, I agree to meet him at 3 as long as he lets me buy him the first drink.
3:30 p.m. Peter is lovely! Nice face, nice disposition. He moved here from Italy about ten years ago so there's an accent, which never hurts. Also, he is a scientist of sorts — a topic I can dig into. He has one child who lives with his ex in Europe. I'm curious about this … but it's too soon to ask too many questions.
5 p.m. He confesses that he has a Tinder date at 6 all the way uptown so better get the check. I enjoyed his company and apologize one more time for last night. We kiss good-bye (on the lips!). A bit of tongue. He asks if we can meet up again before I go back to Boston. Yes, yes, yes.
DAY FOUR
9 a.m. My sister has work, so I have her apartment to myself. I love being in New York. But my job in Boston is pretty great — for now, I've got to stay there. A couple people online seem to be obsessed with me not living in New York. It's so close? Their issue, not mine!
11:30 a.m. Reading the paper and having a breakfast sandwich at a great local café. Nothing could feel better. There's a really nice guy hanging out here who helped me get online. No wedding ring. But drinking … tea? Okay, I can forgive that. I am horrible at being outwardly flirtatious but would like to talk to him more. I see him start to pack up …
11:39 a.m. Me: "Can you recommend a good place for pho around here?" (Lame, but at least it's something.)
Turns out he owns a restaurant in the area. He knows all the right places. It takes a lot of courage but I ask him if he wants to text me the name of a few spots. He is really friendly about it and we exchange numbers. I sound like a teenager, I know. Anyhow, now I have good restaurant recs and a potentially nice guy texting me. This is more than I can say for a few days ago.
1:30 p.m. I'm on my sister's couch flirting with my onliners. I find the girls write back so much faster. It's much easier to get the ball rolling with a woman. Men wait to respond and then they write non-answers or blah answers. Not all, of course.
7 p.m. What a time-suck! I flirted with strangers online all freaking day and now I'm tired. Plans to see Peter tomorrow — the resto guy never wrote, alas. Shana texted, but I feel like throwing up thinking of our wasted, cigarette-contaminated night together.
9 p.m. I masturbate to thoughts of sex with two men. They roll me from one to the other, fucking me every which way. It's a highly misogynistic scene — odd, considering I've devoted myself to women's issues. But fantasies should be embraced, not repressed.
DAY FIVE
9 a.m. I drink coffee, eat pastries, and shop all day. Literally, I do this until 4 p.m., when I come home freezing, feeling broke, and ready for a nap. Ah, the New York staycation! The resto guy did text me, offering to have a drink at one of his restaurants before I leave. I'm into it, although my sister said his restaurants are super cheesy. Not a great sign, but she can be judge-y — I'll make up my own mind.
7 p.m. I meet Peter at a Chinatown restaurant because he's obsessed with these certain dumplings and I wanted to try them myself.
9:30 p.m. We're at a dive bar in Chinatown having a ton of fun. But then he tells me more about his kid in Europe. He never sees the kid … only about twice a year. They Skype once a week or so. I think this is a little weird. Who doesn't see their kid as much as humanly possible? I don't think Peter is going to be my future boyfriend and that's really what I'm looking for. So I call it a night. We make out for a while in the taxi back to Brooklyn, but I've turned off the idea of Peter. And once that happens, there's no going back for me.
DAY SIX
11:30 a.m. Meeting Resto Guy at one of his cafés for "brunch." He looks great and I notice he treats his staff really kindly and with respect. He tells me he is sober … he has a DARK past. I admire the sobriety. We talk a lot about my work and some of the addicts I've worked with. It's an easy conversation.
1 p.m. We hug good-bye. Snore. But really, a make-out at his workplace would be unprofessional. I also kind of feel like he might have a girlfriend. I mean, why wouldn't he?
6 p.m. My sister got us into a lesbian party in Williamsburg. We have no idea what to expect. It starts at 9, but we start drinking wine now while getting ready. It's so rare for either of us to focus on outfits, hair, and makeup, but we have fun playing the part, almost like we're little girls again. I ask her if she misses women now that she's married to a man and she says pretty bluntly that she loves her husband's great dick (among other things). I want to un-know this, but I'm happy for her.
9:30 p.m. The lesbian party is pretty much like any other party — the music is just really good and the women are extremely hip. I don't think my future relationship is here, though that doesn't stop me from pounding five to ten margaritas. I am WASTED. I meet a medical student who is much younger than me but goes to the same school I went to. We dance a little. This is embarrassing in front of my sister — luckily, she goes home. I drink more and dance more and end up fully hooking up with this girl on the dance floor. So much tongue. So many hands. At one point she puts her hands down the back of my jeans and I'm pretty sure she fingers my ass. I want to grind against her harder. My vagina is pounding. The whole thing is really sexy, but I'm getting dizzy …
11 p.m. Puking on the Billyburg sidewalk. Manage to Uber myself home. Barf.
DAY SEVEN
9 a.m. Somehow I woke up feeling okay. The throwing up helped. And I drank liters of water before bed. I am ready to go home.
2 p.m. I head to the train station after having lunch with my sister at work. I had the best week with her; I love her so much. But I'm ready to go back to the life I built for myself at the hospital.
9 p.m. I'm home. Tired. The week in New York opened me up to new people and a few new experiences. I'm glad it all happened. And now I'm ready to keep online dating in Boston. I'm getting closer to finding someone … it's a priority now, which I haven't been able to say before in my adult life. Wish me luck!
Get Sex Diaries delivered every week.
Want to submit a sex diary? Email sexdiaries@nymag.com and tell us a little about yourself.