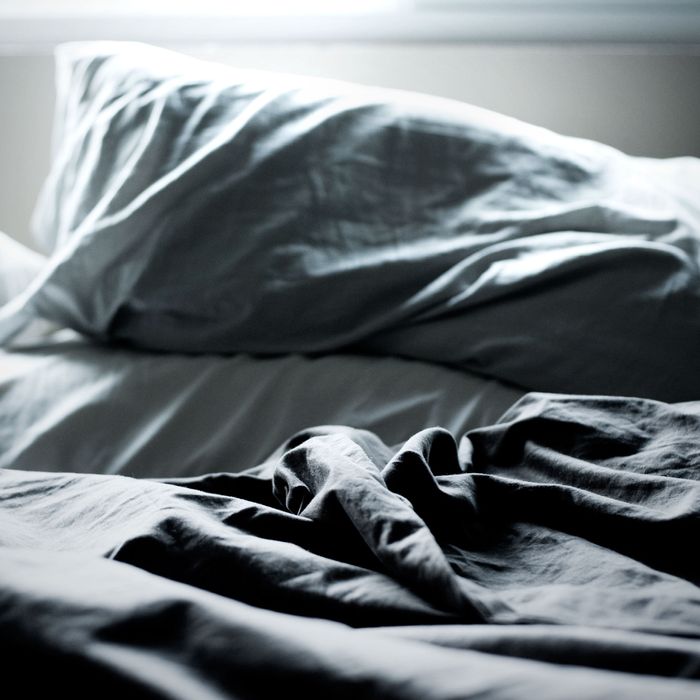 Get Sex Diaries delivered every week.
New York's Sex Diaries series asks anonymous city dwellers to record a week in their sex lives — with comic, tragic, often sexy, and always revealing results. This week, a 37-year-old woman who works as a consultant and whose new relationship is making her a little nervous: in a relationship, straight, Red Hook.
DAY ONE
6 a.m. My 3-year-old wakes up at six every day, no matter what I do. I let him fuss a little in his crib until 6:30, and then sneak out of bed to get him and play with him. I leave my boyfriend asleep in our bed even though he offers to get up and do everything. I'm divorced and share my son with his father, who lives nearby. His dad takes him on weekends, and I have him during the week; it's a deal we came up with when we divorced two years ago, when our son was 1. It wasn't an easy decision, divorce, but we fought nonstop and were more unhappy than happy — we decided to cut our losses and move on.
7:00 a.m. My boyfriend, Alex, puts the coffee on and we all play and eat breakfast. I brush my teeth and make my mom-pajamas look sexy in their own non-sexy way, a strappy little tank top and baggy sweats. I can't invest too much time or energy into this stuff, but I don't want to "stop trying" either. Alex and I have been together for a year and recently moved in together. My friends who have "stopped trying" have significantly less happy relationships, I think.
8:00 a.m. Alex takes my son on a long stroll because it's actually not freezing out. I do an hour of work emails. I'm a consultant for a large firm and currently not on a project (a nice break!), but there's still paperwork to be done.
9:00 a.m. Alex off to work — he's a writer and working on a book. Son off to preschool. I have a few hours to myself. I clean the house, do laundry, etc. There's never enough time.
11:30 a.m. I decide to go online shopping for lingerie. Alex bought me lingerie recently and I'm sort of taking the hint. Our sex life is good — we have sex almost every night, but still, I think the lingerie gift didn't come out of nowhere. When I wore it for him a few weeks ago, he was rock hard. I didn't even know his dick could get that big? He threw me against the wall and we had sex from behind. Then he pulled out and came really hard … into his hands. I always tell him to come on my ass (or my tits), but he almost always comes into his hands. I think it's his polite upbringing.
1:00 p.m. My son is home from school. I couldn't decide on any lingerie online.
6:00 p.m. We've played all the plays and visited all the friends and now it's time for dinner. Alex always gets our dinner ready. Tonight it's a salmon-teriyaki kind of thing with kale, lots of kale. Alex also does the dishes. I have a wonderful boyfriend, I really do …
DAY TWO
4:00 a.m. … so why do I wake up in the middle of the night anxious all the time? I have a pit in my stomach tonight. I feel like things will end with Alex, that he'll leave us — or, that I should be with another kind of man. Someone with kids, someone with a big apartment, someone who can make my life easier in more ways than emotionally. Because in terms of my heart, Alex makes it swell. The way he is with my son, the way we connect as lovers and partners. So why do I feel like I could do better? Or he could do better? It makes no sense.
2:00 p.m. Pretty much a repeat of yesterday. Motherhood is extremely monotonous. I think that's why a lot of women have nervous breakdowns.
3:00 p.m. Alex is home watching my son so I can run to T.J. Maxx and Nordstrom Rack to look at bras and underwear. I don't tell him this, of course. Lingerie should always be a surprise. I don't find anything particularly seductive; I think maybe you get what you pay for with this stuff. But I do buy a new black bra and really strappy black undies — better than nothing. I also run for an eyebrow threading. Like I said, I don't want to stop trying.
8:30 p.m. The baby is asleep, and we're both drinking red wine and sort of working from our laptops. I go to the bathroom, put on my new black magic, and walk into the living room. We start making out all over the big rug, rolling onto little toys and gadgets that make noises, books that speak nursery rhymes. It's hilarious and hot. If I'm being totally honest, though, I think Alex could try a little harder during foreplay. Like, when he rubs my clit over my underwear, it's not quite right, and it always seems a tad "phoned in." Like, rub her clit to get her wet to fuck her … but I also think he's as tired as I am and doing the best with what he has after working and parenting and New Yorking.
9:00 p.m. We fuck with all my lingerie on. He pulls my underwear to the side and sticks it in. He's on top, I'm on top, and then we're doing it from behind while I rub my clit. We both come, and I feel glad I bought the set.
DAY THREE
5:00 a.m.: Alex heads to the airport for a work thing in New Orleans.
6:00 a.m.: My son wakes up.
9:00 a.m.: Life is noticeably harder when Alex isn't around. I greatly appreciate all he does for us. Of course I could do it all by myself …I have done it by myself … but it's just easier, more fun with a partner.
11:30 a.m.: I meet my son's dad for lunch before preschool pickup. We try to do this once a week to go over everything. He knows about Alex and has met him a couple times. He's happy for me. I'd be happy for him too if he met someone, but so far, he has not. He works nonstop at a law firm and sometimes I think his work is his lover. It seems to complete him in a way I'll never understand.
9:00 p.m.: I'm excited to have the bed to myself to watch Bravo and go to sleep early. Alex is not a big texter, so I don't hear from him too much when he's away from work. I try not to create narratives. I try not to be paranoid. It's hard not to panic a little when I don't hear from him, though. I call him and it goes right to voice-mail … which isn't really a thing since he's in NOLA to interview someone and wouldn't leave his phone on.
11:30 p.m.: I wake up to check my phone: "Good night my darling. I miss you guys. Work was long and draining but nothing a hotel club sandwich can't fix."
DAY FOUR
6:00 a.m.: This is why I kind of hate being in a relationship, the anxiety of it all. I feel weird that he waited until 11:30 p.m. to text me — although my best male friend says I'm being crazy. Guys don't think that way. I, on the other hand, always check in no matter how busy I am.
9:00 a.m.: I decide, while walking my son to preschool, to just be an adult about it and say something. So, I text him and ask him to call me when he has a second.
9:04 a.m.: He calls. My text worried him; I can hear it in his voice. Is it wrong that I get a tiny amount of pleasure from this? And then the pleasure turns into guilt. I don't want him to be freaked out when he's waking up in a great hotel room in NOLA after all the time and love he puts into our lives. Why did I try to take that away from him? Now, because suddenly I love him so damn much, the tone of my voice has changed.
9:10 a.m.: "First of all, good luck with work today," I say to him. "Second of all, I love you. Third of all, will you try and call or text a little more? Even just one word. I'm so used to having you around, I go into withdrawal a little when you're gone." He responds, "Absolutely. Noted." I think I did okay — it didn't spiral out of control. I'm glad I put it out there.
10:00 a.m. He texts, "Hi my love," just before going into the weeds with this assignment. All good.
8:00 p.m. A long day with a cranky kid. But he's asleep, and I'm going to have some mom-juice and get to work on a new project. February is crazy-busy with work. I've hired a nanny to help with my son even though I'm not really the nanny type — too frugal, too obsessed with hanging out with my son. ON MOST DAYS.
9:00 p.m. I used to masturbate so much more. Maybe once a day. Now the idea of sleep outweighs the pleasure of masturbation … but not tonight. I watch online porn. Always one guy with two women. Sometimes I like the fetish stuff. I definitely prefer rough porn to, like, slow and erotic porn. Tonight I narrow in on some Russian businessman co-fucking these two prostitute types. His dick is huge. They both have beautiful bodies, and take very good care of each other while getting rammed by the Russian. I last about three minutes.
DAY FIVE
6:00 a.m.: I don't mind waking up this early on Fridays because there's always so much to do before I get my son out the door. His dad picks him up from school, so I have to make sure everything is ready … clothes, meals, toys, etc. His dad has everything he'd ever need at his apartment — it's just my instinct to make sure there are no loose ends.
9:00 a.m.: I consciously try not to get sad or weepy leaving my son on Fridays, even if I won't see him until Sunday night. I know seeing his dad is good for him, and I only want what's good for him. So I try to embrace it.
3:00 p.m.: Alex is home from NOLA. We decide to drink a good bottle of wine.
6:00 p.m.: Alex is telling me about his work trip and I'm sipping wine. Sometimes I feel very charmed by how things worked out, as a young divorcée prepared to be lonely and alone for a very long time. I have a feeling some of my family members might say I love having a partner more than I actually love Alex, but those are the same family members who don't understand why I would be with someone who can't buy us a big apartment and send my kid to private school. Some people don't get it, and I have to be at peace with it. The only person this relationship has to make sense for is me.
DAY SIX
7:30 a.m.: I wish I could sleep later, but my body won't let me. I decide to bundle up and go on a run. I hate running but love music — the promise of DJ'ing my favorite songs for a half-hour is worth it. Alex sleeps.
2:00 p.m.: We go to a kid's birthday party even though I don't have my son. Alex loves kids and has told me several times he'd love to have one with me. But we don't talk about it all the time, and he pulls out every single time we fuck. I think if I told him to come inside me, he would. But I'm not sure I want another child. I'm not ready to think about it yet.
5:00 p.m.: We decide to be very decadent and crawl into bed to binge-watch TV. We go with The Girlfriend Experience, which is super erotic. We end up fucking before the first episode even ends. We were facing each other, lying on our sides, and doing it that way. I loved it because we could look at each other, and because we were holding each other so tightly. I contemplated saying, "Come inside me." But I did not.
DAY SEVEN
9:00 a.m.: We decided to drive to the Hudson Valley to look at a few houses. Neither of us own property and together could probably afford something small up there. It's another thing I'm not quite ready for, but it can't hurt to look.
10:30 a.m.: I love our road trips. We love the same music and take turns playing songs for each other. It's so comfortable. Lots of comfortable silence too, which, when you're the mother of a 3-year-old, is pure gold.
3:00 p.m.: We looked at five houses with a real-estate agent and had a great burger at a quaint little restaurant and now have to head home. None of the houses were really affordable, but one was kind of perfect for us. We talk about it the whole way home. We're just indulging in the fantasy of it all; I doubt we'll actually buy a house together.
6:00 p.m.: My son is home! I love seeing his face. We have dinner all ready for him and then the three of us play hard until bedtime. My son calls Alex "Ally." It's the cutest thing.
9:30 p.m.: Sometimes I cry in bed thinking about how much I love my son and how thankful I am for Alex. It usually happens after an orgasm. Tonight was one of those nights.

Get Sex Diaries delivered every week.
Want to submit a sex diary? Email sexdiaries@nymag.com and tell us a little about yourself.