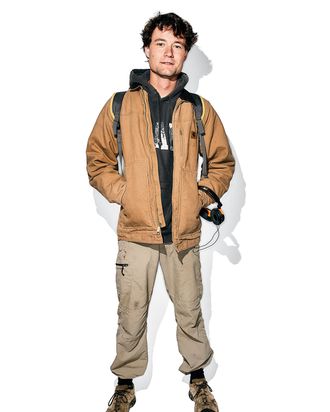 "I usually like to wear a nice shirt, nice pants — these are the clothes I'd wear at the ranch."
Photo: Bobby Doherty/New York Magazine
Oliver Brooks, Former Hillary Clinton Campaign Fellow in Wyoming
So, how are you feeling?
Frankly, I was disgusted with this country after the election. I feel like I did my small part in Wyoming, and next month I'm going to Taiwan, where a lot of diplomatic tension is happening, but I'm not going there because of that; I'm just going to study Chinese. I grew up in Beijing and Shanghai and think I might want to work in Asia someday.
How did you end up in Wyoming?
My dad's family is from Laramie, and we have a ranch there, though he and my mom live in Europe now. I was one of two operatives in the state, and since it hasn't gone to the Democrats since Lyndon B. Johnson, we didn't waste our time there but tried to rally people in Wyoming to help the campaign in Colorado.
How was your Election Night?
I had a feeling things weren't going to go well just because of the Trump voters I'd spoken to: people who seemed reasonable insofar as their lives were rather ordinary but believed there was a government conspiracy to poison us or that Hillary Clinton was a murderer. They kept saying how out of touch she was with the daily realities of their lives. And it's true, Trump had those huge rallies, and even in my own experience, listening to conference calls where all the state leaders would get together, she never got on the phone to tell us what to do. It was very impersonal and very strange.
Lightning Round
Age: 23.
Graduated: In 2015 from Bard.
On clothes: "I usually like to wear a nice shirt, nice pants — these are the clothes I'd wear at the ranch."
Currently reading: Bomb, Book, and Compass, by Simon Winchester.
Currently watching: The Crown.
En route to: "Amman, Jordan, where my friend is working on a sanitation project."
*This article appears in the January 23, 2017, issue of New York Magazine.