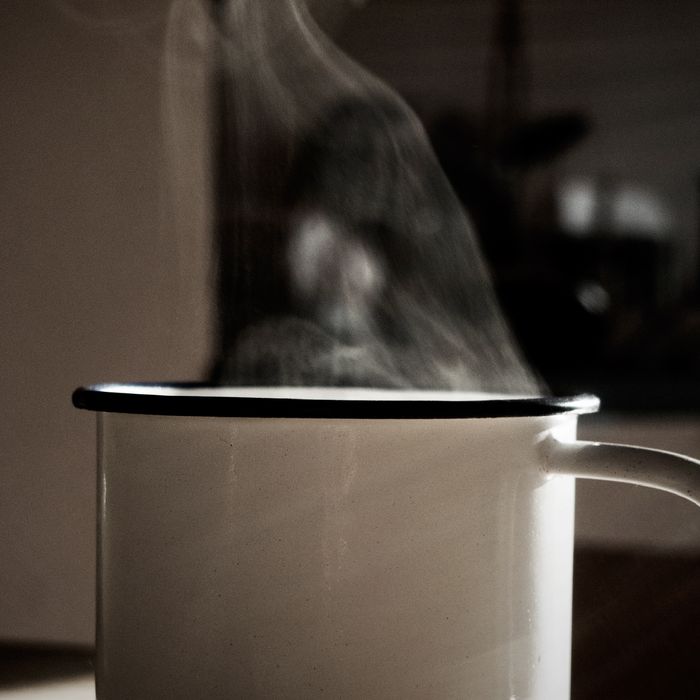 Get Sex Diaries delivered every week.
New York's Sex Diaries series asks anonymous city dwellers to record a week in their sex lives — with comic, tragic, often sexy, and always revealing results. This week, a 38-year-old musician having a lot of sex to heal a heartbreak: single, straight, Williamsburg.
DAY ONE
7:15 a.m. As soon as I wake up, I check my phone. There's a text from Jen that came in after I went to sleep. Jen is a Pilates instructor. We met online; we somehow cultivated a fuck-buddy relationship. This started a couple months ago. We send a lot of dirty texts to each other — this one is a picture of her with a vibrator on her pussy. It's super-hot and makes me horny right away. I decide I'll text back in a bit. Hopefully she's free to come over later on.
7:30 a.m. I make coffee, have a couple cigarettes, and go for a walk. This is what I do every single morning. Exercise clears my head. I do a walk-run hybrid, walk then jog, because I hate just jogging.
9 a.m. I work for a few hours. I am a songwriter … I've had a few small successes that pay the bills. I text Jen to see if she can come over later. I also text with Diedre, an actress I'm kind of into.
1 p.m. Normally I take a work break to beat off, but today I save up for Jen in the hope that she's coming over. When you're my age, 38, you have to save your "energy." My libido has slowed down since I've gotten older.
4:30 p.m. Jen says she'll come over around 9:30. This makes me horny. I just recently had my heart broken — I'm sort of being casual right now in the midst of my heartbreak. I'm giving myself a little time just to have fun.
7 p.m. I order Seamless, then I take a shower. Watch some Top Chef.
10:30 p.m. Jen doesn't get to my house until an hour later than she said, but I know the sex will be great, so I don't mind that much. She is wearing knee-high boots and a really short miniskirt. Almost as soon as she gets through the door we start fooling around. I go down on her for a little bit, which I love to do. She makes a lot of noise, always. The miniskirt is pulled up. She comes in my mouth and then she says, "Fuck me now." So I bend her over my desk with the miniskirt and boots still on and I fuck her from behind.
11:30 p.m. Jen heads home. She's great. A lot of fun. Love the mutual understanding that it's not serious.
DAY TWO
7:30 a.m. Drink coffee, cigarettes — every day it's the same.
Noon Diedre is South Asian. She's the actress — she's always super horny and a little crazy. We have a date tonight. She's a little bit exhausting to hang out with. She's actress-y, always on. She's constantly all over me but hasn't let me fuck her yet. We've been out three times. She says not until there's a relationship. I can respect that.
6 p.m. We go to a bar. I don't drink so I have a Diet Coke. She has a martini. I go out to smoke and she comes with me. We start making out furiously. But once again she's talking about wanting me to fuck her — but NOT until we start seriously dating.
9 p.m. All the same, we go to my place, and we're rolling around on my bed. She has really big tits. I'm super horny. She won't let me take her pants off. She won't let me touch her pussy. We dry-hump for a while, and then I jerk off and come on her tits. She's definitely cool with that. She rubs the cum on her tits. She never orgasms; it bothers me … kind of. The vagina is no-man's land until a commitment.
10 p.m. Diedre heads home. I finish the episode of Top Chef and go to sleep.
DAY THREE
3 p.m. I don't beat off all day. I've come two nights in a row.
6 p.m. Texting with a few girls. Pretty mellow. Bumble and Hinge are the best ones; Tinder is a cesspool.
8 p.m. I'm meeting this girl, Gallit, an Israeli social worker. We've been friends a long time. We have an arrangement that when we're both unattached we become fuck buddies. We hang out about once a week. She's super-super hot and just seeing her makes me horny. I love Middle Eastern–looking women. She never wears a bra, and always rocks these old, holey T-shirts. Seeing her nipples under her T-shirts turns me on insanely.
9 p.m. We're smoking cigarettes on the roof of her building. She blows me right when we get inside (it's cold out). I'm about to come so I push her away politely — I want to fuck her. Because she's on the Pill and we're both clean and have been tested, I get to come inside her. It's all supremely hot.
DAY FOUR
5 p.m. I have a date tonight with Olivia, a producer. She's the one I'm most excited about in terms of a potential relationship. Even though I'm still nursing my wounds, she's the one I feel most at ease hanging out with.
7 p.m. I'm at her place. We're going to head to dinner. Before dinner, we start to get it on in her apartment. She has a "womanly body." Natural curves — I dig it. She has a big pubic-hair situation, which I also like. I go down on her, which I'm totally in love with doing.
7:45 p.m. We decide to have sex for the first time. I put on a condom and we fuck. It is really good. Something about her that I can't put my finger on really turns me on. We cuddle for a while and then we go out for Vietnamese. We never discuss if we're fucking anyone else.
10 p.m.: I go home alone. I like to sleep by myself unless I'm in a relationship.
DAY FIVE
9 a.m. I'm psyched for a date tonight with Ashley, a doctor. We've been hanging out for a couple months. I don't think it's leading to anything, but I enjoy her. I can't fully be myself around her. I don't feel that comfortable with her. It feels like we never really get that deep.
2 p.m. Therapy! We're still dealing with the aftermath of my breakup. I was with my ex for about a year. It felt very serious to me, probably a little less so to her — I always loved her a little more. Her career was very important to her, and she had no interest in getting married or having kids, so she never fully invested herself in our relationship. When she left me, she said it was because she felt unsure about us … I couldn't argue with that. And then she was gone; she pretty much disappeared.
We're trying to make me see it wasn't anything I did, that it was more my ex's issues. I'm super hard on myself. We don't go into my recent sexual life in graphic detail; my therapist doesn't really know how much sex I'm having.
3 p.m. I feel a little drained from therapy. But I do feel slightly more hopeful.
10:30 p.m. Ashley and I watch RHOBH and then get into bed. The sex is good but feels routine. It's always been sort of ho-hum. I come every time, but the sexual chemistry isn't great. We fall asleep with her lying on my chest. It's the only sleepover of the week. It kind of violates my rules. I fear that she's more into things than I am. We're going to have to have a conversation about it soon.
DAY SIX
7:30 a.m. I wake up to a freaky vid of Jen, the Pilates instructor. It's video of her on her stomach, ass in the air — she's coming really loudly. I wonder if she sends them to more people than me.
10 a.m. It's Inauguration Day and I'm bummed. I don't want to flirt. I'm not horny. The video from Jen doesn't even make my dick dance.
7 p.m. It was a boring, depressing day — I didn't even turn the TV on. Now I just want to go to sleep.
DAY SEVEN
9:30 a.m. I'm taking Melissa, a graphic designer who's very political and progressive, out today. We're having breakfast and then going to the march. She was in a relationship with a woman before me. In fact, she said she identified as a lesbian until very recently. I'm in solidarity with the march, but I probably wouldn't have gone if Melissa didn't want to go.
We've had sex once before. I was so nervous because she said she'd only ever been eaten-out by women. I made her come really quickly. It was a badge of honor.
Noon We hold hands a little bit at the march. She made a sign of a huge, pink vagina.
2 p.m. I get tired from all the standing around and by the time we're done I'm ready for a nap; fortunately, Melissa is kind of wiped too. We go back to her place.
3 p.m. We get undressed at her place right away. I go down on her. She comes. She rides me. I think she's an amazing woman, but I'm pretty sure it'll stay just casual between us.

Get Sex Diaries delivered every week.
Want to submit a sex diary? Email sexdiaries@nymag.com and tell us a little about yourself.