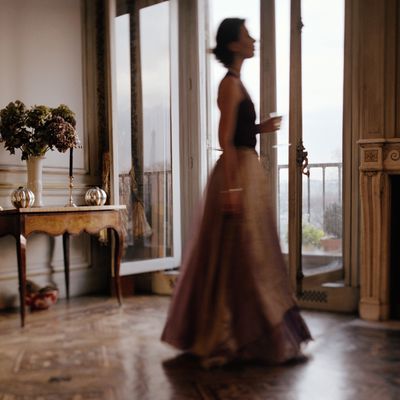 This could be you.
Photo: David Hanover/Getty Images
The web isn't wanting for GoPro–shot parkour videos, but at the end of last summer one featuring a precision-lipsticked, little-black-dress-clad subject jumping over Haussmann-style rooftops went viral. The video was a My Little Paris production, advertising the French media company's collaboration with designer Claudie Pierlot on one of its monthly subscription boxes. Having garnered 24 million views to date, it was most Americans' first brush with the French media phenomenon, which began as a Daily Candy-esque site to showcase founder Fany Péchiodat's unusual discoveries in a city not known for having many secrets left. Even Kanako Kuno, the Japanese artist whose illustrations speckle every aspect of the business, was herself a serendipitous discovery; Péchiodat's sister found her selling postcards in Montmartre.
Péchiodat, who moved to Paris as a student, was working for Jean Paul Gaultier perfumes when she sent her first email to 50 friends in 2008, revealing the location of a flower shop secretly distilling liquor from fallen petals. Since then, My Little Paris has grown regional offshoots in Marseille and Lyon, launched a monthly subscription box, a line of indestructible stockings produced in collaboration with designers like Diane von Furstenberg and Inès de la Fressange, and founded an in-house beauty brand, My Little Beauty. In 2013, then-mayor Bertrand Delanöe had billboard versions of Kuno's illustrations erected around the city, effectively turning the streets into a My Little Paris solo exhibit. The site has 3 million subscribers, mainly in Europe. But that seems poised to change, as Péchiodat and her team of 130 trained their sights on the United States this week.
Their latest addition, an English newsletter titled La Parisienne, does not include mariner shirts or praise for that appealing if self-contradictory notion that endless cheese will somehow make you thin. Rather, MLP posits that everyone can gain from the perks of Frenchiness, with or without the ancestry. It's Péchiodat's more "authentic idea" of the ideal but all-too-mythical Parisian woman, "while still indulging that French Girl fantasy just a little bit." She wants to fight against cliché while preserving the pieces people actually enjoy.
Don't expect any diet tips here — the baguettes will, blessedly, be left standing. Péchiodat and co. get theirs from their good friend Apollonia Poilâne, the down-to-earth scion of the famed historic Left Bank bakery of the same name. In that vein, the MLP crew are well-suited to apprehend and dispense the most au courant sense of what it means to be Parisian, because in scouring every corner of the city — those at the office devoted to the task are called "spotters" — they have gotten to know not just the well-lit cafés and romantic park benches that make up their Instagram account, but a host of entrepreneurial types à la Poilâne, who offer newer perspectives on that particularly French area of expertise, living well. Friends of the house (and MLP does, in fact, have a house, having recently opened a colorful private Montmartre hôtel particulier for employees who need a change of scene and pals who need a place to crash) include, for instance, Delphine Plisson, a former Sandro executive and current owner of Maison Plisson, a restaurant and friendly, pleasant grocery in the Marais, offering French-only charcuterie, produce, preserves, and of course, cheese. And while the countrywomen's devotion to high-grade skin care is well-documented, MLP offers an actual source: They get theirs from Juliette Lévy, who founded her pristine Oh My Cream! shops (she's up to two and counting) at age 25 in order to stock cult skin- and hair care.
Péchiodat and her editorial director, Anne-Flore Chapellier, launched La Parisienne to take MLP's charms to an audience with an evident appetite for titles like Bringing Up Bébé and French Women Don't Get Fat, but offer them something more tongue-in-cheek and broadly useful. Their first missive offers a love visualization strategy from the in-house romance guru at Paris's School of Life, including a preemptive, friendly rejoinder to those who might scorn such a thing. Expect baking tips in the future (we're hoping they come from Poilâne) and general ease in leading a subtly more French life, via that very French-girl trait, making the most of what you've got — which Péchiodat and Chapellier do themselves, tapping into the diverse wisdom of their entrepreneurial Parisian comrades. And hey, in a year when just being American looks like it might be a more loaded experience than ever, a cache of inboxed tips and tricks for a more European existence, with or without the transatlantic lifestyle, comes at a particularly opportune moment. Just like the French girl who knows precisely when to finally return her date's call.