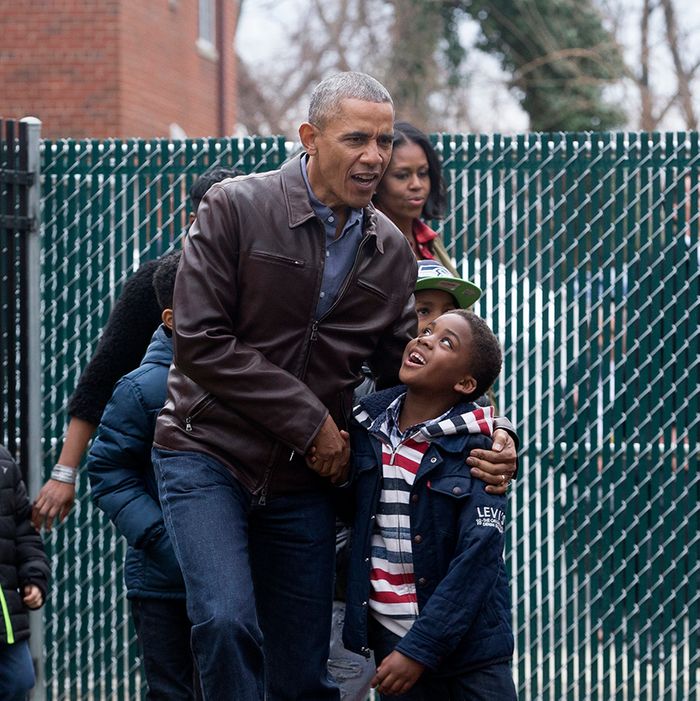 President Barack Obama leads a group of kids to the swing set.
Photo: Pool/Getty Images
On Monday, President Barack Obama and First Lady Michelle Obama got a chance to watch kids at a family shelter in Southwest Washington, D.C., play on a swing set that once belonged to their daughters, Sasha and Malia. The small event was the result of the president and First Lady's recent donation of the swing set to the Jobs Have Priority Naylor Road Family Shelter as part of their move out of the White House, the Washington Post reported. Now kids at the shelter will be able to swing and climb on a giant play set that comes with a plaque reading, "Malia & Sasha's Castle."

The Obamas surprised Malia and Sasha with the play set when they first moved to Washington in an effort to make things feel more like home. (And, in case you needed a reminder of how quickly time flies, note that Malia and Sasha were only 10 and 7 when they moved into the White House.) According to a New York Times blog post about the play set's installment in 2009, the "castle" sat near the White House pool and horseshoe pit (who knew?) and included three swings, a separate tire swing and a tree house. The Obamas also had a picnic table next to the play area with plates inscribed with the names of the 44 presidents.

The wooden Rainbow play set was first offered to Donald Trump's son, Barron, but the family declined since he and Melania Trump aren't moving to the White House right away, CNN reported. But not to worry! Judging from photos of Monday's reveal, it looks like a new generation of kids are more than happy to swing away on the same wooden set that occupied 1600 Pennsylvania Avenue. And hey, with all that play time, they're going to get pretty familiar with Malia and Sasha's names — if they weren't already.