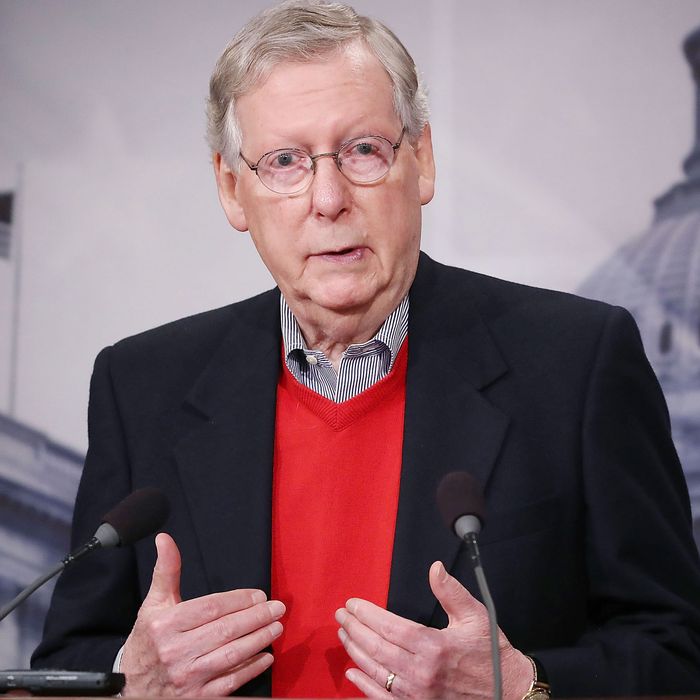 Mitch McConnell was up late last night.
Photo: Mark Wilson/Getty Images
Late last night, the Senate took the first step toward dismantling the Affordable Care Act. As part of the proceeding, Democratic senators introduced a series of amendments, most of which were designed to spotlight highly popular provisions of the ACA that will be lost if the law is repealed. Republicans voted them all down. The action was mostly political theater, but it was a discouraging glimpse at the state of GOP thinking on health care.
Voting on the amendments lasted almost seven hours. One of the many amendments Republicans struck down was one in support of requiring insurance companies to cover the cost of contraceptives. If that measure is reflected in the bill that eventually repeals Obamacare (we are still some distance from that), it would leave 55 million women without no-co-pay birth control.
According to Politico's Dan Diamond, the Senate also voted against an amendment that would support maintaining a preexisting-conditions protection for health insurance, a provision of Obamacare that affects tens of millions of Americans. And remember that before the Affordable Care Act passed, many insurance companies considered pregnancy to be a preexisting condition.
The rollback is exactly what senators such as Kirsten Gillibrand feared when Obamacare first came under threat. "If my colleagues destroy the Affordable Care Act, it will have real, direct, and painful consequences for millions of American women and their families," Gillibrand said during a speech on the Senate floor Wednesday. Gillibrand's amendment, which sought to preserve still more protections for women under the ACA, was voted down.
As New York's Ed Kilgore pointed out, GOP senators also declined to vote in support of protecting Medicare, Medicaid, the Children's Health Insurance Program, and rural hospitals. Democrats reportedly tracked the votes of each Republican senator, possibly recording the information to use against them in upcoming campaigns. Meanwhile, several Democrats voiced their objections before casting their "no" votes, but they were quickly silenced by the gavel.
When it was Elizabeth Warren's turn to vote, she shouted over the gavel to say, "On behalf of the Republicans and Democrats who worked for a decade in Massachusetts to bring health care to 97 percent of our people, I vote no."
The budget resolution that passed the Senate last night will now go to the House, which is expected to approve it Friday. The actual repeal would happen through a separate budget bill in the coming weeks or months — though right now the GOP is in turmoil about whether it needs a viable replacement for the ACA before repealing it. That internal discord seems to be the only thing standing between Americans and the radical stripping of what have become basic and essential health-care benefits.
Correction: This story originally suggested that some of these changes had already gone into effect. That is not the case.