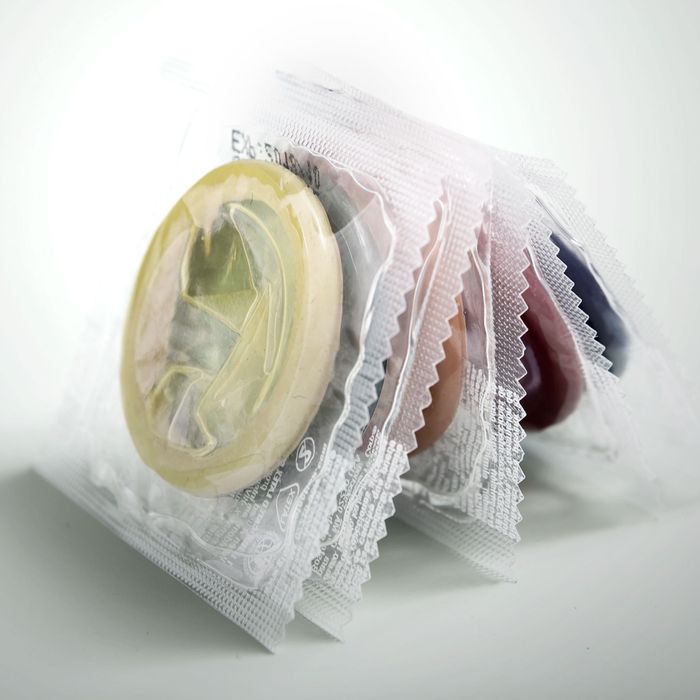 New York's Sex Diaries series asks anonymous city dwellers to record a week in their sex lives — with comic, tragic, often sexy, and always revealing results. This week, a 25-year-old woman who works at a media company and sometimes sees multiple men a day: single, straight, West Harlem.

DAY ONE
6 a.m.: I wake to the sound of my phone's alarm. As I silence it, I feel Max's arm over me. We start kissing and his hand finds my ass under the covers. Ah, morning sex — my favorite.
Max and I matched on Tinder the day before, and he's just as hot in person. He's a professional drummer (hello), so the decision to fuck him came pretty easily. (Though recently, my decision to fuck anyone is coming pretty easily.)
He did give me some shit about putting on a condom last night, but I think I can look past that. It's always funny to me when guys are under the impression that their preferences on condom-wearing have any sort of influence on the situation.
6:41 a.m.: We finish fucking (me on top, fairly quick), and I call myself an Uber. Max thinks I look okay enough to go straight to work, but I wouldn't be caught dead strolling into the office wearing yesterday's clothes.
7:05 a.m.: Once I'm home, I brew a pot of coffee and jump into the shower. I'm realizing how unprepared I was for this date — my legs and bikini area somewhat unkempt. Whatever.
4:37 p.m.: I work for a women's-media company; typically, it's a nine-to-five kind of job. At the office, I get a text from Simon, another Tinder guy I slept with last week. He's short and weird but unbearably cute, and the sex was good. He wants to know if we're still on to hang out tonight. Shit. I want to see him, but I'm exhausted from last night and the workday. We plan to reschedule for next week.
10:01 p.m.: I engage in some lackluster conversations with new matches on Tinder, and eventually pass out with 30 Rock glowing on my laptop.
DAY TWO
11:20 a.m.: It's Friday, so I'm planning ahead to secure some dick this weekend. I swipe right on Tinder until I run out of swipes (a daily habit). I've never actually been in a serious relationship — the closest I got was right before this current Tinder rampage. I dated a guy for about five months, but we never became "official" (whatever that means). It wasn't until it ended that I knew how unhappy I was — it made me realize I need to have fun and figure out what I want before sticking with one person.
2:54 p.m.: A Tinder message from someone named Byron. He's pretty cute. Dark hair, boyishly handsome, seems to have a sense of humor. We exchange a few messages before I decide I'll be sleeping with him tonight. I tell him my office holiday party is this evening, and he suggests meeting up after. Done.
6 p.m.: The office festivities begin. Bring on the prosecco.
10:53 p.m.: I eventually make it out of the party to meet Byron at a tequila bar. He's cute, and I can tell he has great arms under his sweater. It's all about the arms for me.
12:45 a.m.: After Byron pays the check, we decide to head to his apartment. We make out a little in the cab. I love that shit. On the way out of the bar, I get a text from Max. He's just finished a gig and heading uptown. Too slow, Max.
1:15 a.m.: We're fucking in Byron's apartment in Chelsea. It's probably the best sex I've ever had. His body is even better than I thought, he uses the perfect amount of dirty talk, and he's a really good kisser. The trifecta. We fall asleep in his absurdly comfortable bed.
DAY THREE
6:30 a.m.: I wake up stupidly early for whatever reason and desperately wish Byron would too so we can fuck again. I shift around in the hopes that he wakes, but no cigar.
8:36 a.m.: We both wake up and soon he's touching me and then he's on top of me. He feels so good. His skin is the most incredible thing I've ever felt.
9:05 a.m.: I finally respond to Max's text, and ask what his plans are tonight. He has another gig, but says he'll keep me posted.
10 a.m.: We lie in bed for a while, Byron telling me about his niece and nephews. His relationship with his family is sweet, but I'm still emotionally unattached (this is unheard of progress from me).
11:03 a.m.: By the time I get home I'm keenly aware of how ravenous I am. I make myself a giant breakfast sandwich and brew a pot of coffee before showering and climbing into bed for a nap.
3:03 p.m.: I wake up and realize that I've been passed out for nearly three hours. I was supposed to meet up with a friend earlier this afternoon; that's not happening now. I send her a quick apology text and pour myself some of this morning's leftover coffee.
3:20 p.m.: Max texts asking me to hang out before he has to leave for work this evening. I say yes, slap on a bit of mascara, and order an Uber.
4:40 p.m.: I arrive at Max's apartment and he greets me with a cheek kiss. He's sweet like that. We lie down on his bed and get to it pretty quickly. Afterward, we finish watching a terrible/amazing Val Kilmer movie he started earlier. He spoons me and kisses my neck throughout the movie. It's pretty nice.
6:34 p.m.: Max and I walk to the Starbucks around the corner so he can get a coffee and wake up a bit before his gig. On the way, we run into a friend of his. He introduces me and they chat a bit — this whole day is starting to feel a little relationship-y. I genuinely don't know how I feel about that.
6:54 p.m.: On the walk back, I decide to catch a cab down to my apartment, since Max has to start getting ready anyway. He hails one for me and kisses me good-bye, saying he'll text later.
7:10 p.m.: I call my parents as I walk around the Duane Reade near my apartment, on the hunt for snacks to accompany the Netflix binge I've planned for this evening. It's Saturday, but I need a night off. I'm exhausted.
7:33 p.m.: Byron texts and tells me about his visit with his family today. It doesn't take long before we've exchanged Snapchats and I'm sending him pics of my ass.
DAY FOUR
10:35 a.m.: I wake up to a "Good morning ;)" Snapchat from Byron. I lie around in bed exchanging sexy bed-selfies with him.
11:17 a.m.: I follow up with a friend I'm supposed to meet for brunch. We plan for Cafeteria later this afternoon. I didn't choose it specifically because it's a block from Byron's apartment, but it's definitely in the back of my mind.
2:10 p.m.: My friend and I devour brunch and exchange our latest sexual escapades; she's super-proud of me when I tell her I fucked two different guys yesterday. Hell, I'm proud of me, too.
3:05 p.m.: After we ask for the check, I throw Byron a text asking if he's home. I have to run some errands before a holiday dinner tonight with a group of friends, but I figure I could stop by for a quick bang in between.
3:45 p.m.: Byron still hasn't answered me. What the fuck. I head uptown to start getting ready for tonight.
4:13 p.m.: He finally answers. He was out at a bar with some friends watching football. I tell him about his missed opportunity and he seems equally disappointed.
7 p.m.: I arrive at my friend's apartment in Inwood. There's tons of booze and food — everyone's in a good mood. I make a bomb-ass cheese plate and send a picture of it to Byron.
9:07 p.m.: Simon texts asking how my weekend was and if I'm free tomorrow night. I'm not, but we make plans for Tuesday and exchange a few more messages.
10:03 p.m.: I sneak off to the bathroom to send Byron a picture of my tits.
11:57 p.m.: I finally get home, strip off my clothes, and jump into the shower. I also do a sheet mask. Briefly, I remember I haven't heard from Max at all today, but brush the thought away. I can't be bothered.
DAY FIVE
10:20 a.m. I'm so determined to get some dick that I'm brainstorming with Byron about possible public places where we can meet up on our lunch breaks to fuck. I don't even know if I'll have time to slip away from work today. We're trying to push out as much content as we can. Ugh.
11:31 a.m.: After much deliberation we come to the conclusion that today is a crapshoot and give up trying. But that doesn't stop me from running off to the bathroom to Snap him pictures.
4:20 p.m.: I don't feel like getting to know a new Tinder person tonight, so I text Max to see if he's around later. He says his parents are in town and he's having dinner with them, but he'll keep me posted. Cool.
5:45 p.m.: I head out of the office and up to Inwood to do some recording. My friend Lindsey, the host of last weekend's party, has a makeshift studio in her house and we jam sometimes. She plays and produces, I sing.
9:45 p.m.: I'm still at Lindsey's when I get a text from Max telling me he's finished with dinner but exhausted and on the LES, so he can't hang out tonight. The fates are just against me today.
DAY SIX
9:50 a.m. Byron and I are determined to work something out today. Simon is supposed to come over tonight, but maybe I can push that back and pop by Byron's quickly first. I tell him I'm meeting a friend for drinks but have a little time after work. He has to leave for a meeting at 6:30, so that gives us a little under an hour. Perfect.
10:30 a.m.: Thank fucking God it's bagel day at the office. I'm drowning in work. I slather cream cheese on a pumpernickel bagel and go to town.
12:30 p.m.: I text Simon and ask if we can meet up around 8:30.
2:23 p.m.: I text Byron, "Tick tock." I'm so fucking excited to get banged.
5:48 p.m.: When I meet Byron on the corner of 16th and Fifth Avenue, he's walking his roommate's dog. This dog freaking loves me. I've never seen Byron in his work clothes before, and damn, he looks good. He's hotter than I remember.
6:03 p.m.: I sit down on Byron's bed while he takes off his coat and shoes. He leans over, grabs my face, and starts kissing me, hard. I'm into it. We undress and he slaps my ass as we lie down on the bed. He reaches between my legs and fingers me. God, he's so good at it. I get on top and he comes approximately two minutes after we start fucking. I'm left at the all-too-familiar crossroads between disappointment and flattery.
6:20 p.m.: He heads to his meeting, and I'm off to meet Simon.
7:15 p.m.: I stop to pick up my laundry, and tip more than usual. I'm in a good mood.
8:50 p.m.: Simon arrives a little late, which is fine because I wanted time to shower anyway. Can't exactly have the stench of another man on me, now can I? He seems a little flustered and soon divulges that he's on Adderall. That'll do it.
9:30 p.m.: We start to watch something on Netflix, but the moment the internet cuts out he's kissing me. We undress and he goes down on me for a good ten minutes. We fuck, me on top, and then he's finished before I know it. He apologizes and promises we can go again in a few minutes.
9:50 p.m.: We do. His lips are amazing and he kisses my neck a lot, which honestly gets me off more than anything.
10:27 p.m.: I look at my phone and my stomach drops. The mother of one of my childhood friends has been battling cancer, and she's passed. Simon is in the bathroom; I suddenly want him to leave. I want to be alone and cry. He lives all the way in Crown Heights, and it's a work night for both of us, so I'd feel awful kicking him out. When he comes back, I don't say anything. We get into bed and I silently weep for my friend.
DAY SEVEN
6:45 a.m.: My alarm goes off. Simon gets up first, gets water from my kitchen, showers. I get dressed and brew coffee. I'm still really upset and am dreading going to work. I'm taking a bus to Albany tomorrow morning, for the funeral.
7:30 a.m.: Simon leaves. I don't even bother putting makeup on today.
11:30 a.m.: I have my one-on-one with my editor and tell her about my friend's mom. It's the first time I've said it out loud. She's so sweet and sympathetic — it takes every ounce of energy for me not to cry.
11:46 a.m.: The funeral is going to be tomorrow at 1:30 p.m. If I catch an earlier bus, I can make it on time. My sister and I arrange to go together.
7 p.m.: I've been texting with a new guy from Tinder all day. He seems really weird and funny and has my exact sense of humor. He wants to meet for a drink, but he's in Brooklyn and I'm already uptown. I consider blowing off packing to meet him in Williamsburg, but I stop myself. New York and its men aren't going anywhere.
7:30 p.m.: I think about how I'm comfortable with my sex life just the way it is. I take the necessary precautions to protect myself (e.g., the condom thing), so I don't see any issue with it. I also don't mind if my partners have multiple partners, as long we're safe. As a woman choosing to be single right now, I don't think I should be made to feel guilty about the fact that when I want to have sex, I'll find someone to have sex with, even if that's a different person each time.
Want to submit a sex diary? Email sexdiaries@nymag.com and tell us a little about yourself.