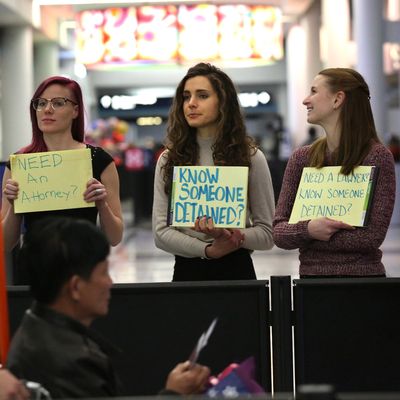 Photo: Nancy Stone/TNS via Getty Images
This weekend, as protesters descended on airports nationwide to protest Trump's executive order banning entry to the U.S. from a number of Muslim-majority countries, hundreds of lawyers from organizations and firms around the country were busy setting up impromptu crisis centers to offer their legal services to those impacted by the order. And according to reports, an overwhelming number of those attorneys were women.
Chicago-based lawyer Dee Armstrong told the Cut that she saw an approximately 70-30 female-male ratio during her weekend shifts working with immigrants and refugees at Chicago O'Hare, while on Twitter, Atlantic editor Matt Ford pointed to a similar "striking" gender disparity among the lawyers at Washington Dulles Airport. As Rebecca Traister points out, women have been a major force in crafting the legal opposition to Trump's administration: It was four female judges (plus one male judge) who issued stays on Trump's executive order this weekend, while Sally Yates, Obama's now-fired appointee for attorney general, became an overnight hero for refusing to enforce Trump's executive order.
The Cut spoke to some of these women, many of whom spent both Saturday and Sunday at their nearest airports and have plans to return this week, about what the experience was like and the people they worked to help. "I felt like I had a superpower," said attorney Esther Panitch of her time at Atlanta Airport. "And my superpower is that I have the experience and the training to help people, which is exactly why I went to law school."
Dispatch from JFK: "People really stepped into action."
"There were dozens and dozen of lawyers. We were all congregated near the Central Diner in JFK Terminal 4. Everyone was on laptops either drafting petitions or trying to make contact with passengers or passengers' families, trying to deal with press contacts, questions from congressmen and -women.
"When I got there in the morning, there was a young woman whose parents were coming on visitor's visas from Iran and they had been held overnight. She had been waiting a very long time for them. Habeas petitions had been filed in their cases, and they had been told that they would be sent back. But ultimately, around 3:30 p.m. they were released, which was wonderful.
"People worked really hard. I was so inspired by the people that were there. People really stepped into action to put systems in place to make a more cohesive effort. Spreadsheets were coming together, Google Docs were being sent for people to put in client intake information in a centralized way. And, of course, it was chaotic but as the day went on it really came together." —Melanie Zuch, staff attorney at the Urban Justice Center, New York
Dispatch from LAX: "It was Kafkaesque at best."
"I've spent my career trying to raise awareness about immigrant rights and the plight of refugees and have always felt a bit frustrated that the public at large isn't aware of these issues, so it was incredible to see people who had never been engaged come out. I think we're going to see a very different dynamic in the months and years to come.
"I spoke with a cousin of an Iranian woman who's a graduate student here in California with a student visa. She went abroad briefly to visit family, and came back to this disaster. And when she landed she was told that if she did not go back she would never get into this country again. They canceled her visa. She was put on a plane after the New York court issued a stay preventing the government from removing people.
"There was also a couple that was finally released after 22 hours — they had been held without food and water. They were the elderly parents of a lawful permanent resident who lived in L.A., and they had a history of heart surgery so their daughter was very worried. These are not normal times … It was Kafkaesque at best. This was not the country that any of us were used to operating in." —Judy London, directing attorney of public counsel, Immigrant Rights Project, Los Angeles
Dispatch from ATL: "Every lawyer is gonna fight like hell."
"An immigration lawyer at the airport was essentially giving me and a couple other lawyers a quick and dirty [rundown] of what the law is, because we're not immigration lawyers. We all figured that the more of us [who showed up], the more likely it would be that somebody would know how to handle a situation. So even though it's not my wheelhouse, I felt pretty empowered that I knew enough about the Constitution to make an argument if somebody needed it or that I would know who to call to get help.
"I was on the train home from the airport, and there was a family who were speaking in Farsi I think, and one of the women walked up to me and asked, 'Are you a lawyer?' And then it was lot of thank-yous from people who realized I was a lawyer on the train. That was unbelievable. And then they were asking about their own situations, and what [do I think] is gonna happen? And I told them that I don't know. Essentially I said, 'We're gonna fight like hell. Every lawyer is gonna fight like hell.' Yesterday it was an incredible day to be a lawyer. I felt like I had a superpower and my superpower is that I have the experience and I have the training to help people, which is exactly why I went to law school." —Esther Panitch, criminal and civil trial attorney, Atlanta
Dispatch from DIA: "The longer the government refuses to discuss what's happening, the longer we will stay out there."
"We set up this little station outside of international arrivals so that we could be prepared for anyone who needed help. Customs and Border Protection was not actually sharing any information about who was being detained or what their official policies are, so mostly, our presence was to interview people leaving those flights to see what they were seeing: Did you see anyone get pulled away for secondary inspection? Right now we're intending to have groups at the airport for at least the next couple of days. The longer the government refuses to discuss what's happening and what their policies will be, the longer we will stay out there and make sure that they know we're there and we're going to be there to defend anyone who needs help.
"The non-immigration lawyers in our group came down knowing that they don't know a lot about representing someone specifically in this sort of situation but that they're willing to learn and willing to help, but they actually ended up being very useful for different issues that arose. On Sunday we had an issue where the Denver police department and the deputy city attorney thought we were soliciting in the airport and there was some talk of us needing a permit or being arrested and so having some civil rights attorneys and constitutional law attorneys, that really helped us. We had a team right there who could get the information together that we needed to defend ourselves and avoid arrest." —Christina Brown, immigration lawyer, Denver
Dispatch from ORD: "The entire situation was incredibly harrowing and catastrophic."
"In the first ten minutes of arriving, I met a man whose wife and 18-month-old daughter had been detained. He showed me a picture of his daughter. I have kids myself, and it immediately felt like this was my child. This was all of our children. This was a person that we needed to immediately act and defend and stand up for.
"That family, the mom and the daughter were not released until the federal order of the stay was issued. The entire situation was incredibly harrowing and catastrophic because they were detaining children and they were detaining U.S. citizens who were traveling with people who were legal residents. We all were called to the airport expecting to meet with refugees who were trying to gain asylum into the United States and every single person that we represented, throughout the weekend, was a legal permanent resident or had a visa of some kind.
"What I think is unique about [the support from the legal community] was it happened so instinctively and so immediately. People heard what was happening and I think their own sense of humanity was triggered. Everybody who encountered this issue understood the gravity of the situation and how critical every moment was and how fast we had to move." —Emily Benfer, founder and director of the Health Justice Project, Chicago