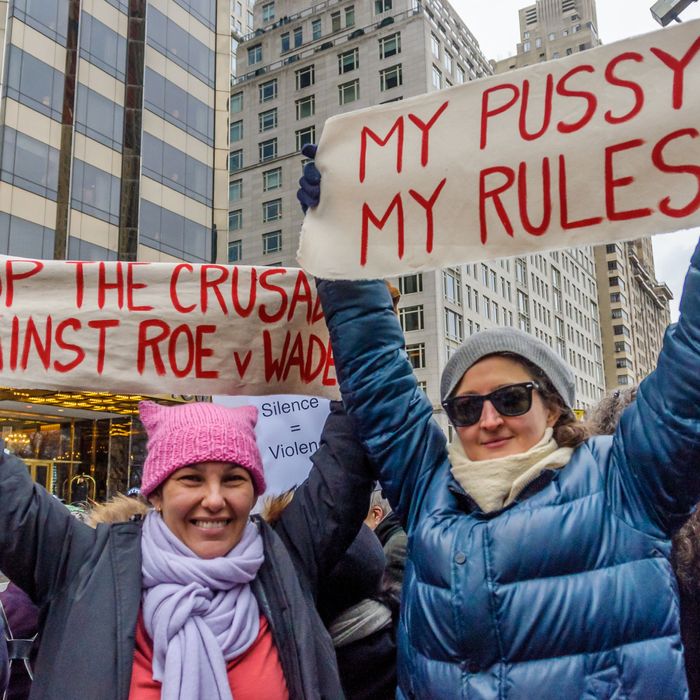 Women demonstrate in pink 'pussy power' hats.
Photo: Pacific Press/LightRocket via Getty Images
On Thursday, the Women's March on Washington released its official platform — a five-page document that covers everything the march will stand for when participants take to the streets on January 21 in Washington, D.C. The wide-ranging document includes reproductive rights and equal pay, but it goes beyond topics that are traditionally thought of as "women's issues" to discuss things like police reform, racial justice, and economic policy. As its organizers state, it's essentially a "representative vision for a government that is based on the principles of liberty and justice for all."
In its early stages, the march faced criticism for its lack of focus; "the march is shaping up to be a feel-good exercise in search of a cause," Shikha Dalmia wrote in The Week. The march's platform seems to be an effort to counter that line of thinking and to reassure anyone who wishes to support it that they belong.
Even before they get into policy, the Women's March organizers acknowledge their place in the long line of activists fighting for equality. "We honor the legacy of the movements before us — the suffragists and abolitionists, the Civil Rights Movement, the feminist movement, the American Indian Movement, Occupy Wall Street, Marriage Equality, Black Lives Matter, and more — by employing a decentralized, leader-full structure and focusing on an ambitious, fundamental and comprehensive agenda," they write. They go on to list their collective views on a variety of topics:
We believe Gender Justice is Racial Justice is Economic Justice. We must create a society in which women, in particular women—in particular Black women, Native women, poor women, immigrant women, Muslim women, and queer and trans women—are free and able to care for and nurture their families, however they are formed, in safe and healthy environments free from structural impediments.

We recognize that women of color carry the heaviest burden in the global and domestic economic landscape, particularly in the care economy. We further affirm that all care work–caring for the elderly, caring for the chronically ill, caring for children and supporting independence for people with disabilities–is work, and that the burden of care falls disproportionately on the shoulders of women, particularly women of color. We stand for the rights, dignity, and fair treatment of all unpaid and paid caregivers. We must repair and replace the systemic disparities that permeate caregiving at every level of society.

We believe in Gender Justice. We must have the power to control our bodies and be free from gender norms, expectations and stereotypes. We must free ourselves and our society from the institution of awarding power, agency and resources disproportionately to masculinity to the exclusion of others
The document also recommends police and criminal-justice reform; demands "safe, legal, affordable abortion and birth control for all people"; says that "LGBTQUI rights are human rights"; calls for equal pay and the right of all workers to unionize; demands immigration reform; and declares that the environment "cannot be exploited for corporate gain or greed." In other words, organizers seem to have solved the problem of conflicting viewpoints in their ranks by taking an approach that's all-inclusive.