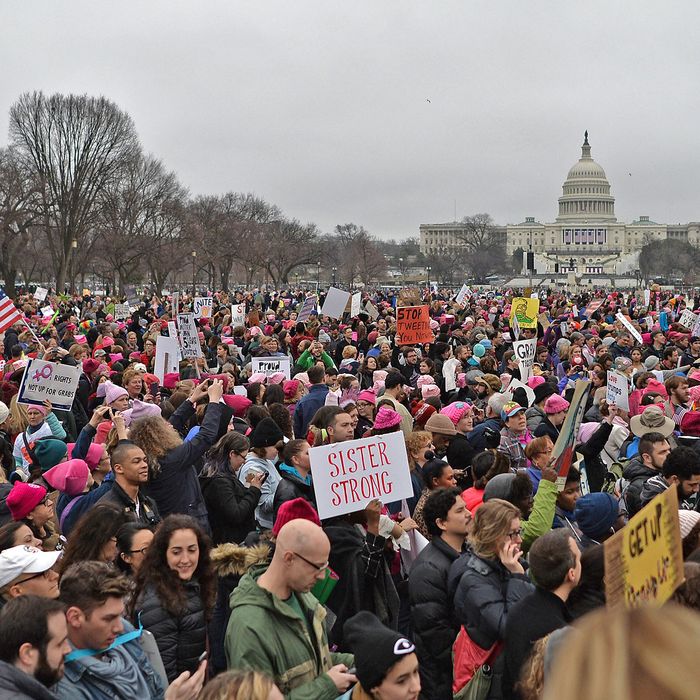 Photo: ANDREW CABALLERO-REYNOLDS/AFP/Getty Images
Organizers of the Women's March on Washington had planned for 200,000 attendees on Saturday, following the president's inauguration. By mid-afternoon, however, the numbers were far greater than anticipated, potentially reaching almost half a million, organizers told the Washington Post. The sheer mass of those present led to doubt about whether a formal march to the White House was feasible, according to the Associated Press.

Despite the earlier report, organizers told the New York Times that the crowd would still continue as planned. "We are marching. We are marching straight ahead toward the Washington monument to the ellipse of the White House," the organizers told the Times via email.

Reports also suggest that the number of those attending the march outnumbers those in attendance for the inauguration of President Donald Trump. According to the Washington Post, 275,000 transit rides were clocked by 11 a.m. on Saturday, compared to 193,000 trips taken by the same hour on Inauguration Day. Number tallies, though, might not tell the whole story. As pointed out by Vox, there are other ways to communicate the enormity of the march's crowd — such as this photo by Los Angeles Times reporter Matt Pearce.

That's a lot of people, to say the least.