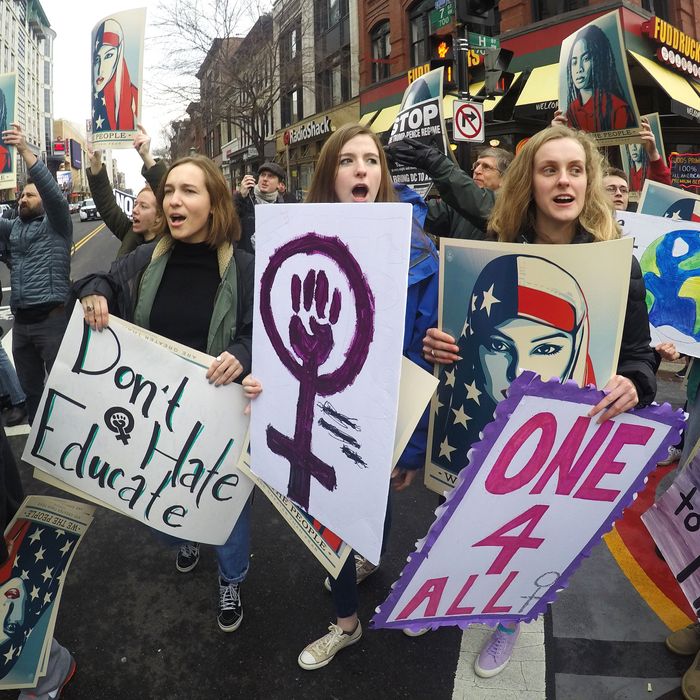 Photo: Courtesy of the Students
Some of the most inspiring participants at Saturday's worldwide Women's Marches were the young people who came out in droves to take a stand for gender equality and human rights. Afterward, I talked to nine high-school students from across the United States — all with their own reasons for marching — about what the experience meant to them, and how they plan to carry their activism forward in the coming years and months.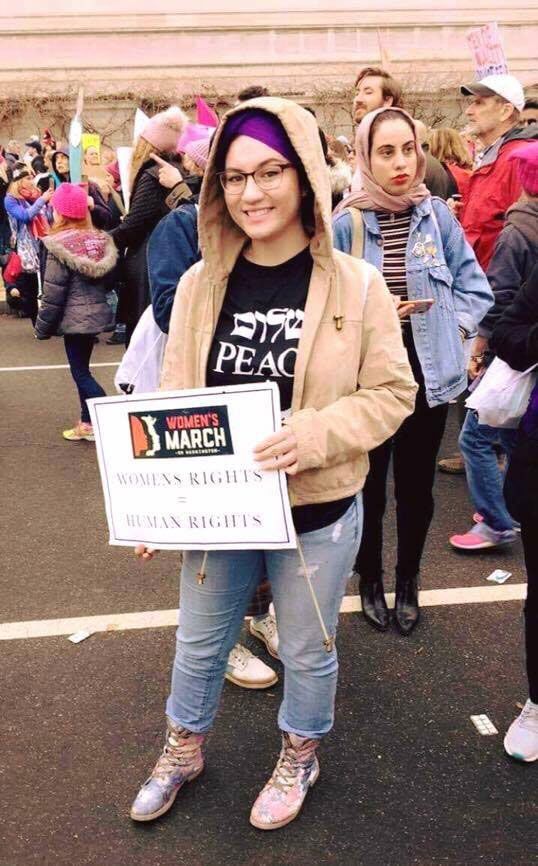 Katie, 18, Chicago
Sign: "Women's Rights = Human Rights"
Why I march: "Last minute I got the opportunity to go with this group called the Muslim Women's Alliance. I went with a group of Muslim sisters — I'm Muslim as well — and we traveled on a bus for 14 hours to Washington. I decided to actually go because considering the election and the negative rhetoric that has been going around, especially misogyny and xenophobia, I felt this was really an opportunity for me to amplify my voice and be a presence there that really shows I'm here, I exist, and I refuse to accept the infringement on rights that I am entitled to, and to really show I am the future generation that's going to continue to fight for what is right.

"The most inspirational time for me was when prayer time came, and we were desperately looking for a private location to pray. But then I realized where I was, and I realized I was in a place with extreme solidarity with women for all backgrounds. And though we were one of the very few Muslim organizations that I saw, we decided to pray where we were. We put tablecloths out and prayed. And when I got up, something really touched my heart. Someone just approached me randomly and said thank you for being here and thank you for making your presence known and fighting for what you truly feel is right. Sometimes I tend to feel like the Other, sometimes I tend to feel isolated or like I'm the only Muslim in the room. But there, it was extreme solidarity that has been difficult to find lately.

"I definitely feel like I will continue my efforts even after the march. I've been participating in activism since as long as I can remember, fighting for my communities on the Southwest side of Chicago, fighting for disenfranchised individuals, people of color, criminal-justice reform. This experience really enhanced my leadership quality. It helps me continue to think what I can do to enhance my community and understand perspectives that may not apply to me but that I feel are just as important."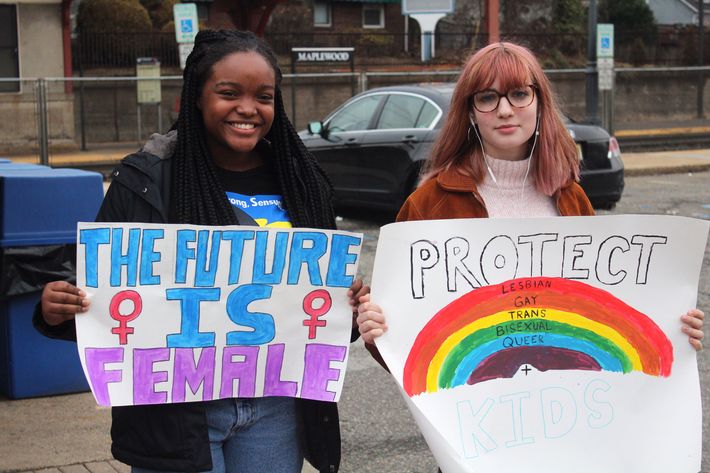 Olive, 15, Maplewood, New Jersey
Sign: "Protect LGBT Kids."
Why I march: "I went to a protest the day after Trump was elected and our guardian ended up being dragged away and arrested for no reason. That kind of sparked something in me, which was like: I really want to be protesting and attending these marches. There was a walkout in my school last Friday; we went through the school and everyone started running out of classrooms and started joining us. And we walked over to town hall and some seniors made speeches.
"I wasn't able to go to the march in D.C. because I had an orchestra concert that I had to play in in the evening, so I went to the one in New York. This march was definitely a lot more peaceful. The first one, people were really angry and scared. This was more loving and everyone was supporting each other. I was there especially for reproductive rights. Also, I'm bisexual, I'm a queer girl, so gay rights and stuff like that is very important to me and can actually apply to me in the future. Something that was a little bit upsetting to me was there was a lot of stuff that was cisgender-exclusive and wasn't including trans women — stuff like "no uterus, no opinion," which trans women can't be a part of."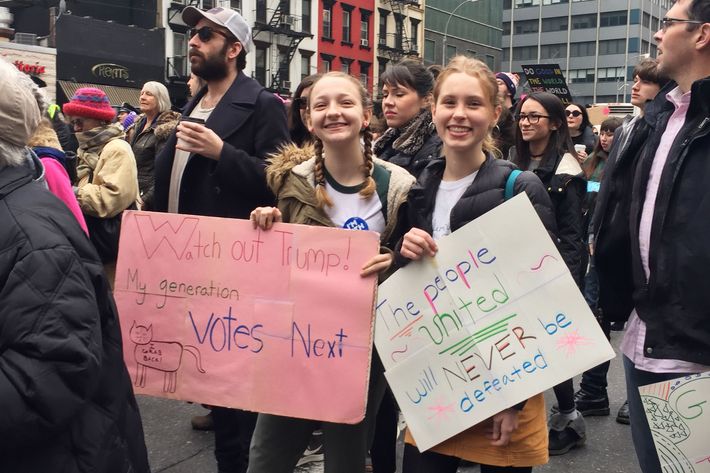 Lena, 14, New York City
Sign: "The People/United/Will Never Be Defeated."
Why I march: "I decided to march because I believe in equality for women, and everyone.

"I canvassed for Hillary in Philadelphia right before the election and phone-banked for Bernie Sanders in May and went to a Bernie Sanders rally in Prospect Park. My school has a Democrat club that I just joined and I'll probably go to more marches if there are more."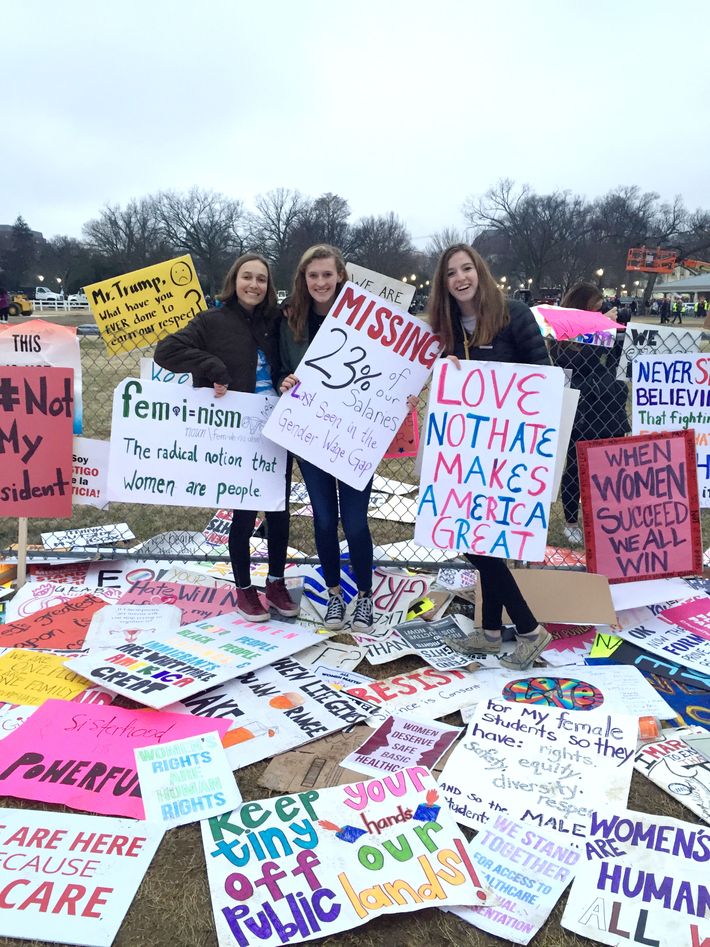 Fiona, 17, Mercersburg, Pennsylvania
Sign: "Love not hate makes America great."
Why I march: "My friends and I started the women's activist club at school, and we got everyone in the club to go, so there were 80 students and faculty members that went. I'd say the biggest thing me and my friends were there for was women's reproductive rights, but we were really joining in on everything: Black Lives Matter, indigenous groups.
"Someone spoke at the march and he was talking about what we're going to do for the next four years — he was talking about calling your senators and getting an emergency group together on an email list if you have to act fast if there's a big change in policy. So we're going to do something like that, too. My friends and I are going to college next year, and we all want to stay connected through this."
Liz, 17, Mercersburg, Pennsylvania
Sign: "The radical notion that women are people / It's not your job to like me, it's mine."
Why I march: "The women's activist club [which Liz co-founded with Fiona] started as a feminist literature group where we were just reading books by and about women and then it sort of grew into more active programs on campus. After the election we started putting up posters around school with quotes by strong women.

This was my first protest. I feel like at our school we're put in this very good environment where we're kind of protected. It was very cool to be surrounded by all these other strong women — it wasn't just all these people with the same views and opinions. I feel like this march was such a good start for the next four years."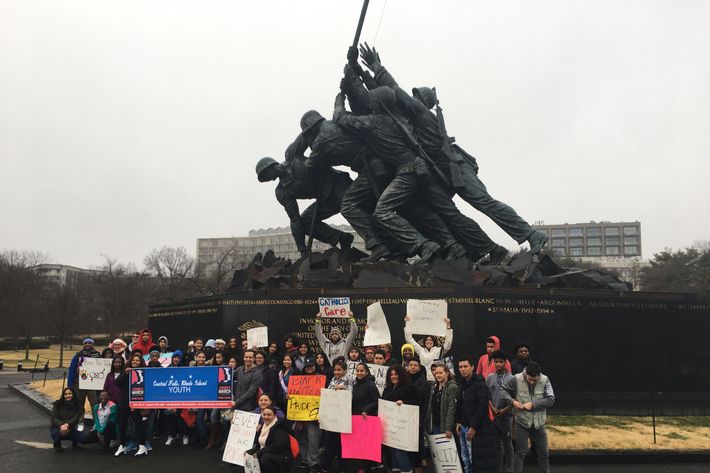 The following students come from high schools in Central Falls, Rhode Island, a low-income community made up largely of Hispanic immigrants. After the election, Central Falls High math teacher Seth Kolker noticed that his students were really affected by what was going on politically. "Kids were upset, angry, confused, and there was a lot of fear and uncertainty. They were asking really real questions about the extent to which this country would still be a place that would still be welcoming to them, where they could make the kind of future that they want," he explains. Kolker set about organizing a crowdfunding petition to bring students to the Women's March in Washington D.C., ultimately raising over $8,000 with support from the Rhode Island Chapter of the Women's March on Washington and other donors. The money raised helped provide transportation, lodging at a church in Arlington, Virginia, on Friday night, and warm clothes for students to wear during the march.

On Friday, 42 students from Central Falls traveled to D.C. to make their voices heard.
Celia, 17, Central Falls, Rhode Island
Sign: "Women are the Future"
Why I march: "My senior project is focusing on women of color within the feminist movement, so I was immediately excited to go. The only thing that held me back was asking my mom. She was worried, and I feel like she had every right to be, because the election brought a lot of hatred and violence and it scared her. I was scared myself. But I felt like I had to do it. And I told her that: People have done it in the past, and I can definitely do it now. Someone has to be the person to do it."
We were on a bus with over 40 students from Central Falls and everyone had a different thing they were there for. The message I wanted to get across was that I'm a kid in the inner city, I've grown up here my whole life. So I wanted to represent the community that I'm from and the identity that I hold. I'm a woman of color, I'm a first-generation immigrant, I come from a low-income community, and I've grown up in the public-education system. But I still have a voice and I still have passion, and for the kids in the community that didn't have the opportunity to go, I want to be able to represent them and break the stereotypes held against us.
Being there was surreal. It was my first time doing a peaceful act of protest, even though I've been really into social issues and educating others. And that being my first time was really overwhelming. It gave me a lot of hope for our future and the generation that I'm in, and it made me proud to be American, whereas the election gave me a lot of disappointment and anger and sadness. But I didn't see any of that that day, there was a lot of positivity and love. Focusing on women of color within feminism and the intersectionality of feminism, it is hard to get lost in being a part of that because you're already dealing with so many cultural problems, but I feel like they did have a space and did have a voice."
Dexter, 18, Central Falls, Rhode Island
Sign: "I didn't have a sign but I helped lift some girls who were tired. I didn't know them, they were from Iowa, but her feet were hurt so she asked me to carry her. I was carrying her and her sign."
Why I march:
"The thing that made me want to go to the march is that I have a friend that's gay, and he was in the closet for a long time. And I was the first person he ever told that he wanted to come out of the closet, and he asked me to come and support him, so that's what I did.

"I had a GoPro with me and I did interviews with people at the march and it was really good. I'm thinking of creating my own YouTube channel, with activism and marches and where people can come and talk to me, like a guidance counselor."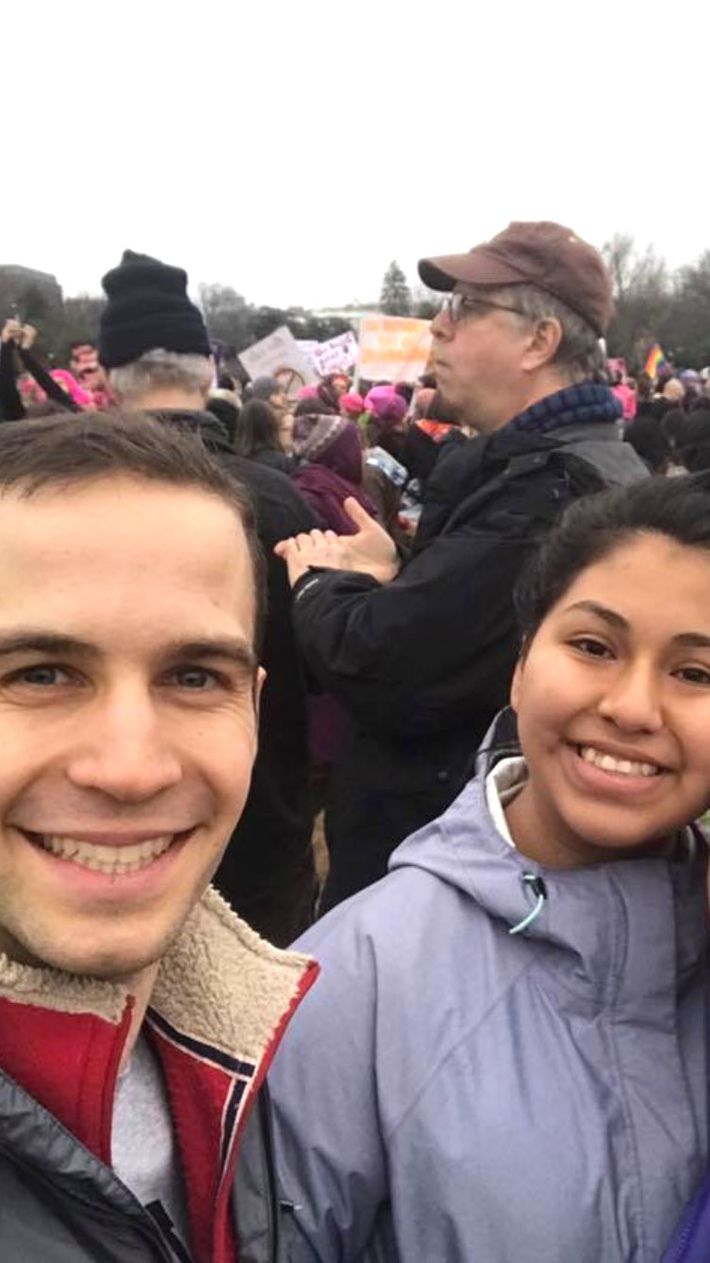 Guadalupe, 16, Central Falls, Rhode Island
Sign: "Everybody should be treated the same."
Why I march: "What made me want to go to the march is seeing all these things that are not right about how people get treated. I want everybody to be treated the same. I don't think it matters what you are.
"I felt very strongly about immigration because of my parents. My dad is an immigrant from Mexico, and he works very hard — he pushes my family forward, and I don't think any immigrant should be mistreated or get called names because they work hard for their families. Sometimes my dad goes to work and he comes home like, 'Oh, I got called this and this', and I want to tell him, 'It doesn't matter what they think, if you feel like you're doing good then that's all that matters.' I want to keep sharing positivity.
"Being there, I felt proud of myself and proud of everybody that was there. Being there together, each of us having our different reasons, we felt more powerful. We felt like we could make a change, like we're making history."
Jesus, 19, Central Falls, Rhode Island
Sign: "It's not black or white, it's right or wrong. We are equals."
Why I march: "I come from Bolivia. I decided to go to the march for immigration rights and human rights, because my family immigrated to the United States 19 years ago and I immigrated one year ago.

"I feel like when I came to America I had a lot of opportunities. I had a corneal transplant six months ago. I've made a lot of friends at school. I meet a lot of people that immigrated from a lot of different countries, different cultures, and I learn about them.

"I absolutely will do protests or marches again, because it's important that we have to be together, and it's important that people know who we are and what we want. I hope that we're gonna make a big change, we are in the beginning. A lot of things are coming."