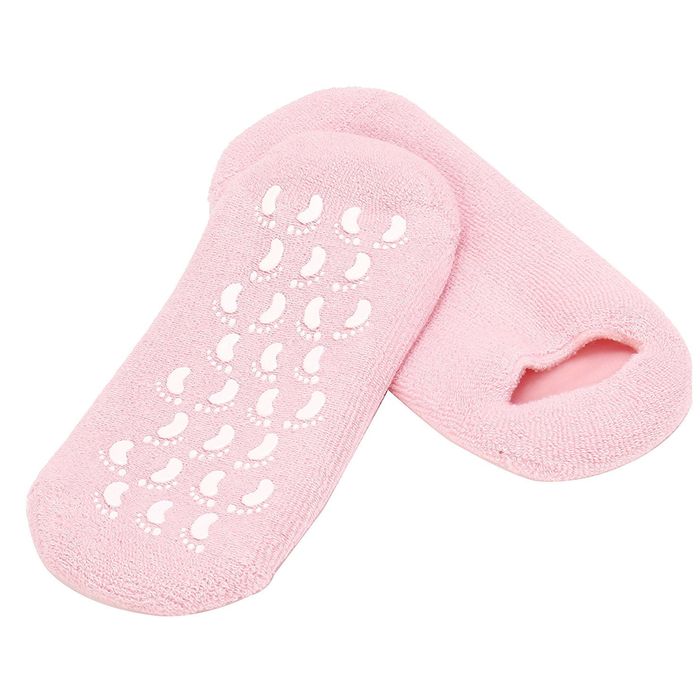 Have you thought long and hard about the tragic invention of socks? I have. They are a sad, uncomfortable construction (sleeping with them commands you to a menopausal night sweat). Annoyingly, one sock always becomes permanently unlatched from its mate. And worse yet, socks will never reach inherent aesthetic appeal (face it, they are fashion's little joke).
It's funny then, that I can't stop wearing the thickest, ugliest, most awkward socks on the planet. My mom calls them my homely hospital socks. I call them magical moisturizing socks, and of course I am right.
I have two pairs: a pink set and a green set. The pink ones are made by a company called BelleSHA, and they are so popular that BelleSHA warns of ne'er-do-well imitators on its website. The inside of the socks are blanketed in a moisturizing gel layer. BelleSHA says this coating is a blend of oils that have been fused into a gelatinous state that carries the feel of a bendy silicone phone case. The socks are relatively heavy things — I'd guess one weighs a quarter of a pound. Admittedly, they look rather orthopedic, but they are a hell of a foot-softening tool.
You can do two things with the socks: You can wear them as a foot-lotion replacement, or, for intense moisture, you can slather your feet in your favorite cream and slip the socks on afterward. Little by little, the oily lining of the socks wears onto your skin, depositing a small amount of useful ingredients like jojoba and vitamin E onto your feet with each use. Wear them for a few hours around your house (forget about attempting to ram them inside any of your shoes). They aren't strong enough to whittle down a calloused big toe, say, but the occlusive nature of the gel lining traps moisture, providing a continuous cycle of skin-softening hydration for hours on end.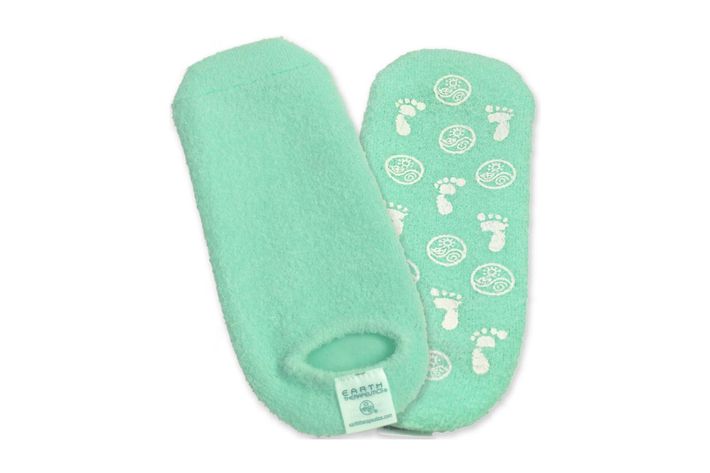 The green pair of moisturizing socks I own arrive via Earth Therapeutics. Like the BelleSHA version, the socks are short, lined with oils (jojoba and olive, to be specific), and are a huge eyesore. They aren't as heavy, however, and are therefore less squishy when I walk about my apartment with them. Truthfully, BelleSHA's socks render my skin softer after I've worn the pink booties for a few hours, but only by a hair.
Maintenance for the socks is easy. They are machine-washable, but they must be hung dry. After a while (though I can't say for exactly how long), the gel lining will completely wear away and you'll need to buy a new pair. Maybe then, a sleeker, more fashion-forward version of the sock will be available in stores. But I doubt it.
BelleSHA Spa Moisturizing Socks, $13.39 at Amazon; Earth Therapeutics Intensive All-Over Moisture Gel Booties, $25 at Ulta.
If you buy something through our links, New York may earn an affiliate commission.