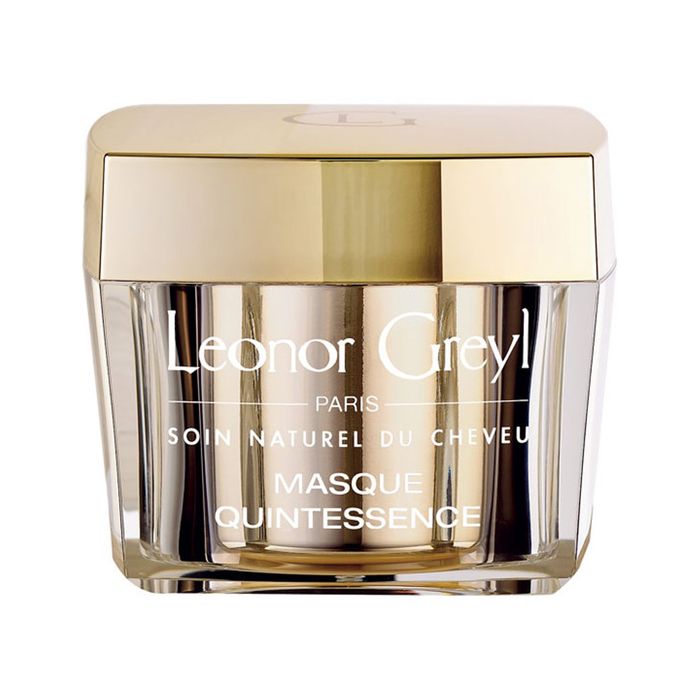 Leonor Greyl Masque Quintessence.
Getting highlights triggers an extra awareness of your hair that you never knew could exist. After my first brush with color, about a year ago, I was introduced to the serious issue of brassiness and a new hair texture that could be best described as frayed. Weekly at-home Olaplex treatments saved my hair from breaking off, but the softness was gone, and so was the shine.
It wasn't until recently that I came across a solution that deserved my attention, and yours. It's Leonor Greyl's Masque Quintessence, and I'm embarrassed to say it costs $145 (if you live near a Nordstrom I recommend asking for a sample first so you can purchase without fear). Masque Quintessence is a treatment mask that transforms the saddest wiry ends into soft, shiny doll hair. This sounds like hyperbole, but consider this: There's a line of demarcation in my hair that separates the color-treated from the unaltered. On the odd day I deign to use a brush I can feel this line with unmatched certainty: The brush glides through the natural section smoothly and choppily passes through the highlighted portion. After just one Masque Quintessence treatment this texture difference was reduced to nihility and the demarcation line was all but gone. And this is an effect that lasts through multiple washes.
The proof, as they say, is in the pudding. These days conditioners are mostly water and some sort of cheap fatty alcohol like cetyl, stearyl, or cetearyl alcohol, followed by a lot of fluff to help the formula emulsify, have a longer shelf life, and smell like pretty flowers. Masque Quintessence, alternatively, is mostly water and coconut oil, followed by another two oils and shea butter. The result is a thick gloop-y cream that feels a lot like body butter.
If I'm thinking ahead, I'll apply the mask after shampooing at night and rinse it away in the morning. Following the mask's instructions and keeping it in your hair for 10 to 20 minutes is fine, but sleeping with it for hours is even better. It will inject each strand with the critical virtues of health, namely softness and shine. And though it might be a little heavy for those with very fine hair, it's a godsend for everyone else. Well, almost. It's still $145.
Leonor Greyl's Masque Quintessence, $145 at Nordstrom