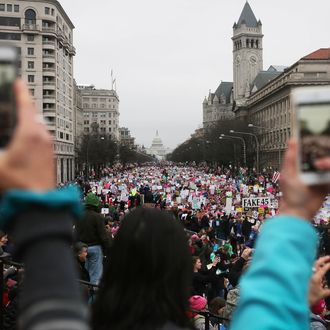 The Women's March on Washington.
Photo: Mario Tama/Getty Images
On Inauguration Night, the old Post Office that is now the Trump International Hotel loomed darkly like a fortress — turrets and all — as if Trump had Googled "hugest villain properties, D.C., Zillow." Trump supporters in formal wear — long, elegant minks and glamorous red dresses — were being ushered in by clipboard-holders. These weren't the Trump supporters who came out to his rallies; they were the wealthy who quietly went his way and who now make up his cabinet. A man in a tux came up to me, after getting turned away at the gate. He was drunk, and his phone was dying. He asked me to look up "Rockettes D.C." because "that's where the party is." I obliged, and he came up behind me to watch my screen, reaching his hand over my shoulder to scroll on my phone when he didn't like the results I'd turned up, pressing close up so I could smell the booze and feel his breath on my neck. It was a minor intrusion, one I wouldn't even have noticed in a bar, but in the emptiness of the street and the fullness of the day and the gleaming black Trump sign watching over us, the reach felt uncomfortably possessive, presumptive.
The next morning was the Women's March, with its boldly progressive official agenda, a carefully diverse speakers lineup and a Twitter feed that was painstakingly intersectional. But as far as I could tell, to most of the people who showed up, it was a march against Trump's possessive reach, his hot breath on their neck. "Maybe it will restore the illusion of hope," the friend I was staying with had emailed.
She works at a government agency, and not one that you'd think of particularly as a haven for activists. We stopped off at her friend's townhouse for a pre-march gathering that involved mimosas and mini-quiches and discussion of the sign-making parties organized by the Capitol Hill mothers' listserv. From the front porch, we could see lines of marchers streaming past, identifiable by their pink, cat-eared pussy hats, many of them homemade. Older women seemed to love them most of all, their short, gray hair tucked into the dirty joke that was also a wholesome knitting project that was also, in its unflattering un-sexiness, a visual rebuke to the way Trump sees women.
We joined the march to the March — lawyers and hospital administrators and someone's cousin who'd come down from RISD in her combat boots and a supportive husband carrying a "Free Melania" sign. And all the way up Massachusetts Avenue, the crowd swelled. There were cheers when a woman in a white fur coat waved from atop the steps of a church; there were cheers when a little girl in a mermaid costume came to her front door and waved; there were cheers when a police car drove by with sirens flashing and the driver pumped his fist in a motion of solidarity. About ten blocks into our walk, we hit a bottleneck; turning around, there was a solid sea of pink, and we all reached our phones above our heads to start cataloguing, marveling at the mass of it.
Protests in America have historically been driven by radicals, by a dedicated and passionate minority who believes that simply accepting norms is cowardly. But this was a protest of the sensible-shoe'd majority — unglamorous marchers who carefully packed their snacks in a plastic see-through backpack and threw it on over a Barbour jacket, seeking to preserve norms, rather than challenge them. Black people and gay people and immigrants and Muslims have known for a long time that civic-book ideals aren't always or even often in practice, and one critique nagging the march in its run-up was that the white women who were coming to protest had been blind to those injustices for years, cosseted by our own privilege, too comfortable to be worried. It's not incorrect — one sign I saw said "Thanks for killing my apathy" — and so Saturday was a test case for what it might look like when the historically privileged throw in their lot with historically trod-upon. "I like, love, how peaceful this is," a young white woman who'd come down from New York said. "This is how Black Lives Matter felt in New York, too, but still the story was, look at all the rioting."
This was a gathering of liberals; it was not without some self-congratulation. "That's the fourth Maya Angelou 'Still I Rise' poster I've seen … I mean, we are the smart group." There were quotes from Audre Lorde on placards and "Make Margaret Atwood Fiction Again" signs and there were drawings of uteruses and there was one slogan that read "Screw Us and We Multiply." Most of what delighted people were the funny signs, clever gallows humor that buoyed and traveled on Instagram — quoting from the Kimmy Schmidt theme song ("Females are strong as hell") or early-aughts hip-hop ("My neck, my back, my pussy will fight back"). This was the show, really, more than the speakers.
There were other lefty causes represented in signage — Black Lives Matter, climate change ("I can't believe 'Science Is Real' has to be a sign," my friend said), even a "Bernie Would Have Won" guy — but the focus for most people was Trump himself. A woman next to me read off a sign to her aunt: "Not my cunt-ry! Spelled C-U … You know what, Aunt Chris? He made it that way. Otherwise we wouldn't have to say pussy pussy pussy." She passed her scandalized aunt some Bugles. "You're walking it all off. It doesn't matter," offered a young stranger with a Southern accent.
If the Inauguration Day protests felt like angry Twitter threads come to life, Saturday's protest felt like the world's largest women's bathroom line. I mean this in a literal sense. About two hours in, everyone collectively seemed to have reached their limit and headed for the porta-potties. (What does it mean if women will wear pussy hats and dress up as genitalia, but would rather wait in line for 1.5 hours than risk being spotted urinating in an alley like the older woman I met who said that her clandestine squat made her "feel young again"?) But I also mean it metaphorically: The protest had the quick camaraderie that's shared when you have nothing in common but your gender, your location, and your mutual desire for release from whatever's irritating you to the point of utter distraction. "We should do this every month," I overheard a woman say to her friends. "Every 28 days!" a stranger shouted back; everyone laughed.
There were men there, of course, but the woman-ness of the protest was unavoidable, a big-tent biological theme that doesn't work in online discussions of feminism but seemed to when marchers were packed cheek-to-gill. Much of what excited people was the sheer size of the group. "I need numbers," said an older woman with dreadlocks and a sweatsuit early on in our walk. She rejected estimates of 200,000: "I know this looks like more." She turned out to be right. I never made it all the way up to hear the speakers; most people didn't. Stopped at Pennsylvania Avenue, we could hear distant echoes and applause, "a change is gonna come" floating out over the speakers. People got antsy and started to chant: "March, march, march." And then a group of people wearing purple SEIU1199 hats — a huge health-care union — began to push the opposite way, out toward L'Enfant Plaza and the metro. "There are people on the whole march route," one explained. "We broke the march. That's a good thing."