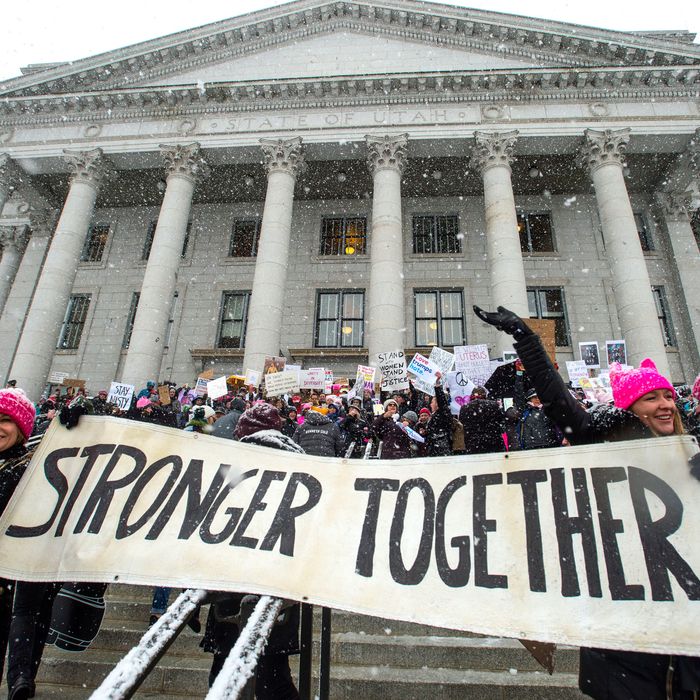 Thousands of people attend a women's march in Salt Lake City.
Photo: Steve Griffin/AP
Over the weekend, as many as 3.2 million people (including Ivanka Trump's brother-in-law) participated in Women's Marches across the country. The crowds were so impressive that even President Trump took note, and on Monday thousands of protesters tried a similar tactic with Utah's State Legislature. Despite the snow, as many as 6,000 people marched on the capitol during the State Legislature's first session of the year.
Utah's state government is overwhelmingly male, and according to the Salt Lake Tribune, the march was organized to call for equality for women, minority groups, and LGBTQ people. "I'm sick and tired of men making laws about our bodies and our choices and our lives without consulting us," Kate Kelly, the event's organizer, told the paper. (Kelly helped found Ordain Women in 2013, which advocates for women to be included in the Mormon church's priesthood — she was excommunicated last year.)
Other marchers were skeptical about the new president's agenda. "With Trump being inaugurated, there's a lot of fear for women's rights, immigrant rights, LGBTQ, Muslims," one told the paper. "We're afraid that our voices aren't going to be heard and our rights will be given away."
The Utah State Capitol building only holds 5,000, so the rest of the marchers spilled out into the street. The Tribune reports that "noise from the demonstration interrupted legislative business," which was kind of the idea.