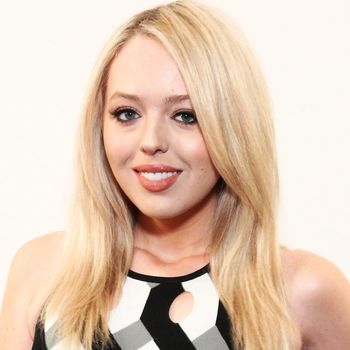 Tiffany Trump.
Photo: Astrid Stawiarz/Getty Images for Taoray Wang
Before Tiffany Trump was first — er, second first? — daughter, she was but a humble girl, part of a group of rich kids dubbed the "Snap Pack" by the New York Times. Besides Tiffany, the clique includes a Matisse, a Hilton, and the Kennedy that cyberbullied a fellow Cut writer.
And now, per a new Us Weekly cover story (in which Tiffany is pictured off to the side, grasping at Barron's tie for dear life), this gaggle of trust-funded youth is looking forward to Tiffany's newfound status for a very particular reason:
Now, says the pal, the group "is going to make the White House their new locale. They're ready to up their Instagram game big time." 
At least the Trump administration is benefiting those who need it most: America's richest teens.