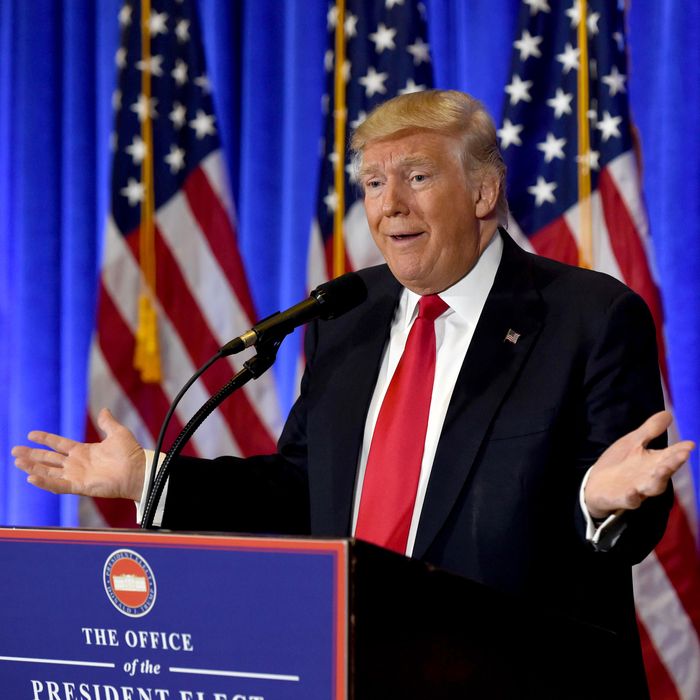 Donald Trump.
Photo: TIMOTHY A. CLARY/AFP/Getty Images
President-elect Donald Trump's inauguration is (I'm so sorry) two days away, and so far the biggest acts confirmed to perform are a child from America's Got Talent and 3 Doors Down. Trump's inauguration committee has had a terrible time convincing any celebrities to even show up at the event, leading Trump to tell Fox News this morning, "I don't want the celebrities, I want the people." TMZ, however, is holding out hope that stars will show up. The gossip site posted two "exclusives" in the last two days claiming that Trump's committee has booked great performers for the inaugural balls, but the bookings are a secret.
"DONALD TRUMP: FEATURED ENTERTAINERS BOOKED BUT UNDER WRAPS," TMZ trumpeted yesterday. The story cites "sources connected to the inauguration" who claim that Trump's inauguration committee "has booked multiple performers to sing at two inaugural balls, but the committee is not releasing their names for fear they will get intense blowback and back out." Everyone is just going to have to be surprised.
TMZ followed up that scoop with another exclusive this morning, titled "DONALD TRUMP CUTS ROCK LEGENDS FROM INAUGURATION TO SAVE CASH FOR CHARITY." Oh really? Citing perhaps the very same inauguration sources, the site revealed that Trump himself declined to book a great rock band for an inaugural ball because of, uh, charity:
"Inauguration sources tell us the Committee was close to landing a legendary group — one that's in the Rock & Roll Hall of Fame — but when the President-elect found out they wanted more than $1 million for the gig he pulled the plug. We're told Trump implored the rockers to reduce their appearance fee — but when they refused he told the Inaugural Committee to move on to other artists. Mind you, there's plenty of dough. The Committee's reportedly received more than $90 million in donations, but we're told Trump instructed all involved to keep expenses in the low millions because whatever is left over is going to charity."
TMZ's sources did not provide any details about what kind of charity might receive these millions and millions of leftover dollars.
Trump has always had a cozy relationship with tabloids, so it is not surprising that he would turn to TMZ to spin positive stories about the inauguration. The New York Post and the New York Daily News made Trump a star in the 1980s and 1990s, and the National Enquirer championed his presidential campaign from the beginning. It seems that Trump is increasingly relying on TMZ, however, to exert influence in the celebrity scene. Just after the election, Fox News aired a Trump special hosted by TMZ founder Harvey Levin, which focused on the many beautiful items in Trump's gilded home. Trump's relationship with Levin seems to have only gotten friendlier since then.