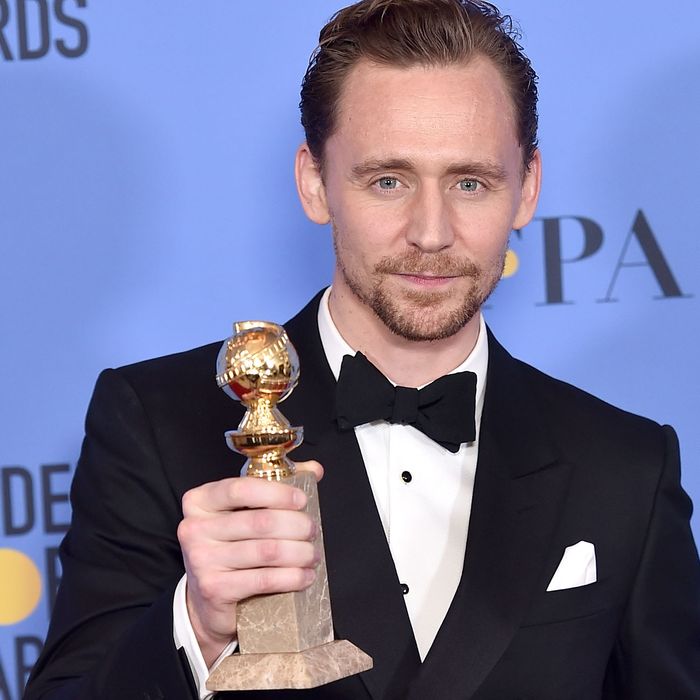 Tom Hiddleston.
Photo: Alberto E. Rodriguez/Getty Images
Last night, British actor Tom Hiddleston won a Golden Globe for his role in the prestige TV drama The Night Manager. In his acceptance speech, he told a protracted story about visiting humanitarian workers in South Sudan that ended with the revelation that some of these workers enjoyed The Night Manager. It was, hmm, bad. Hiddleston did not realize this, however, until a polite TMZ cameraman told him so later in the night.
TMZ approached Hiddleston outside the Chateau Marmont and asked him whether he thought the criticism of his speech was fair. "I don't know what they've said," Hiddleston responded. Well, some people thought it was "self-indulgent," the cameraman offered, meekly. Hiddleston looked shocked, as you can see in the video of the encounter below. His handlers sternly told him, "Tom, let's go," but he stepped closer to the camera to defend himself. "I'd say we all just have to do the best we can to help each other out," he said.
Next time, Hiddleston might consider skipping the story and simply thanking the woman who made his current career possible: Taylor Swift.
Update, 5:14 p.m.: Hiddleston has now admitted on Facebook that his speech was "inelegantly expressed."