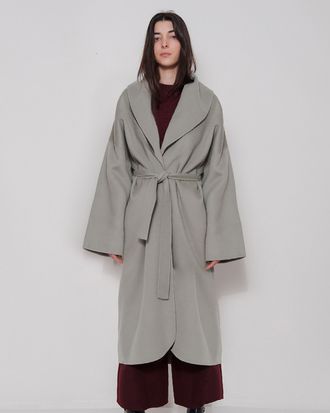 Every Friday at the Cut, we're highlighting one great purchase for which it's absolutely worth eating ramen noodles for the rest of eternity. If you're looking for cheap thrills instead, check back every Monday for a fun pick-me-up that will leave you with enough cash for dinner.
The official first day of winter was a little over two weeks ago, and the frigid temperatures haven't let up since. So with chilly weather now in full effect, it's imperative to cover up from head-to-toe or face possible frostbite. We've got the perfect wool wrap coat this week from fashion newcomer the Frankie Shop. Oversize, 100 percent wool, and equipped with two large front pockets, this can carry you for several winter seasons. Additionally, its muted gray color drapes well over any color in your closet.
Grey Wool Wrap Coat, $489 at The Frankie Shop
If you buy something through our links, New York may earn an affiliate commission.