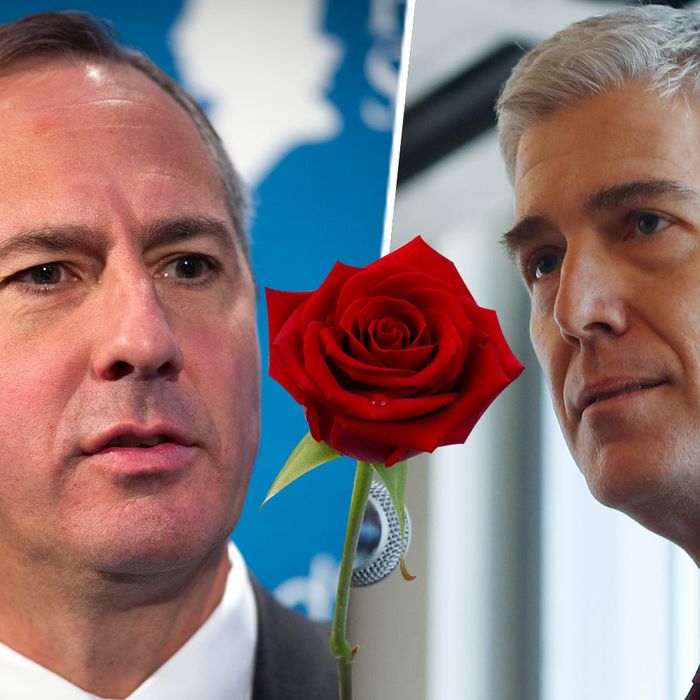 Thomas Hardiman and Neil Gorsuch.
Photo: Getty Images
While Trump's presidency has basically turned the American government into a reality show you can't turn off, it's difficult to know exactly which reality show you're watching at any given moment. While the infighting and jostling for power among Trump's underlings has all the petty drama of The Real Housewives, and last night's unceremonious firing of acting attorney general Sally Yates felt alarmingly like an episode of The Apprentice, it appears that when it comes to his Supreme Court picks, Trump is going Bachelor all the way.
That's right: The fate of the country's highest judicial body will be decided with … a final rose ceremony. After whittling down the options from a pool of 21, Trump has announced that tonight he will bring his final two prospective Supreme Court picks — Neil Gorsuch of Denver and Thomas Hardiman of Pittsburgh — to Washington, D.C., for one last night of courtship, after which the "winner" will be crowned live on prime time (8 p.m. on Facebook Live). Unfortunately, unlike with the finale of The Bachelor, whomever Trump chooses could have a significant impact on your life, and potentially steer the Supreme Court in a more conservative direction.
Who will get the final rose and get to be Trump's lawfully appointed Supreme Court Justice, till death do they part? Will it be 49-year-old Neil Gorsuch, a telegenic "silver fox" and Ivy League–educated outdoorsman who fishes, hunts, and skis? Or 51-year-old Thomas Hardiman, a "down-to-earth" Massachusetts boy whose unpredictable views on abortion could make for some exciting political controversy next season?
Tune in tonight. Your fundamental rights may literally depend on it.