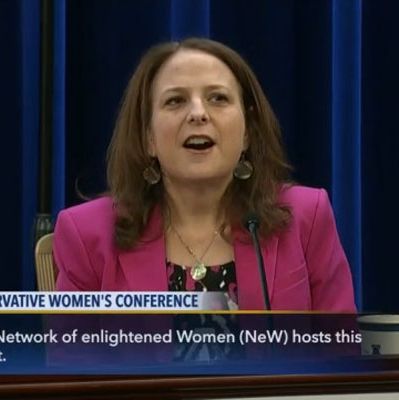 Katy Talento.
Photo: C-SPAN2
A new addition to President-elect Donald Trump's impending White House policy team is a woman who believes birth control causes miscarriages and abortions, in addition to limiting a person's ability to have children later on, despite copious scientific evidence to the contrary.
Katy Talento will serve on Trump's Domestic Policy Council, focusing on healthcare policy, Talking Points Memo reports. Interestingly enough, the Trump transition team's announcement on her position states that Talento is "an infectious disease epidemiologist with nearly 20 years of experience in public health and health policy, as well as government oversight and investigations and program evaluation." Yet, despite her experience, she appears to not quite understand how birth control actually works.
In January 2015, Talento published an article in The Federalist, in which she talked about the risks of birth control. Some of them are known in the medical community, such as the risk of cardiovascular claims; other claims she made were completely inaccurate, such as linking birth control to miscarriages.
Per Talking Points Memo:
"Preventing a fertilized egg (i.e. after conception) from hunkering down in the wall of the uterus, where it can grow normally," she wrote. "Progestin in birth control thins the endometrial lining (uterine wall), but a fertilized egg needs a thick, fluffy, blood-rich uterine wall to attach to and begin growth. Without it, the embryo can't survive, and a miscarriage occurs."
However, the American College of Obstetrics and Gynecology says that there is no link between miscarriages and taking birth control before pregnancy. Talento also claimed that birth control can cause fertility problems, citing one 2012 study. But in reality, the majority of similar studies and medical experts have found that there is no link between taking birth control and having trouble getting pregnant later on.
She also claimed that "chemical birth control causes abortions and often has terrible side effects, including deliberate miscarriage," but provided no evidence for this claim.