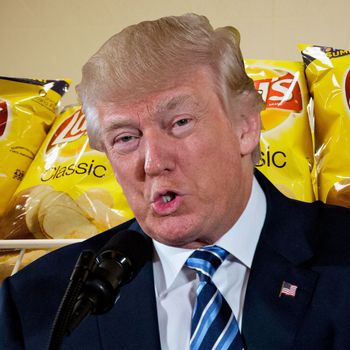 Photo: James Leynse/Corbis via Getty Images
When Donald Trump was sworn in as president on Saturday, a few things changed right away. The future of America's health-care system?, you might be thinking, and you wouldn't be wrong. But also: snacks.
Traditionally, incoming presidents are allowed to make adjustments to the White House as they see fit — by digging up a beloved kitchen garden, for instance, or installing a "glam room" awash with natural light. The White House staff, meanwhile, caters to the personal tastes of each First Family by making sure their clothes are in the closets, their toiletries are in the bathroom, and their favorite snacks are in the kitchen.
According to the New York Times, Obama kept "a large bowl of apples on a table in the Oval Office and a supply of almonds for his late-night nibbling over briefing books." But in an interview with the Times today, Trump — who the paper pointed out "does not read books" — indicated Obama's almonds had been replaced with "the same types of snacks that Mr. Trump had on his private plane, including Lay's potato chips."
"The end product is that when the new president and First Lady come through the North Portico door after the parade that they walk into their home," said Gary Walters, a former White House chief usher. "Everything is in place."
No word on whether Trump's other favorite snack — Doritos — made the cut.