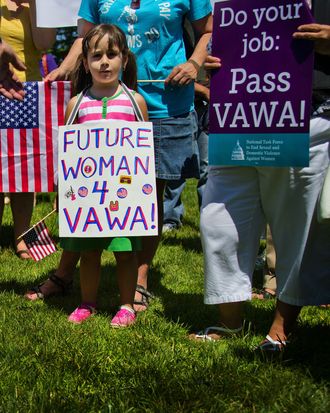 A young girl stands with supporters of the National Organization for Women in Washington on June 26, 2012.
Photo: JIM WATSON/AFP/Getty Images
The Violence Against Women Act, which was passed in 1994, currently administers 25 grant programs aimed at helping women who become victims of violence. According to the Department of Justice website, those grants funnel money to programs "designed to develop the nation's capacity to reduce domestic violence, dating violence, sexual assault, and stalking by strengthening services to victims and holding offenders accountable." And based on a new report, they could be on the budgetary chopping block under Donald Trump's administration.
According to the Hill, two members of Trump's transition team recently met with career staff at the White House to go over a plan to reduce federal spending by $10.5 trillion over the next decade. Team Trump's overall budget plan is reportedly modeled on a blueprint from the right-wing Heritage Foundation, which calls the VAMA grants "a misuse of federal resources and a distraction from concerns that are truly the province of the federal government."
Although it's unclear how closely Trump's team will follow the Heritage model, the choice to abolish federal VAWA grants — which put money toward teaching law enforcement how to respond to domestic violence and sexual assault, and providing resources for victims — could have consequences for women who are at risk. A report released by the Bureau of Justice Statistics showed that, in the decade-plus after the Violence Against Women Act passed, the overall rate of intimate partner violence in the United States declined by 64 percent. Kim Gandy, president of the National Network to End Domestic Violence, wrote at the time,"VAWA is truly the foundation of our nation's response to domestic and sexual violence, stalking and dating violence. It is saving people's lives and reducing violence against women."
Other programs that would be cut if Trump follows the Heritage plan include the National Endowment for the Arts and National Endowment for the Humanities, and funding for the DOJ's Civil Rights and Environmental divisions would be reduced.
Of course, there's still a lot we don't know about Trump's budget, including whether or not the president-elect himself supports the Heritage Foundation plan. And even if he does approve the cuts, there's a chance they won't make it through even a GOP-controlled Congress in anything like the form proposed by Heritage. But still, for supporters of these programs, it's officially time to be worried.