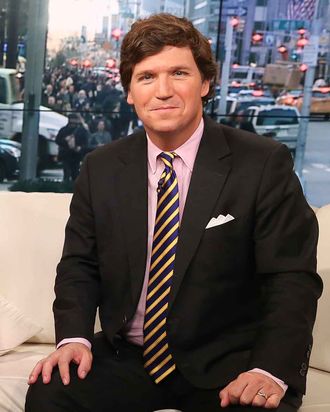 Tucker Carlson.
Photo: Rob Kim/Getty Images
After it was revealed that Megyn Kelly — Fox News' breakout star leading up to the 2016 election — would be leaving the network for a bigger, broader role at NBC, the network today announced that Tucker Carlson will be taking over her 9 p.m. prime-time slot. Despite rumors that Kelly would be replaced by a woman, Fox's 8 to 11 p.m. lineup will be slated with shows exclusively hosted by men; Martha MacCallum will anchor a 7 p.m. show called The First 100 Days.
You might remember Tucker Carlson as the man whom Teen Vogue writer Lauren Duca called a "partisan hack" on his show. In an interview with New York in July, he explained his journalistic ethos to Nick Tabor:
Nobody has time to read. People barely can read. So you need to give them an overwhelming reason to read your piece. You need to grab them by the face and pull them in, and cover them in the hot stinky garlic breath of journalism until they fuckin' wake up.
Carlson will be joining the prime-time lineup alongside Bill O'Reilly and Sean Hannity.