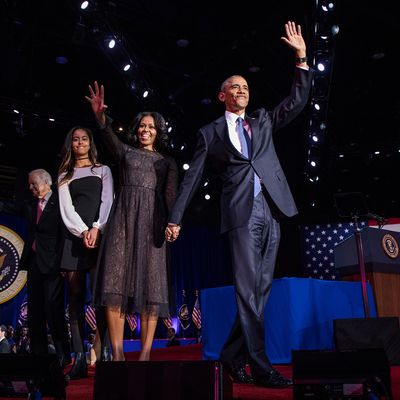 Photo: Chicago Tribune/TNS via Getty Images
On Tuesday night, President Barack Obama gave his final address while in office and he thanked Michelle Obama in an emotional moment that came near the end of an almost hour-long speech. He spoke, too, of Sasha and Malia, who grew up in the White House. Of all his accomplishments, he said, he was most proud of being their dad. There was just one teeny, tiny, little detail that viewers back home couldn't help but notice: Where in the world was Sasha?
Cut-away shots during the address showed a teary-eyed Malia alongside a poised Michelle, but it became clear when the family got up on the stage that Sasha definitely wasn't in attendance. Of course, the speculation on Twitter immediately sparked the #whereissasha hashtag. The truth turned out to be pretty staid — White House officials told CBS News that Sasha stayed back in D.C. because she had an exam the next morning — but, of course, people on Twitter had their own theories.
Too much schoolwork was a safe guess:
"Just being a teen" was another:
Another theory: Maybe Sasha simply didn't want to get emotional in front of the cameras?