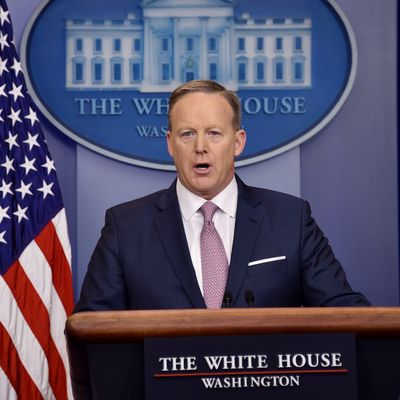 Sean Spicer.
Photo: NICHOLAS KAMM/AFP/Getty Images
During a Monday press conference, White House Press Secretary Sean Spicer said, "Our intention is never to lie." Yet moments earlier he'd offered up a claim that definitely wasn't true: He said that President Donald Trump's reinstatement of the Mexico City Policy (otherwise known as the Global Gag Rule) will stop taxpayer dollars from funding abortion overseas — which is false, because U.S. foreign aid is already prohibited from being used on abortion services.
In the press conference, Spicer said, "The president issued a memorandum reestablishing the Mexico City Policy, stating that the United States will end the use of taxpayer dollars to fund abortions overseas, along with coercive abortion and sterilization practices." The Mexico City Policy, first enacted by President Ronald Reagan, bans any organization receiving U.S. foreign aid from providing abortion services or talking about the procedure, even with the group's own money.
But it's been illegal for U.S. foreign assistance to be used to pay for abortion services ever since the Helms Amendment was enacted in 1973. That means groups receiving U.S. aid have long had to cover their own abortion costs. Jamila Taylor, a senior fellow at the Center for American Progress, told the Cut that because the U.S. is the "largest bilateral donor of international family planning," the Mexico City Policy puts organizations in a difficult position: They can either keep offering abortion services on their own dime while giving up vital U.S. aid, or keep receiving U.S. funds while cutting abortion services completely (which includes even mentioning it as an option, or referring a patient to an abortion provider).
"This is for organizations where access to family planning is already slim to none, so it's really tying the hands of international family-planning providers who are working in resource-constrained settings and it's putting access to family planning and other safe reproductive-health services out of reach for the most vulnerable women in the world," Taylor said.
Reinstating the Mexico City Policy — which was previously revoked by President Bill Clinton, reinstated by President George W. Bush, and rescinded again by President Barack Obama — will have no affect on U.S. taxpayer dollars. It will just restrict access to health care for women in developing countries, as the Center for American Progress detailed in a new report.
"The thing that's so disturbing about it is the fact that, of course, those of us that are working on women's health and rights issues and that are helping to move the needles on these things, we don't like that there are restrictions like the Helms Amendment on the books that impact all U.S. foreign assistance in terms of restricting access to abortion," Taylor said. "We find ourselves in a little bit of a conundrum because we don't want to be affirming these restrictions, but at the same time, these anti-choice politicians are really spewing myths."