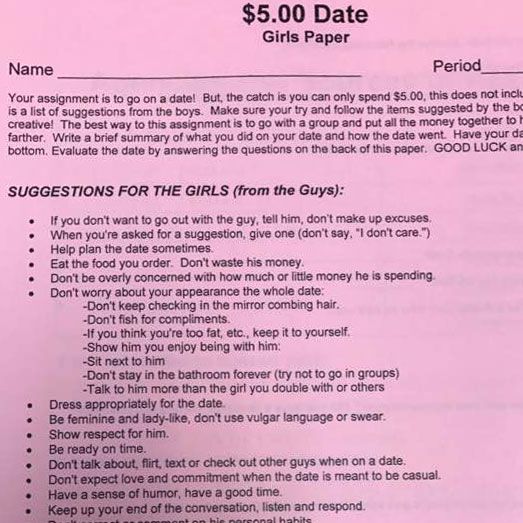 A handout given to female students at Highland High School.
Photo: Courtesy of Facebook/Jenn Oxborrow
"Eat the food you order. Don't waste his money," "Be feminine and lady-like," and "If you think you're too fat, etc., keep it to yourself" are just a few of the many instructions on a handout given to high-school girls at Highland High School in Salt Lake City, Utah. The handout, which a teacher reportedly took from a database of approved classroom materials maintained by the state, was part of an assignment requiring students to go on a date that cost $5.
A photo of the handout was originally posted by Jenn Oxborrow along with the caption, "My 11th grade AP honors student's homework: "go on a date!" … Thanks for educating our kids, Utah Department of Education. We really appreciate your evidence-based misogyny." According to the Salt Lake Tribune, the assignment was part of the school's adult roles and financial literacy class, which is required for high school graduation under state law. Lucy Mulligan, Oxborrow's daughter, said her teacher made it seem like the date was mandatory: "She really didn't leave it up to us if we wanted to or not."
Male and female students received two different handouts with suggestions about how to act on the date. The female students got recommendations like "Don't criticize his driving," "Dress appropriately for the date," and "Show him you enjoy being with him," while the handout for "boys" said things like "No gross noises," "Chew with your mouth closed," and "It's okay to show your feelings." The handouts also assume that each student will be going on a "$5 date" with a member of the opposite sex.
A spokesman for the Utah Department of Education said the handouts were being removed from the state's database. "They're inappropriate," he said. "And we're taking them down."