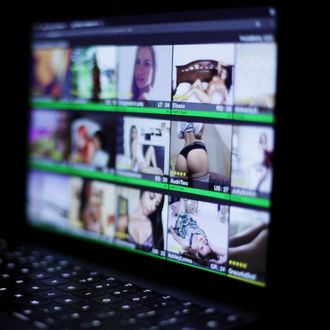 Photo: Yui Mok/PA Images via Getty Images
Utah has some pretty big hang-ups about pornography. As Science of Us noted back in April, the state's conservative legislators are engaged in something of an anti-porn jihad — in March, they passed a symbolic resolution stating that "the Legislature and the Governor recognize the need for education, prevention, research, and policy change at the community and societal level in order to address the pornography epidemic that is harming the people of our state and nation."
There is, of course, no evidence of a "pornography epidemic" with any measurable toll on society. Yes, a lot of people view porn, as has been the case ever since porn was easily viewable, and as will likely be the case forever. But the sorts of things you'd expect to be associated with a hypothetical porn epidemic, like people having tons of reckless sex, don't appear to be happening. The only thing anti-porn zealots can point to as evidence of a dangerous "epidemic" is that a lot of people are watching porn. There's no credible, empirically backed second half to the sentence "Tons of people too much porn, and it's causing X."
That hasn't slowed down Utah's anti-porn obsessives, though. Now, leading anti-porn legislator and state senator Todd Weiler has introduced legislation which, as Reason's Elizabeth Nolan Brown puts it, "would allow Utah residents who imagine themselves addicted to porn to sue the websites where they watch it." In an interview with a local news outlet, Weiler compared his bill to past attempts on the part of smokers and their lawyers to hold cigarette companies accountable for the harmfulness of their products.
The problem is that the case that pornography causes addiction is much, much fuzzier than the case that smoking causes lung cancer. Some studies suggest that porn (and sex) "addictions" might not even be addictions in the same sense, as, say, an addiction to heroin or alcohol. "For therapists that treat porn consumption on an addiction model and for religious groups like Focus on the Family that are invested in maintaining a concept of 'porn addiction,' the research undermines the clinical language they used in their approach to the controversial medium," wrote Samantha Allen in The Daily Beast in 2015, running down one such study. "But conclusive evidence for "'sex addiction' and 'porn addiction' continues to prove elusive." So allowing people to sue companies for having an addiction that might not even be real is problematic, to say the least.
This lack of evidence doesn't stop the moral crusaders from scoring easy anti-porn points, of course. And the scare isn't confined to Utah — as Brown points out, a Virginia state delegate recently introduced legislation of his own declaring the porn "epidemic" a "public-health crisis." But there's a lot more evidence that porn is causing a moral panic than a public health crisis.