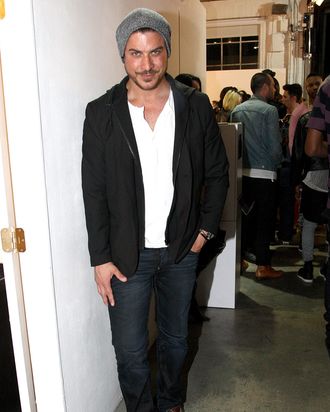 Jax Taylor.
Photo: Tommaso Boddi/Getty Images for Timberland
For those unfamiliar with Vanderpump Rules, it's a Bravo reality show about a group of 20- and 30-somethings who work at SUR ("Sexy Unique Restaurant"), a sexy unique restaurant in Los Angeles. But it's Los Angeles, so everybody on the cast gets a slash added to "restaurant employee" — they're all servers/models, servers/actors, busboys/DJs, or, in the case of lead lothario Jax Taylor, bartender/erstwhile Scientology model.
While raving about Leah Remini's Scientology docuseries in a new video on BravoTV.com, Taylor said that earlier in his modeling days — back when he had nothing but a six-pack, hair gel, and gumption — he once "did photo shoots" at the Golden Era compound, presumably as a beefy brochure thetan.
"There were all these people walking around with keys. And they're always in these outfits and they're always walking somewhere," Taylor recalled of the experience. "And not just a set of keys, they have all these keys."
This was likely before they realized that he's a textbook suppressive person.