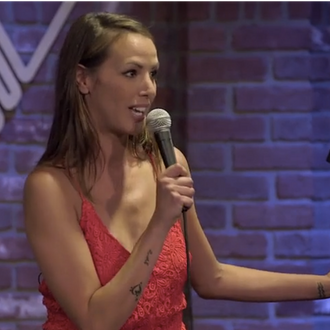 What the cast of Vanderpump Rules hasn't quite figured out yet is that they're never funnier than when they're not trying to be funny. For instance, when Kristen matter-of-factly starts a conversation with "Lala's a ho, she's a bitch, she literally terrorizes Katie," it was far more entertaining than anything she did up on stage during her sketch troupe's performance. Or that part in season four when Ariana got genuinely angry while explaining that Kristen didn't take sketch comedy seriously? That was funnier than any improv show I've been to.
But subtlety and self-awareness are not strengths on Vanderpump Rules, nor are they reasons why I watch the show. And so we open with Lisa and Ken at the SUR office, where Lisa is busy fat-shaming Giggy and showing off her new collection of dog accessories (I am so grateful I live in a world where I can type that sentence). Katie and Tom Schwartz arrive to show off potential new models for the SUR uniform dresses and tell Lisa about Kristen's comedy show, which Lisa responds to by calling Kristen the "least funny person I know." Even if Lisa isn't sold, we're going to be forced to watch it either way.
But before that, Lala comes into SUR, where she is confronted by Tom and Ariana about bailing on the Sonoma birthday trip. She offers some sort of vague answer about not wanting to surround herself with negativity (Jax), but it's pretty clear that Tom and Ariana are over her.
Now, to the improv theater, where Kristen and her troupe are performing on the main stage ("we've come a long way," Kristen muses). The gist of their act is this: an infomercial for a fake app — "The Hung App" — which detects unwanted dick pics and turns them into paintings, though you can still obviously see the penis. This is crucial, as one of the featured members belongs to Jax — Katie recognizes it first, then Brittany does, and then, hoo boy. Brittany is super mad, though Kristen gets incredibly defensive and refuses to acknowledge why it might be bothering her. Apparently everyone's already seen the dick pic, as a woman who was mad at Jax tweeted it out and tagged all his friends. I cannot stress enough how this whole situation is something that could only happen to this group of people.
Later at SUR, Katie does the thing she's obligated to do wherein she fills in Lisa on the drama and Lisa has no idea what's going on. Meanwhile, Kristen and Stassi go over to Jax and Brittany's to listen to Jax's episode of Stassi's podcast, talk about the dick-pic situation one more time, and, more importantly — try to figure out a way to get James Kennedy to turn on Lala so they can finally expose her for having a married boyfriend. If true, I'm pretty sure the guy's wife cares less than these women do at this point.
Getting James to betray Lala isn't far out of the realm of possibility. Lala shows up at his place and immediately starts getting on his case about not having anything for her to drink. Now, I have generally liked Lala throughout the course of the show. I like her outrageous nails and impressive crop-top collection. I like that she was fascinated by The Fountainhead and moved by Blackfish. And, more than anything, I like that she was named after the yellow Teletubby. But barging into a newly sober friend's house and complaining that you don't drink together anymore is an asshole move. And that's before she insists that "any bitch who's not ugly with tits" in L.A. gets to ride in private jets all the time.
So Stassi and Kristen invite James out to get the dirt on Lala. He reveals that he had to sign an N.D.A. when he stayed at Lala's boyfriend's house for Coachella, and she handed them out to other people. With this, Stassi and Kristen are convinced that Tom Sandoval and Ariana had to sign N.D.A.s too and the most boring detective show of all time continues on.
In Jax and Brittany–land, Brittany's mom, Sherri — bless her heart —shows up for an L.A. visit. Sherri immediately starts pressuring Jax about joining a church and getting married to Brittany, which provides plenty of fodder for Jax when he goes out to dinner with the Toms and Peter. See, Jax is not one for commitment, but he's also not content with only messing up his own life — hence his pressuring Tom Schwartz to call off his wedding to Katie.
Which brings us to Katie's bridal shower, which involves a blow-up sex-doll gift from Lisa and a tower of Taco Bell food items. (Katie, what happened to "Woodsy Elegance"?) After all the ceremonial stuff is taken care of, Stassi and Kristen confront Ariana about signing an NDA for Lala's boyfriend. Ariana vehemently denies it, but they only use that as a springboard for another ridiculous fight. So this is the way Katie's bridal shower ends: not with a whimper, but a bang.
Read past Vanderpump Rules recaps here.