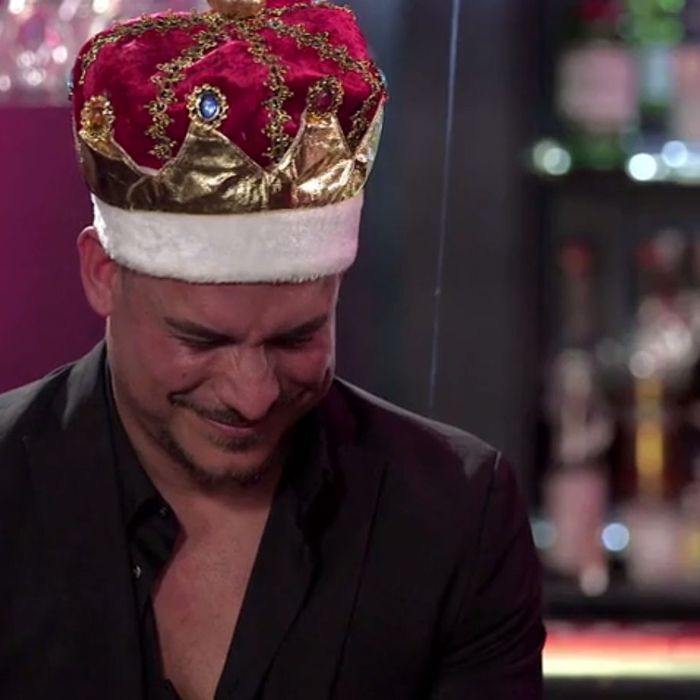 Happy Birthday Jax.
Photo: Courtesy of Bravo
We are subjected to so many birthday parties each season of Vanderpump Rules, and this episode is no different: Tom Sandoval and Jax are both celebrating the day they were born, or, in Jax's case, hatched out of a bottle of Smirnoff.
After we overhear Scheana complaining to Lisa about how much Katie's bridal shower is going to cost — it's $500 a piece for that sloppy Taco Bell arrangement, so she's understandably annoyed — we go to Tom Sandoval and Ariana's place, where they're discussing Tom's upcoming party. In lieu of a standard birthday celebration, he's hosting a "Fund-Rager" to raise money for Project Elev8, a nonprofit that focuses on education in Haiti
Meanwhile, Tom Schwartz is helping Katie buy paint samples for Lisa, a project they can't manage without erupting into a fight. They're sober at the time, but fighting about a drunk fight they had after Katie's bridal shower, which produces some truly excellent text flashbacks. While Tom tends to be the good guy in all these fights — which I'm sure is infuriating for Katie in its own way — he does call her a bitch this time around, prompting her to drive off without him.On the day of Tom Sandoval's combination birthday party-humanitarian benefit, Scheana decides to bring up the rumors that James Kennedy cheated on his girlfriend, Rachel — in front of James and his girlfriend, Rachel. Rachel seems totally unfazed and James ducks out of the party by saying that he needs to go do his "residency" at Redbury. When he sets up, Rachel comments on how "complicated" his equipment is, and you realize they truly are a match made in — well, whatever DJs consider heaven.
Some other highlights of Tom's party: Jax's card gets declined in front of Brittany's mom, Katie confides in Lisa about the fight with Tom Schwartz, and, in a more emotional moment, Scheana pulls Ariana aside to tell her she feels lonely in her marriage. We know how this story ends, but the worst part is when she admits that she can't talk about it in front of Katie, Kristen, and Stassi, because they'll just throw it back in her face. This still isn't as sad as any clip of James talking about his DJing career, but if you'd told me back during season one that I would sympathize with Scheana one day, I'd have eaten my autotune machine whole.
During an interlude at SUR, we learn that Lala's totally ghosted on her job, while Scheana uses a moment alone with Katie to tell her that she doesn't think it's fair that Kristen and Stassi have asked her to pay the $500 for the bridal shower without previously discussing it amongst the three of them. I'm not sure why Scheana thought Katie — paint-bucket-bridesmaid-invitation, tea-towel-wedding-invitation, leopard-print-wrist-tattoo Katie — would be cool with learning this, but, of course, she isn't.
Before Jax's roast, he goes out to dinner with Brittany and her mom, Sherri, to prep them about anything negative they might hear about him. When Brittany offers up an anecdote about throwing a keg party at her parents' house, Jax tops it with several more stories about cheating in high school we've never heard before, proving that he's a human iceberg of terribleness.
Scheana and Shay have Tom Sandoval over to review their Jax roast material, during which Tom admits that he thinks Katie has a drinking problem. And … cut to Katie sharing that she got a medical-marijuana license to deal with irritability in lieu of drinking. Katie and Stassi go to a dispensary to buy some stuff, but spend most of the time bitching about Scheana. Sadly, no amount of weed in the world can help with that personality issue.
Brittany also wants to prep for the roast, so she invites Kristen over for comedic advice (there's a joke in there somewhere). During this session, they let Sherri know that the rumor Jax spread about the two of them having sex will likely come up, and she is none too pleased.
The roast itself is fairly entertaining. Ariana expectedly does the best job, though Shay — silent Shay – comes out of the gates with "one thing I'm really excited about is that I'm not the fattest guy in the group anymore." Tom Sandoval does his bit wearing sunglasses and the Official White Chunky Cardigan™ of SUR.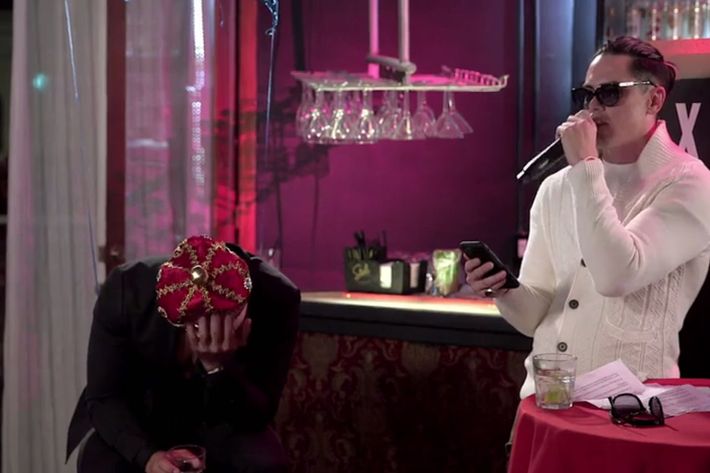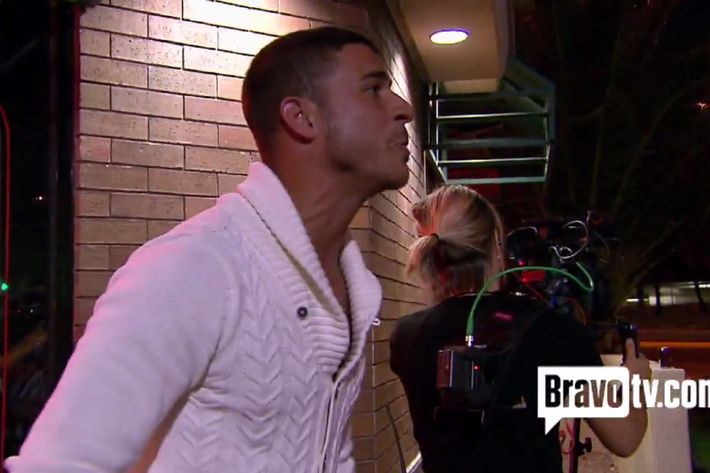 Now, during the entire roast, so much of Jax's scumbag behavior is brought out into the open in front of Brittany's mom — who just last episode was hoping that he'd marry her daughter ASAP. None of this is all that troubling to her, but when Tom Schwartz mentions a rumor that Jax had a homosexual affair with his old roommate, that's where Sherri draws the line, saying, "that was the most offensive to me, the homosexual thing."
It's absurd and bigoted and even Jax had something to say about it. "I know that Sherri's a very conservative Christian lady, but with all the things I've done in my life," he says. "The going to jail, the cheating, the stealing, the thing that stands out most is that I might have kissed a guy? Really?!" And reader, for what might be the first time in Vanderpump history, I agree with Jax Taylor.
Read past Vanderpump Rules recaps here.