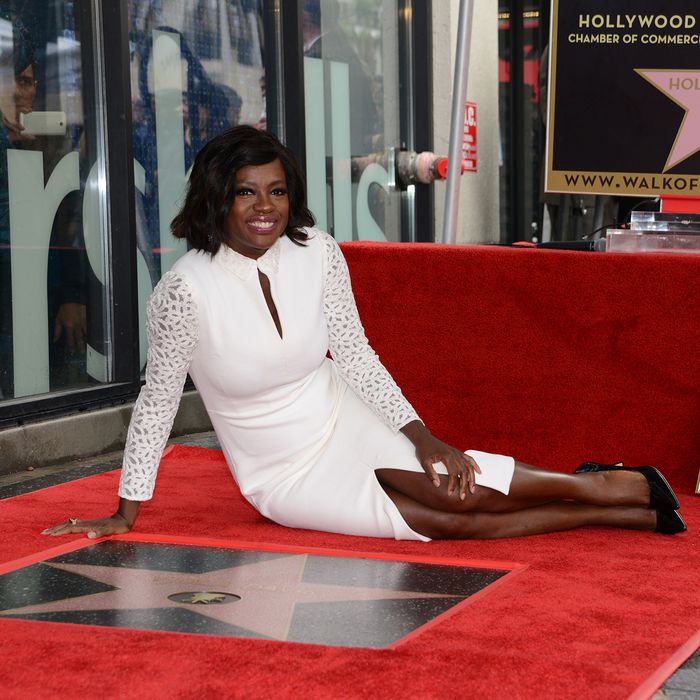 Viola Davis.
Photo: CHRIS DELMAS/AFP/Getty Images
The year 2017 is off to a good start for Viola Davis. On Thursday, she was honored with the first star of the year on the Hollywood Walk of Fame and became the 2,597th entertainer to make the career milestone. The announcement of the ceremony was made last month and, by all accounts, Davis was hoping to treat the event as an ordinary day, according to USA Today. That changed as soon as she began speaking to people in attendance.

In a video of the ceremony, Davis's voice quivers when she reflects on her father, who died in 2006, and who, she says, would have thought "this is pretty fantastic." Davis also reflected, somberly, on her upbringing in Central Falls, Rhode Island. She has only one photo of herself as a child in kindergarten, with an expression that's not quite a smile and not quite a frown and instead, "just something," she said. "But every time I look at the little girl, I always thought, 'Oh, that's a cute outfit but she was always hungry, she was always shy, she was always kind of in the background, but inside she had big dreams bursting,'" she said.

Davis has previously spoken about growing up in an impoverished family in Rhode Island and the difficulties she faced as a child who wasn't sure where her next meal would come from. "Although my childhood was filled with many happy memories, it was also spent in abject poverty," she said during an emotional speech in 2014 at Variety's Women of Power event, where she was also honored. "I did everything to get food," she continued, adding that she sometimes stole food or jumped into garbage bins to find something to eat. "[I] befriended people in the neighborhood, who I knew had mothers who cooked three meals a day for food, and I sacrificed a childhood for food and grew up in immense shame," she said at the time.

To say that Davis' life has taken a dramatic turn is, of course, an understatement. That's perhaps why, during the Walk of Fame ceremony on Thursday, Davis found herself thinking of the story of a caterpillar turning into a butterfly. Thinking of herself as a young girl with "big dreams bursting," she added, "The only thing I could think about is that saying, 'What the caterpillar calls the end of the world, the master calls the butterfly.'" She paused, then added, "I cannot believe my life right now."
Watch her comments below, beginning at 15:43: