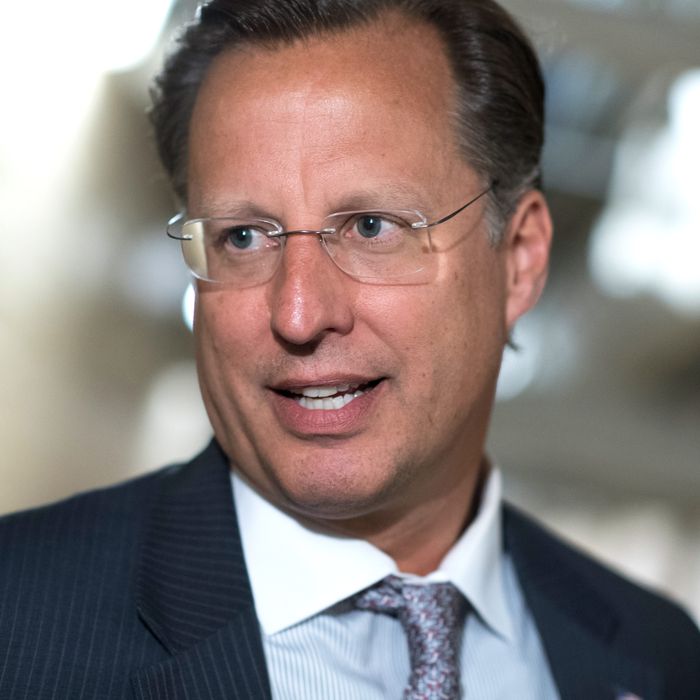 Representative Dave Brat's grill is crowded these days.
Photo: Tom Williams/CQ-Roll Call,Inc./Getty Images
Virginia representative Dave Brat is finding out that his constituents — especially women — would kinda like to keep the Affordable Care Act around. "Since Obamacare and these issues have come up, the women are in my grill no matter where I go," he told a conservative audience at an event Saturday. "They come up — 'When is your next town hall?' And believe me, it's not to give positive input."
He added that the grill invasion continues online: "I had one woman on my Facebook say she was going to get up in my grill," he said in a separate interview. "There's paid protesters … paid activists on the far left, not my Democratic friends I go to church with. They're being paid to go around and raise havoc."
But the women he's heard from insist they're not being paid — Karen Conley of Henrico County told the Richmond Times-Dispatch that she recently called Brat's office in support of the Affordable Care Act because it insures her family. Brat says another woman came up to him at a high-school event: "The mom comes up and says, 'I can't believe you're going to get rid of Obamacare; we have a right to it.' I go … 'I don't think health care's an enumerated power.' I didn't say that, right, I try to be Christian. But she went after me." Being held accountable by the people who elected you to represent them sure does sound exhausting.