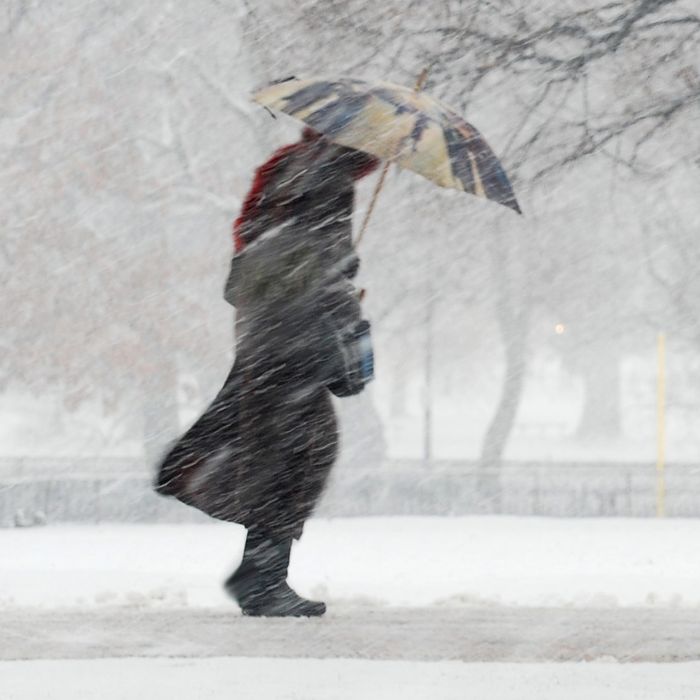 Photo: Gillian Henry/Getty Images
As a sufferer of Raynaud's — a condition that turns your fingers and toes purple from poor circulation when exposed to anything colder than 50-degree temperatures — you'd think, after 26 years, that I would have figured out how to dress for tri-state-area winters. But alas, I'm a firm believer in the "beauty is pain" theory. As a teen, I'd walk ten blocks to school each morning in skin-baring flats — in December. So maybe it's not that shocking that I've never owned an ugly puffy coat. But hear me out: It is simply not pleasurable to walk around in a shapeless piece of fabric that conceals your curves and makes sausages out of your arms. I'd rather freeze.
After leaving me to my own devices before — think red peacoats with only a few buttons and no hoods — my mother stepped in this fall, dissatisfied with the jacket I brought home after shopping with my grandma the last season. Despite being perfectly capable of buying my own clothes, I knew it'd help her sleep at night if she wasn't having nightmares about me running around the city in a threadbare coat. She wasn't going to let me get another flimsy jacket, no matter how stylish. And so, one weekend she made me trek home to New Jersey to nip this problem in the bud, dragging me to Marshalls. I was determined to look as chic as Solange in her pink-cloud glory. I tried on a pillowy Cole Haan jacket that didn't quite have the same cute marshmallow effect. Then I tried on an unflattering but functional Nike coat filled with goose down — a filler I've tried to avoid since having an allergic reaction to a comforter in the past. Deep down I knew it wasn't the coat, but it would placate my mother. Sold.
Convinced the perfect puffy was out there, I set out to find it on my own. Reluctant to take my boyfriend's advice and scope out his favorite stores (my attempt to fight being mistaken for a smug outdoorsy type), I secretly poked into Woolrich and REI one night after work. At the latter, buried in a sea of black nondescript outerwear, I reached for a long black parka that fell to my knees when I tried it on. It was frumpy (runs small), with a roomy fit but blessedly waterproof, and I needed a removable hood for versatile wear.
When I draped it over myself it was unclear if I had a body underneath (if at all), which I realized was exactly what I wanted in this political climate. Then I noticed the brand — Patagonia. I could hear Dave's voice in the back of my head, raving about the company's ironclad guarantee that the coat would last a lifetime. The shell is made from recycled polyester for water-resistant protection, and is sustainable too.

That said, a $300 price tag was still hard to justify — so I waited for a Cyber Monday sale, where I bought it for 20 percent off. Now, when the temperature drops below 40, I take up more space since it adds four inches to my circumference at least. On the upside, even without a sweater on underneath it keeps you toasty, and does a solid job of blocking wind. I might not be able to discreetly hold onto my coat on a concert floor, but is that so bad? My ugly puffy coat says, I care more for myself than what the person next to me on the subway thinks of my winterwear. Which isn't to say I'm not still on a hunt for the perfect vintage leopard fur, if anyone knows where to find one.
If you buy something through our links, New York may earn an affiliate commission.