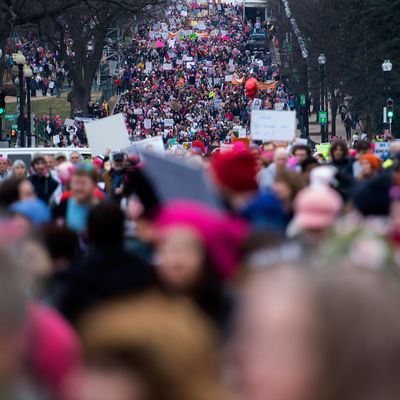 Photo: Jim Watson/AFP/Getty Images
Being a part of a march can be life-changing, but it's not always easy or possible to make it out to one. Thankfully, in 2017, we have livestreaming. Here's how you can feel connected to everyone marching in Washington today:
The official Women's March on Washington Facebook Page has a livefeed from the event, where you can watch all the speakers and music happening right now. (Be warned, it tends to cut in and out and might feature Facebook comments you'd rather not read.) You can watch the first part of the Women's March rally featuring speeches by Gloria Steinem and America Ferrera here.
The New York Times also has a high-quality stream of the march available on its site and on YouTube.
News networks are also streaming from D.C., including NBC News, ABC News, and MSNBC.
Have fun counting all the pink hats.