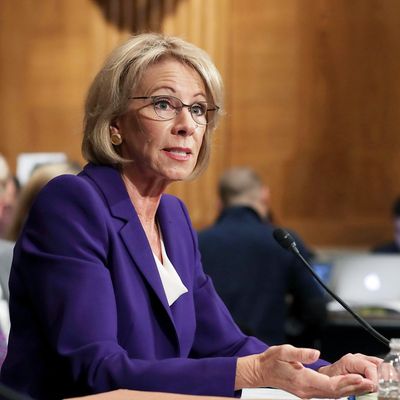 Photo: Chip Somodevilla/Getty Images
During Betsy DeVos's Senate confirmation hearing yesterday afternoon, Trump's nominee for Department of Education secretary dodged questions about how she would address college sexual assault — a top concern under the Obama administration.
Over the last eight years, the White House took bold steps to combat high rates of sexual violence and harassment on college campuses. In 2011, the Obama administration issued Title IX guidance, which said that schools were responsible for protecting students from sexual harassment and sexual violence on their campuses. In response, the Department of Education's Office of Civil Rights launched investigations into more than 300 schools for failing to comply.
During the hearing, DeVos said it would be "premature" to commit to upholding Obama's Title IX guidance, and she wanted to know more about the issue, setting off alarm bells for sexual-assault activists and educators. Andrea Pino, co-founder of End Rape on Campus, co-wrote a letter with the group Know Your IX to DeVos, calling on the nominee to support survivors. "[The Obama] administration has been so influential in getting the things we once thought of as dreams to be a reality. I think there is a lot of fear and uncertainty now," Pino said. "We can still step backwards."
How far can Trump and DeVos go in rolling back initiatives protecting college students on campus? And what would the consequences be? We unpacked the fine print.
What is Title IX?

Title IX is one part of the Educational Amendments of 1972, which prohibits discrimination on the basis of sex, and applies to all schools, public and private, that receive federal funding. (Almost every educational institution from kindergarten through graduate school receives federal funding.)
Why did the Obama administration send a letter in 2011 telling colleges how to interpret Title IX?
According to data from National Institute of Justice, one in five women experienced completed or attempted rape while in college, and the Obama administration felt this impacted a student's right to an equal education as guaranteed under Title IX. Many students who experienced sexual violence while in school said when they reported these incidents to their schools, their cases were often ignored or mishandled. As a result, these students, who may have had to face a perpetrator in their classes, were often at risk of dropping out of school, or developing mental-health issues like anxiety, depression, and PTSD.
What did the 2011 Title IX guidance letter do?

The Title IX guidance, also known as the "Dear Colleague" letter, interpreted Title IX more broadly than ever before. The letter told schools it was their responsibility under Title IX to guarantee an educational atmosphere free of gender-based violence and take "immediate and effective" steps to respond. Students began bringing complaints against their universities, and the Department of Education's Office of Civil Rights has since launched more than 340 investigations into how colleges across the country have mishandled reports of sexual violence.
How could a Trump administration undo these efforts?
Because Obama's 2011 guidance letter is just his administration's interpretation of Title IX, a Trump administration could ignore this interpretation and instead encourage the police to handle these crimes, and tell colleges these reports are not their responsibility to address. This could discourage survivors from reporting assaults, and remove the pressure from high schools, colleges, and universities to address and reduce sexual violence on their campuses.
What are the chances this will happen?

Between Betsy DeVos not committing to uphold Obama's guidance letter, and Trump's own distaste for the Department of Education, anything is possible. (Trump has said, he would like to eliminate the Department of Education entirely, calling it "massive and largely unnecessary" — although his nomination of DeVos suggests the Department of Education will be around for a little bit longer.) One of Trump's advisers during the presidential campaign, New York state co-chairman, Carl Paladino, said the Office for Civil Rights is also unnecessary and "self-perpetuating absolute nonsense." He argued that all discrimination cases should be handled by U.S. attorneys.
Why do some Republican leaders oppose the 2011 guidance letter?
Republican leaders have repeatedly argued that Obama's interpretation of Title IX is too broad, and college sexual-assault cases should be handled by the criminal-justice system. The GOP platform, released at the RNC this year, said sexual assault is a "terrible crime," but cases should be "investigated by civil authorities and prosecuted in a courtroom, not a faculty lounge." The Foundation for Individual Rights in Education has also expressed concern that leaving these cases to the schools to adjudicate could violate a student's right to due process. (DeVos and her husband have donated $10,000 to FIRE.) FratPAC, the lobbying arm of fraternities and sororities, is also concerned that students accused of sexual assault are treated unfairly, and in the past has called for schools to turn to the criminal-justice system.
Hundreds of survivors have filed complaints against their colleges, what will happen to these complaints?
It is unclear. Currently, more than 200 investigations are still ongoing, and staff say they are already overwhelmed by the caseload. (The Chronicle for Higher Education has a full database of the complaints and their status.)
What funding could be cut by a Republican Congress?
In the 2017 budget, Congress will allocate funds for crisis hotlines, shelters, rape-kit testing, courts, law enforcement, rape crisis centers, and community outreach through the Violence Against Women Act, the Family Violence Prevention and Services Act, and the Victims of Crime Act. These laws could all face cuts under a Republican administration.
Is there any legislation trying to address this issue?
Yes. The Campus Accountability and Safety Act, a bill co-sponsored by Senators Claire McCaskill and Kirsten Gillibrand, has nine bipartisan backers, including Sen. Marco Rubio and Senator Lindsay Graham, and is currently working its way through the Senate. The bill aims to improve how public colleges and universities handle sexual assault and other violent crimes by requiring colleges to publish their crime stats on their websites, participate in a campus climate surveys, make confidential advisers available to students, and work closely with local police departments.
Where can I read more?
RAINN, National Sexual Violence Resource Center, End Rape on Campus, Know Your IX, National Alliance to End Sexual Violence, The Anti Violence Project, FIRE.