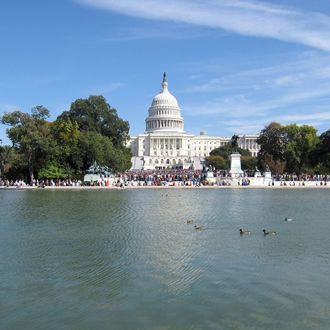 Prepare for the Women's March.
Photo: gkgraphics/Getty Images
For many people planning to attend the upcoming Women's March on Washington on January 21, the event may be their first foray into the world of rallies and protests, and they may not be sure what to expect or how to prepare. Luckily, the Cut asked experts from several of the March's partners to share their best tips for getting ready for the big day.
From bringing a portable cell-phone charger to writing important phone numbers and addresses on your arm with a Sharpie, here's how you can prepare for the Women's March.
WHAT TO WEAR
Dress for the weather: "Really pay attention to the weather. If there's a chance of rain, assume it's going to rain. Dress as warm as you may need to, because you never know when the temperature may drop." —Mitchell Stille, national field director, NARAL Pro-Choice America
Comfortable shoes: "The most important thing is something comfortable that you can walk in for hours, so for a lot of people that will be sneakers or if it's cold out you might want to wear insulated boots. But make sure that you've worn them before and you can wear them for several hours without pain." —Margaret Huang, executive director, Amnesty International USA
Waterproof your shoes if necessary: "My sneakers are porous. You can buy this waterproofing for your sneakers, and I'm going to spray the heck out of them, because it's miserable to be walking around with wet sneakers." —Terry O'Neill, president, National Organization for Women
Wear good socks, and bring an extra pair: "Bring a pair of dry socks so that after the march, you can put them on." —O'Neill
Layers: "I always recommend layers, and I would also recommend potentially clothes you can get rid of as well, if you get hot on the walk. It's better to have more and then tie something around your waist, then to have less and be freezing cold." —Sarah Kate Ellis, president and CEO, GLAAD
A cheap pashmina, perhaps: "What I have, and what I intend to bring to this thing, is one of those pashmia shalls that you can buy on the side of the street or Macy's — they're anywhere from $10 to $20. You can wear it as a scarf around your neck or you can just wear it over whatever jacket you're wearing." —O'Neill
WHAT SORT OF BAG TO TAKE
A fanny pack or small purse: "[Bring] a little fanny pack or a small little purse — all you really need is wallet, identification, a little tiny bit of money, and your cell phone. You don't need much more than that." —O'Neill
A tote: "Folks need to have an open bag they can carry around or something that's easy to put your stuff in. A tote you can easily open, they're going to be fine with, or a big purse. I think they're just trying to stay away from folks having big backpacks that are easy to hide things." —Stille
In general, just keep it light: "I would bring a small one, because you run into more issues with security if you're carrying a big bag." —Huang
Note: The march's website says that all bags may be subject to searches and that "backpacks are not permitted unless they are clear and no larger than 17"x12"x6" (colored transparent bags are not permitted)." For more details on bag specifications, check here.
WHAT TO BRING
Snacks: "Great things to have are energy snacks — things that are small and compact, but give you a great boost. So granola bars are great, those protein bars people like to carry." —Huang
Water: "It's really important to stay hydrated — that's one of the biggest challenges for people involved in protests and demonstrations and marches. You definitely want to make sure that you have a water bottle and that it will be full." —Huang
A plastic poncho instead of an umbrella: "I've always thought that a good poncho at one of these things is a solid way to go. You can keep your hands underneath your poncho, including your bags and everything else you've got." —Stille
"I would recommend a poncho over an umbrella because many people are going to be making signs … and that's hard to do if you also have to hold up an umbrella." —O'Neill
Money: "If you can, you might want to bring some extra money and pick up warm liquids like teas and coffees and little things as you're walking by stores and vendors." —Huang
A portable phone charger: "One of the best things to carry is actually a portable charger that doesn't need to be plugged in, like a Mophie or one of those things, so that you can recharge your phone." —Huang
A plastic bag (inside your bag): "Keep a gallon-sized Ziploc in your bag, put a little trash bag in there that you can wrap everything in your bag up if it does rain. It stinks carrying around a soaking wet bag." —Stille
A sign: "Homemade signs are the best, and your best option is to bring signs where you can convey your messages on both front and back of the sign, so that no matter where somebody is standing, they can see your message and probably identify with you." —Huang
Small first-aid kit: "A first-aid kit is handy. It's actually even good just to have Band-Aids if somebody has blisters on their feet from walking too long." —Huang
Medication (if you need it): "They will be able to bring their medicine through the checkpoints. It's useful if it's in a clear bag, but definitely that is obviously highly permissible." —O'Neill
An index card with important numbers and addresses: "Bring an index card with the phone number of the folks you're traveling with and the address of the place you're staying." —Stille
A bandana (more on this later …): "Sometimes we've used them to hold over our mouth when there's been tear gas in the air, and that helps to filter things out. It can be used for all kinds of things, including mopping things up and even identifying people you are marching with." —Huang
WHAT SAFETY PRECAUTIONS TO TAKE
Don't go alone (or at least, meet a buddy on the way): "If you can, don't go by yourself. Go with friends or find a group that's marching like Amnesty, and sign up with them [online] so that there will be other people looking out for you and keeping tabs on you just as you're doing for them." —Huang
"I always highly recommend the buddy system. So even if you travel in on a bus and you're a singleton, find somebody or meet somebody on the bus so that you're familiar with people and people are familiar with you, so that you can then be in a group or at least somebody is looking out for you." - Ellis
Make a safety plan with friends: "Have a plan. Know where, if everybody's phone dies, you have a time and a place where you're going to meet your friends and the group you're traveling with." —Stille
Don't engage any counter-protesters (if there are any): "If someone starts yelling at you just because of your sign or the fact that you're marching, just don't engage. That usually just means walking away and make sure you're with a group of people who are walking with you and keeping each other safe." —Huang
There likely won't be mace or tear gas (as this is a peaceful march), but just in case: "If you happen to have a bottle of water, you can moisten your bandana with the water and you can hold it over your nose and mouth as you're trying to leave. That will help protect your breathing.
"In terms of your eyes, one of the worst problems that we have is if you wear contact lenses, the irritant can actually get between your lens and your eyes and it can be really difficult. If we were more likely to see something like that, we might encourage people to not wear contact lenses, but I am not expecting that.
"Don't rinse out your eyes with water. Seek medical assistance." —Huang
IMPORTANT NOTES
For trans marchers: "For trans people, if you have identification that matches your gender identity, it's really important to have it on you, or if you don't, definitely enact the buddy system and make sure you have friends and family that you are connected to."—Ellis
For any medical concerns: "Because this is a march that has an official route and approval from the city, there will be medical personnel on site and they'll be scattered throughout the march, so that will be something that should be available." —Huang
For marchers with disabilities: "I have a friend who is going to rent a scooter for the march. I've been told that the march organizers really have some very good solutions for people with disabilities to participate in the march." —O'Neill
Note: More information on accessibility can be found on the march's Disability Caucus Facebook page and its FAQ page.
MORE OF THE CUT'S COVERAGE OF THE MARCH
Your Guide to Peeing During the Women's March on Washington
4 Last-Minute Ways to Get to the Women's March on Washington
Here's a Handy Map of Places Where You Can Warm Up and Meet Up at the Women's March
How to Get to the Women's March on Washington on January 21
Every Single Thing You Need to Bring to the Women's March
Here's How to Pump at the Women's March on Washington
A List of Celebrities Attending the Women's March
If You're Planning to Attend the Women's March on Washington, Here's How to Register
15 Protest Sign Ideas for the Women's March on Washington
Additional stories can be found here.
This post has been updated.