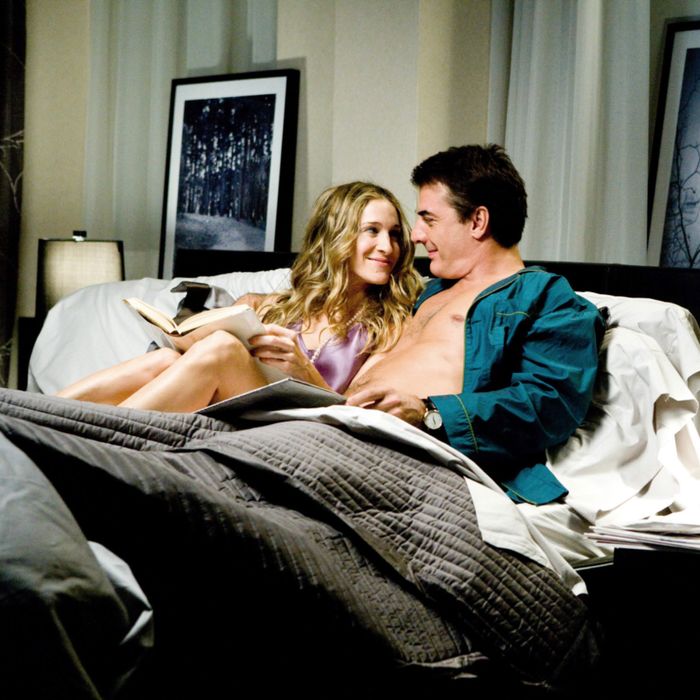 Sarah Jessica Parker and Chris Noth in Sex and the City.
Photo: New Line Cinema/courtesy Everett Collection
The first apartment I ever fell in love with belonged to a Brazilian playboy who worked in the art world. His one-bedroom in Chelsea had north-facing windows; the lights of the Empire State Building glittered in view. On his walls hung perfectly symmetrical black-and-white photographs of breasts, a painting by the famous Italian artist he assisted, and some recently purchased pieces from Alex Katz (a personal friend of his). In his living room, art-deco lamps and an expensive beige couch were arranged on a faded Indian carpet. Like his apartment, he did everything for display. Eventually, I grew bored and loathed him.
In my experience, a single straight man in possession of good home décor must be in want of a woman to bring home and screw. I don't mind. It's vis-à-vis men with well-tended apartments that I leave feeling cared for — if not necessarily cared about. Let me explain.
Unlike some women, my libido spikes (or stagnates) based on aesthetic cues. Specifically, in relation to a man's apartment. I discovered this while drinking a Campari soda at said Brazilian's, sitting on his couch as he gently pulled my hair. Though he resembled a cherub and was a shameless philanderer, "There is no object of desire quite like a house," as Meghan Daum once wrote, "few things in this world are capable of eliciting such urgent, even painful, yearning."
So urgent, even painful, is my yearning, that I sometimes linger in unsuitable, untenable "relationships" simply for the respite their homes provide. Like a hotel without a necessary reservation, it's an easy way to escape my life. My own apartment is a poorly insulated three-bedroom on a crowded avenue in Brooklyn. I live with two girlfriends — one my best friend from Hawaii; the other her roommate from college — whom I love fiercely. We often sit together and lament (about jobs, dating, winter) on our ecru tufted couch, mysteriously stained with ink and large enough for a Saint Bernard to sleep on. (A doggie daybed, if we had one, really.) There's also the gray upholstered chair where I read or eat dinner alone most evenings.
My current living situation only glancingly reflects my tastes and therefore my true self. Absent is the ABC Carpet & Home couch I want to acquire, the custom bookshelf I would like to build, the sleek full-length mirror I should purchase and hang. But since I know our lease is temporary, I don't bother to invest in somewhere so evidently impermanent. Instead, I resort to temporarily living vicariously through men financially settled enough in their careers and selves and lives to inhabit their spaces fully.
After the Brazilian came the handsome creative director who wore Acne and Stan Smiths. His building was disgusting, but his space was an oasis of pale-pink velvet curtains, George Nelson bench–cum–console table, and sleek Organic Modernism chairs that made it possible to overlook our lack of mutual interests, his incessant smoking, and his lack of intellectual curiosity. In the end he wanted to date other people. Not I. To this day, I mourn those pink velvet curtains.
More recently I was seeing a man who lived on the Upper West Side. His home was perfectly optimized: two closets, one dresser, a modest bathroom replete with regularly used toiletries. Everything in his home was so meticulously edited he could have been the male Marie Kondo. I imagined he pressed each object he owned to his chest and proclaimed: "Yes, this brings me joy." He succeeded as an adult where I failed. His apartment was perfect; ergo we should have been perfect. Save the insurmountable issue that he was 15 years older than me and wanted a serious relationship I could never sustain. We parted amicably.
I liked these apartments for the same reason I like literature: I enjoy the intimate trespassing in another person's consciousness. And like literature, my scrutiny is one-sided. The men did not receive the same invitation to assess my insufficiencies of spatial organization.
I prefer this scenario because within their spaces, our roles are well defined. I come over, they offer me a drink — Campari soda, red wine, a Negroni, water — they play music, we converse, we have sex, we sleep. I return home alone. The tacit agreement is we, as an entity, don't truly exist outside of his four walls. This generally works until one of us yearns to break free and establish a relationship in the larger world.
That's why I meandered with the Brazilian for two years, on and off. He understood the rules; he probably invented them. That's why I left the creative director after two months. I wanted more and knew I would hate him (and myself) should he date others concurrently. The man on the Upper West Side actually cared for me. He bought me a toothbrush, an extra contact-lens case. He would text saying he genuinely missed me. Yet outside of his apartment, I realized, my desire evaporated.
I was not always like this. I played house once. Not in the adolescent imaginative sense, but literally. When I was 19, my boyfriend (then 21) wanted to live together. I acquiesced, knowing there was an exit plan in place: He would graduate from NYU (where he had transferred for me), return home to Hawaii (where we had met in high school), and then apply for medical school that upcoming summer.
Our apartment on Avenue A was a small studio with slanted floors that overlooked an empty courtyard. I knew we were doomed the moment he hung a Rastafarian Bob Marley sarong above our decorative fireplace. Originally, I had plans for this space. Near the windows, there would be a high coffee table, covered with a white linen tablecloth, complete with sleek stools. A light, blush-colored carpet would cover our slanted wood floors. Instead we wound up with a clunky black kitchen table from Ikea and surrounded them with rolling office chairs. On the floor was a horrible beige carpet with brown borders. Two months after we hauled his items to the post office and he moved home, I called him and confessed what I hadn't over the years — I wanted to be alone.
Through dating, I entered other worlds, other ideas of how to live. With the Brazilian, I gained admission (if peripherally) to the glamorous, exclusive industry he orbited. With the creative director, I witnessed beauty created in undesirable circumstances. With the male Marie Kondo, I saw the benefits of rigid organization in one's life.
From my ex, I realized building a life together is messy. And breaking apart — subtracting our belongings and extracting our identities from one another — is worse. These impediments only intensify when you're both struggling students or striving young professionals, living on meager means. So I pursue men who are successful and, without coincidence, often older and wealthier. Allowing me to elide the time, effort, and resources necessary to fashion the life I envision for myself. Like Lily Bart, the impoverished House of Mirth heroine, I have somehow "several times been in love with fortunes or careers, but only once with a man." After all it's suitors of a higher tax bracket that easily assuage my class anxieties, however morally compromising that may be.
I know, deep down, these men are unsuitable. Instead of plumbing our incompatibility, I linger on the surface, on the superficial, where it's safe, impeccable, intriguing. Where it's distant from the boredom, mundanity, restlessness, resentment, vulnerability, hurt, heartache (but also love, support, care, comfort) that resides below.
As a result, my flawed logic persists: Perhaps if our aesthetics align, heartbreak won't ensue. It hasn't worked out yet. So I pursue men whose apartments are spotless. Men whose homes I can wander into and out of, without trace. That way, when things inevitably end, it's like I was never really there.