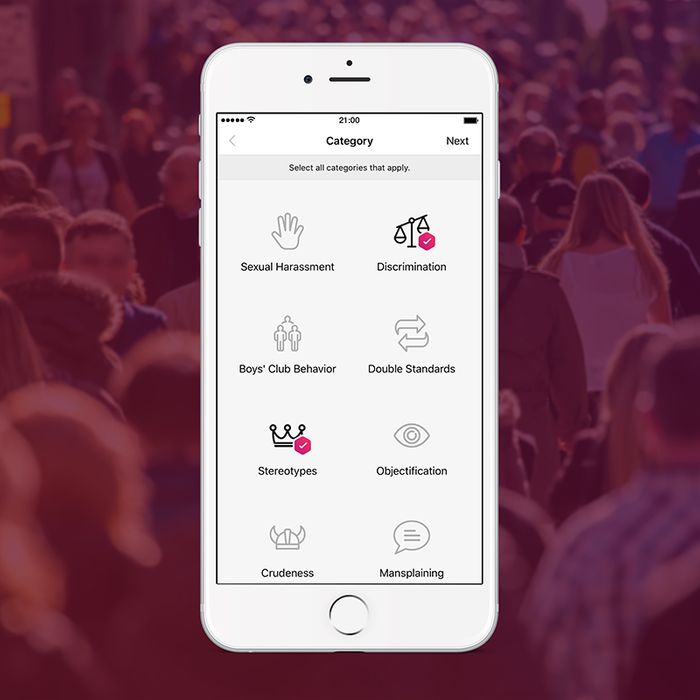 There was a point — before many people thought Donald Trump would be a serious contender for the Republican candidacy, let alone the presidency — that discussion about the sexual harassment women experience at work was reaching a fever pitch. In his defense of close friend Roger Ailes after he was sued for serial sexual harassment at Fox News, Trump said that if his daughter Ivanka were to be sexually harassed at work, he'd "like to think she would find another career or find another company." But that was before the public was distracted by the prospect of nuclear war, the loss of abortion rights, and the certain end of the world via climate change. It all seems so long ago now.
In an effort to return to considering the impact sexist incidents have on our lives — like why women might not be able to "find another career" should they be sexually harassed at work — a new app enables people to report incidents of sexism, whether at work, at school, in public, or online.
Whistle (as in "whistle while you work," get it?), a product of the same developers behind employer-rating platform InHerSight, was released in December to the Apple Store, and operates as follows: After opening the app, users are prompted to tap a button to "whistle." "Where did the sexism take place?" asks the app, and users can choose from a menu of options — at work, in public, at home, in school, online, or in the media. Each whistle is then filtered into ten different categories. Was the sexism you experienced sexual harassment? Discrimination? Boys'-club behavior? All three? More? Users can select as many categories as they like, and then are asked to anonymously describe the incident in 200 or fewer characters (a character limit the Whistle team is experimenting with for now).
The "whistles" then populate a newsfeed akin to a Twitter or Facebook feed (see below), where other users can comment on or up-vote posts. Since December, over 100 incidents have been reported with descriptions like "A dude tried to explain to me how committees work. I am a chairperson of two with two years' experiences. He's been there for a few months," or "My male Uber driver is currently mansplaining women's views on weddings to me."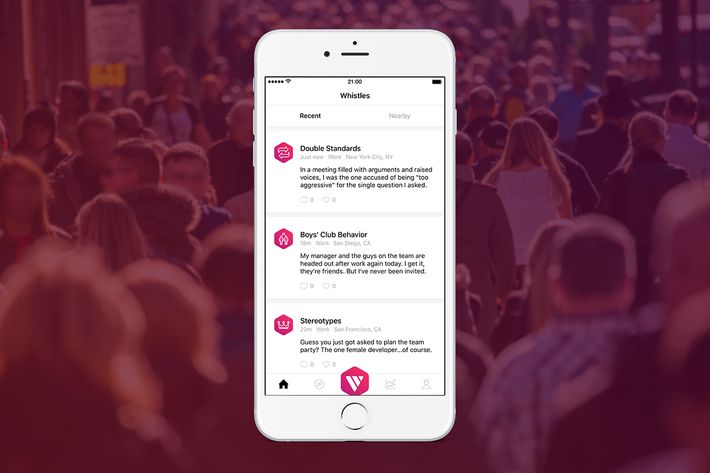 What will Whistle do with all this information? For now, the answer is not much. Ursula Mead, CEO of InHerSight, said the motivation for developing the app came from a simple place: the underappreciated value of data collection in this particular realm. "We wanted to better understand sexism. What is it? Where is it happening? How often? In which environments?" The end goal is to turn the data into something more actionable, but Mead says seeing where, when, and how sexism is happening is an instrumental beginning.
This focus on encouraging women to come forward makes Whistle seem similar to other efforts to highlight sexism, like #everydaysexism on Twitter, but Mead points to one crucial difference: All reports are anonymous; the only identifying information captured is a user's geolocation. There is no contact information, no sign-up sheet, no public profile. The anonymity, she thinks, might encourage more women to participate. To safeguard this, Whistle is also developing protection against trolls. Users can flag posts, block users, and, if contributors share identifying information in their posts, Whistle's mods will flag and handle on a case-by-case basis.
Location might not seem like enough data to go off of in order to determine the pervasiveness of sexism across the world, and there are questions of reliability when all users can submit anonymously. But the heavily structured incident reports mean that over time Whistle will illustrate trends in the sexism women experience — including when, where, and how.

Similar to other attempts at cataloging and combating pervasive forces like sexism, racism, or bigotry, Whistle, of course, has its limits. It relies heavily on users actually logging in and contributing their stories of sexism for data to be collected, and also users' knowledge that what they are experiencing or witnessing is sexism in the first place. (To this, Mead says they hope to "incorporate more of an educational component," as time goes on.) Until there is a direct conclusion about where the collected data will go, and enough whistles to make a noise, the reality of an app like this one is that it provides more catharsis than anything. Scrolling through a feed of anecdotes about sexism is validating, but doesn't exactly solve the problem.

Mead's team say they hope to use their information — as they have with InHerSight — as a jumping-off point for people who do advocacy work. "We're not a policy or advocacy group," she says, "but anecdotes about sexism are very, very powerful. We're trying to take those anecdotes and turn them into trends and concrete numbers. That way," she added, "we can start pushing for real solutions."