Jeanine Stewart is a women's studies professor, the mother of two adult daughters, and a strong supporter of a Virginia group that addresses diversity issues across all industries. But don't expect to see her walking in
protest of PEOTUS Trump on January 21. "All of us are still recovering from witnessing the unprecedented divisiveness, as well as the result, of the recent election," says the 52-year-old Virginian. But "without a clearer platform, I fear that the event in D.C. will be easily dismissed with a presidential tweet storm." Instead, Dr. Stewart says, she will expand her volunteer commitment to help women of low economic status grow professionally.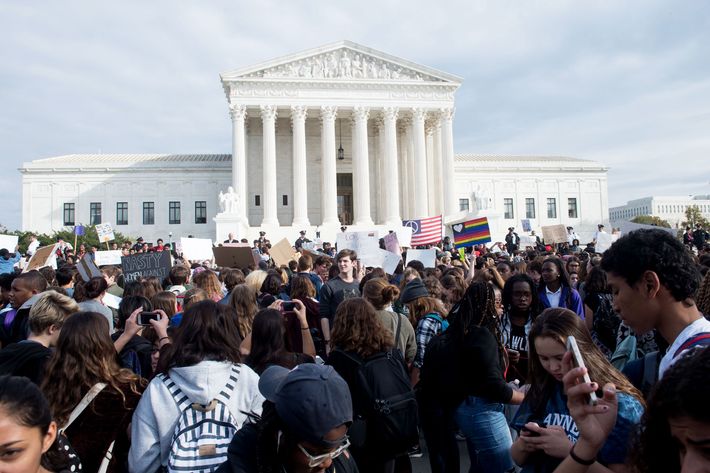 Much has been written about how many permits were granted for the Women's March on Washington; which celebrities plan to walk (#whyImarch); and how many port-a-potties will stand along the route. But
for every woman who plans to vent her anger in D.C. or at sister-marches across the country, just as many are intentionally skipping what is expected to be the largest anti-Trump protest yet. For many of these women, not attending the march is their preferred method of protest. Their reasons for staying home are as diverse as the reasons others are boarding buses next Saturday morning.
Susan McPherson, a social-responsibility consultant in New York City,
would like to see real demands being made by demonstrators. "I look to
the women in Poland who rose up on Black Monday to protect their right to choose by going on strike from work nationally," she says. "Doing so worked and the government rescinded outlawing abortion." Nicole Shore, a single, white millennial who works in the nonprofit sector on the East Coast, sees the march as divisive. "The Democratic Party is hosting a series of rallies focused on the Affordable Care Act and the positive impact it's made," she says. "This is the kind of rhetoric that informs the public, can garner support, and can bridge opposing views." Ohio-based Bentley Davis, 46, who once worked for Planned Parenthood, won't lace up her pink sneakers next weekend, either. "If the march were to push a specific piece of legislation, I would be all in. But instead, it seems to be an act of catharsis more than anything else," says the white mother of one daughter.
And therein lies the conundrum for millions of conflicted women who want to stand up to what one described as "a man who uses sixth-grade vocabulary and speaks about women in a degrading manner, yet is the leader of the greatest country on earth." Of the dozens of self-avowed feminists I spoke with, most voiced concerns that a march will further divide our nation and doesn't have a clear demand. They feel their voices, no matter how diverse or how loud, will go unheard. "It'll be like talking to a stone … it's nothing more than an infuriating waste of time," Massachusetts-based artist Zoe Helene, 52, told me. "The movement is more indecisive than a stoner in a bakery," 34-year-old Katie Hilborn, founder of Denver-based Global Orphan Prevention, stated. "I'm more interested to see what happens when it's over."
Many stay-at-homers are already protesting with their wallets. Shanon Lee, 40, for example, practices her activism by avoiding PEOTUS Trump's products, full stop. "Whether we boycott stores that carry Trump's products, refrain from watching TV networks that feature shows Trump's executive-produced, or reach out to legislators and teach our children to respect others, we can each do something," says the mother of four and filmmaker, who identifies as African-American and Crow Indian and an "activist 365 days of the year." Loads of women told me they are boycotting shows, hotels, clothing, and anything else emblazoned with the Trump brand, to hurt PEOTUS's bottom line.
In Washington, a resident told me, the running joke is, "Where are you
going?" — since two-bedroom apartments are renting for $400 to $600 a night on Airbnb. Weekend refugees are frequently donating their gains to
progressive causes like the ACLU or Planned Parenthood in Mike Pence's
name.
And while marching on the Mall or donating in the VP's name may feel
good, plenty of the women of color I spoke to take issue with the scattered intentions of the march.
LaTonya Moore, 42, a black Alabama attorney, doesn't see the point of freezing on the street, but believes that "this election let me know that [this administration] will continue to move to stifle disenfranchised groups … and simply motivates me to be proactive." She will go out of her way to support women-owned and minority-owned business ventures and provide discounted legal, financial, and marketing services to qualified disadvantaged business entities. "What will I do to protest? I will win … and help others win," she says.
Felicia Davis, 60, works to create sustainable practices at historically black college campuses, and has also worked to reinstate Title IX and advance other women's causes. She believes that "the solid 94 percent black woman's vote for Hillary Clinton was a clear and decisive indication that we disapprove of the incoming administration." She also disapproves of the "disproportional influence of the progressive white leadership that gave rise to the worst possible outcome." So while "the Emilys are marching," Davis
will be figuring out how to work with the incoming administration to ensure increased support for black colleges, how to press forward on criminal-justice reform, and how to expand access to affordable health care.
Meanwhile, the actual Emilys are jazzed about the marches across the country and are rolling up their sleeves to prepare the best possible female candidates of the near-future. Jess O'Connell, executive director of Emily's List, says her organization "will be ready Day One of a Trump presidency to fight back against any efforts to roll back women's opportunity, and we'll be channeling the energy of this moment into action by hosting a Getting Ready to Run training for future women leaders in Washington, D.C., the weekend of the march."
For those feminists protesting at home, says orphan advocate Katie Hilborn, don't feel guilty. "Yelling and marching down the street that your point-of-view is correct does not work," she says. "We need to talk to each other, and practice empathy. If someone doesn't agree with you, find out why. Put yourself in their shoes. Then construct your argument around that." For those in attendance, says stay-at-homer Zoe Helene: "Thank you, and be careful."