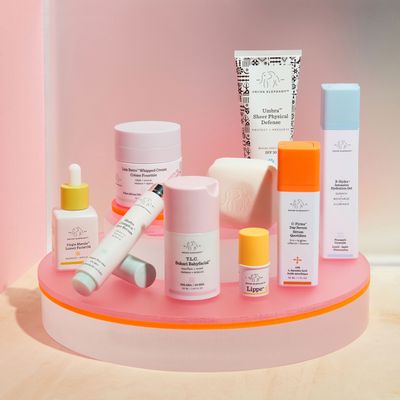 Photo: Kennon Evett/Courtesy of Drunk Elephant
The mark of a good beauty product seems simple: It should work. But the three-year-old, frequently sold-out, natural-meets-clinical beauty brand Drunk Elephant is a bit of an overachiever. For it, a good beauty product must meet the following criteria:
-Shouldn't contain parabens or silicones.
-Should be fragrance-free.
-It shouldn't contain fragrant essential oils.
-It should be mostly natural.
-But it should also use clinically tested and proven ingredients.
-It should feel good on the skin.
-It should have an effective pH.
-But shouldn't contain any "in-doubt" ingredients, according to several cosmetic-watchdog organizations.
-It should also work.
It's a dizzying list and a fine line to navigate. But in a time when reading the Environmental Working Group and mainstream beauty publications can make you question what "works" and what is "safe," CEO Tiffany Masterson promises that her line does "all the homework for you." Did you read or try essential oils and found that they irritated your skin? Masterson did too, which is why they're not in her product line. Have you found that the perfumes and fragrances in most skin-care lines also inflamed your skin? Masterson had the same experience. Have you read reports from cosmetics-watchdog organizations and aren't sure what should and shouldn't be in your beauty products? Masterson has, and she's eliminated proven, iffy ingredients from her line. Do you care about the pH in your skin care, because you want the least irritating routine possible? Masterson has thought about that. Do you want a line that's naturally oriented but still "makes your skin look better"? Masterson did, which is why she created a line that has natural ingredients and non-irritating and non-harmful synthetics.
Masterson's line has become one of the fastest-growing skin-care companies in Sephora history, as reported by WWD, all with zero celebrity endorsements or ads. Sales went up 400 percent in 2016, and there's also rumored acquisition interest from Estée Lauder and private equity companies. "It was really weird," says CEO Tiffany Masterson. "There was demand even before I built the website." Masterson humbly credits the immediate interest to the brand's eye-catching neon packaging, a mailing she did to magazine directors early in her career, and word of mouth. But more likely, Drunk Elephant's success also comes from its unique positioning as a trustworthy, "good for you" brand that befits our society's current obsession with wellness (a time when even Goop's vaginal eggs are sold-out, coveted items) and its promise that it won't mess up your skin.
Other creators promise that their skin care will deliver youth or treat any number of skin concerns. But Masterson, who describes herself as having "moody, acne-prone, sensitive skin," says, "My job as a skin-care formulator is to support the skin's natural state and nourish it and protect it. It's not to treat anything." She was inspired to create the line after realizing that after removing essential oils, fragrance, alcohol, dyes, chemical screens, SLS, her skin looked better than ever — yet no one brand had all the things she was looking to remove from her skin-care routine. "My rosacea was gone. My pores were tight. My skin was clear and balanced." Masterson sees Drunk Elephant as a way to reset, balance, nourish, and support the skin. When someone comes to her with problem skin, her first move isn't to recommend a product. "I say, 'Let's look at what you are using now and talk about it.' Drunk Elephant isn't going to make that go away. Let's first stop using everything and use these things for two weeks and see what happens."
Drunk Elephant also works with an unusually high amount of acids, the levels of which are normally found in no-nonsense dermatology brands. For example, the brand's Glycolic Night Serum contains a blend of three acids, with glycolic acid levels of up to 12 percent — one of the highest percentages found on the market. For reference, the Retexturizing Cream from Kim Kardashian's dermatologist, Dr. Lancer, has 10 percent glycolic. Skinceutical's Activator Serum has 20 percent. Glycolic acid is recommended by dermatologists the world over, for its ability to stimulate collagen, the protein found in our bodies that gives your skin a youthful "bounce." (Here's a refresher on why acids are good for your skin.)
Drunk Elephant's Day Serum has similarly high levels of good-for-you acids, with chronocyclin, an anti-aging peptide with antioxidant benefits and one of the highest amounts of ascorbic acid (a type of vitamin C and proven skin brightener). This product is so loved that it received the rare glowing review from tough cosmetics cop Paula Begoun, who even proclaimed it to have zero cons. My friend Sable Yong told me that Drunk Elephant's Day Serum was an inexpensive dupe for my much-loved Skinceutial's CE Ferulic, at half the price. She was right, and YouTube's best makeup artist, Lisa Eldridge, has noted the similarity. It even has the same light-brown color and copper-penny smell as the CE Ferulic (notably, minus the bacon-y quality, which gave it its meat-sweat smell). I've rotated Drunk Elephant's serum into my skin-care routine, and like how it makes my skin look smooth, and feel nourished.
The brand's newest acid-heavy launch is BabyFacial, an at-home, light acid peel/mask (that I saw no less than five beauty editors Instagram over the weekend), with 25 percent alpha-hydroxy acids and 2 percent beta hydroxy acids. If you like to feel like things are "working," this product is for you. The directions say that "light tingling" may be expected due to the sloughing of dead skin cells, but to me, the tingling felt more like the burn of four fire emojis. It burned, but not for too long. Afterward, my skin didn't look like Prince George, but my skin looked less dull, as though I had just shed the tiredness from a 16-hour plane ride I had taken just a few days before. Adding a few drops of Drunk Elephant's Marula Oil into my normal nighttime moisturizer afterward, my skin had a lustrous and slick glow, like I was a gleamy seal.
Masterson explains, "Our customers feel two things when they try the brand, that's it's healthy and that it is going to work — you don't always find that combination in skin care. It works as well as any pro dermatologist brand, and it will be safe and better than other options on the market." With all the consumer questions swirling about the green and natural beauty space (like, should I give up my P50?), you can think of Drunk Elephant as the worry-bead line for your clean-beauty dilemmas.
Photo: Courtesy of Drunk Elephant
Photo: Courtesy of Drunk Elephant
Photo: Courtesy of Drunk Elephant