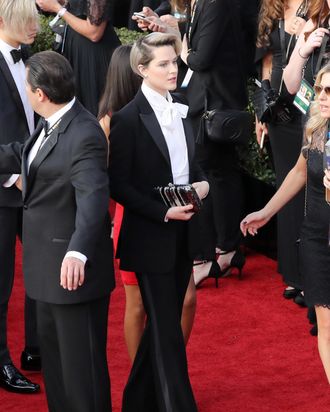 Photo: Ben Peterson/NBC/NBCU Photo Bank via Getty Images
In case you missed it among the many arrivals on the red carpet tonight at the Golden Globes, one of the standout moments was hearing Westworld star Evan Rachel Wood explain why she wore an Altuzarra suit.
"This is my third nomination," Wood said. "I've been to the Globes six times. I've worn a dress every time. And I love dresses. I'm not trying to protest dresses. But I want to make sure that young girls and women know they aren't a requirement and that you don't have to wear one if you don't want to. Just be yourself, because your worth is more than that."
Even if she doesn't walk away with an award tonight, bravo to her for using her national platform to show young girls they can be themselves and make their own beauty standards.